REPLACEMENT LINK:
https://www.youtube.com/watch?v=uPOt1ImtBFY

Soldier fatally shot outside of Parliament, one gunman killed
John Ivison, Justin Ling, Josh Visser, Jake Edmiston, National Post Staff | October 22, 2014 | Last Updated: Oct 22 2:54 PM ET
A soldier was fatally shot at the National War Memorial Wednesday morning before a single, masked suspect was shot dead in Parliament. The chaotic situation is ongoing as police seek multiple suspects in the attack but say they do not know how many individuals were involved.
"One shooting victim succumbed to injuries. He was a member of the Canadian Forces. Our thoughts and prayers are with him and his loved ones," Ottawa police said in a statement. The soldier will not be identified until his family is notified, police added.
The soldier was a reservist from Hamilton, Ontario.
"Today a member of Hamilton's own Argyll and Sutherland Highlanders was killed while performing the duties of a sentry at the National War Memorial," Hamilton Mayor Bob Bratina said in a statement.
Two others were injured, one believed to be a security guard at Parliament's Centre Block.
One gunmen has also been confirmed dead.
Ok so we were on a tour at that war monument in Ottawa a few minutes ago, a few seconds later there was a shooting
"One male suspect has also been confirmed deceased," police said. Sources told The Canadian Press that Kevin Vickers, the sergeant-at-arms for the House of Commons and 29-year RCMP veteran, shot the gunman within Parliament.
"This is an ongoing joint police operation and there is no one in custody at this time," the statement from the RCMP and Ottawa police later said.
At an afternoon press conference, police said they could not confirm yet if the gunman who shot the soldier is the same as the one who was killed in Parliament.
"Gunman at Parliament's Centre Block has been shot and killed," Conservative MP Bernard Trottier tweeted at 10:30 a.m. Tory MP Bob Zimmer also reported the same.
Police have expanded their perimeter and have confirmed there has been shootings in two areas, the National War Memorial and in Parliament. Police said there was no shooting at the Rideau Centre, as was reported earlier during the chaotic situation.
Around 1:40 p.m., a security alert warned that all buildings in the Parliamentary precinct were still on lockdown.
"This means stay in your office, with the doors locked and away from the windows. If your door does not lock, find a way to barricade the door, if possible," read the alert, circulated by email. "Do not open the door under any circumstances. Security Services has the required keys."
Police are also asking citizens to not tweet the locations of the officers involved as the RCMP describes the situation as "on-going."
Ottawa Civic hospital received two new patients at about noon, one with gunshot wounds and the other with unknown injuries. Both have been reported to be in stable condition.
The hospital was not commenting on the condition of the soldier.
In video taken within Parliament at about 10 a.m., about a dozen gunshots can be heard within the halls.
Several medics were performing CPR on the soldier before he was taken away by ambulance.
"There is a shooter on the loose," a police officer in the area told the Post's John Ivison, shortly after 10 a.m.
Parliament is currently under lockdown. The PMO says Prime Minister Stephen Harper is safe and has left Parliament Hill for an unknown location. Both NDP Leader Thomas Mulcair and Liberal Leader Justin Trudeau have been reported safe.
One suspect was described as "5'9-5'10, overweight and wearing a dark jacket, with a white scarf around his face," by Stuart Barnable, a Liberal staffer who said he witnessed the events from East Block.
A Dutch tourist said he heard at least four shot and say the assailant running towards Parliament Hill, carrying a large rifle.
A Toyota Corolla, with no plates on it, was left outside of Parliament Hill. Multiple witnesses said they saw a gunman get out of it and attack the soldier. Bomb locating robots were deployed by police near the car.
Witness Scott Walsh told the Canadian Press he was working near the East Block when he saw a man with long, black hair, his face covered with a white scarf and wearing a black jacket.
"He had a double-barrelled shotgun, he was about five feet from me, and he ran right beside us, ran past the woman with the stroller and child," he said.
Walsh said the gunman then hijacked a dark car at gunpoint and started driving towards the Peace Tower.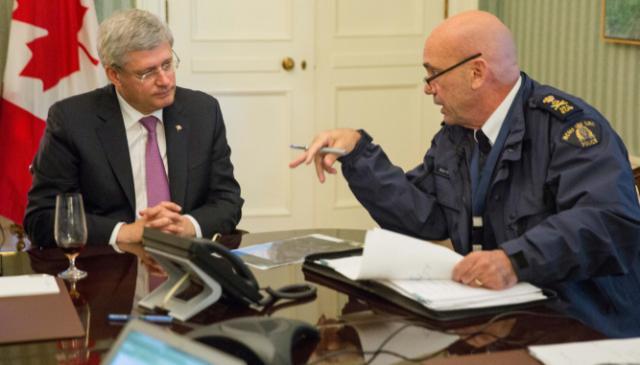 @pmharper got briefed on the shootings by Com. Paulson/ PM a été briefé au sujet de la fusillade par le Com. Paulson
 A small plane equipped with surveillance equipment flies over the scene of multiple shootings in Ottawa