NEW LINK:
https://www.youtube.com/watch?v=4mtcD4AtaMo
http://www.watchfree.to/tv-28feaf-The-Fugitive-tv-show-online-free-putlocker.html/season-1-episode-1
The Fugitive is an American drama series created by Roy Huggins and produced by QM Productions and United Artists Television that aired on ABC from 1963 to 1967. David Janssen stars as Richard Kimble, a physician who is falsely convicted of his wife's murder and sentenced to receive the death penalty. En route to death row, Kimble's train derails over a switch, allowing him to escape and begin a cross-country search for the real killer, a "one-armed man" (played by Bill Raisch). At the same time, Dr. Kimble is hounded by the authorities, most notably dogged by Police Lieutenant Philip Gerard (Barry Morse).
The Fugitive aired for four seasons, and a total of 120 51-minute episodes were produced. The first three seasons were filmed in black and white; the final season was in color.
In 2002, The Fugitive was ranked No. 36 on TV Guide's 50 Greatest TV Shows of All Time. TV Guide named the one-armed man #5 in their 2013 list of The 60 Nastiest Villains of All Time.
Premise
The series premise was set up in the opening narration, but the full details about the crime were not offered in the pilot episode, which started with Kimble having been on the run for six months. In the series' first season, the premise (heard over footage of Kimble handcuffed to Gerard on a train) was summarized in the opening title sequence of the pilot episode as follows: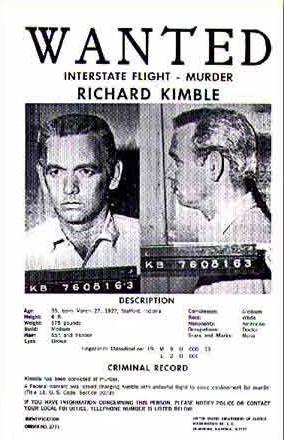 " Name: Richard Kimble. Profession: Doctor of Medicine. Destination: Death Row, state prison. Richard Kimble has been tried and convicted for the murder of his wife. But laws are made by men, carried out by men. And men are imperfect. Richard Kimble is innocent. Proved guilty, what Richard Kimble could not prove was that moments before discovering his wife's body, he encountered a man running from the vicinity of his home. A man with one arm. A man who has not yet been found. Richard Kimble ponders his fate as he looks at the world for the last time. And sees only darkness. But in that darkness, fate moves its huge hand.