There's no end to the Hollywood murders. The actors who portrayed Superman paid a serious price. What did they know? Why were they silenced? This was quite the mystery.
FULL MOVIE:
NEW LINK:
http://hd.today/watch/EdZgl6vp-hollywoodland.html
http://www1.putlockersfm.com/watch/hollywoodland-2006-online-putlockers.html

Hollywoodland is a 2006 American biographical docudrama film directed by Allen Coulter in his feature directorial debut. The story presents a fictionalized account of the circumstances surrounding the death of actor George Reeves (played by Ben Affleck), the star of the 1950s television series Adventures of Superman.
Adrien Brody co-stars as a fictional character, Louis Simo, a private detective investigating Toni Mannix (Diane Lane), who was involved in a long romantic relationship with Reeves and was the wife of MGM studio executive Eddie Mannix (Bob Hoskins). Reeves had ended the affair and had become engaged to a younger woman, aspiring actress Leonore Lemmon (Robin Tunney).
Plot
In 1958, Louis Simo (Adrien Brody), a Los Angeles private investigator more interested in generating an income than in devotion to his clients, is spying on the wife of a man named Chester Sinclair to find if she is cheating. On a visit to his own ex-wife Laurie, Simo learns that his son is upset over the death of George Reeves, the actor who played Superman on television. Reeves was found dead inside his Beverly Hills home with a gunshot wound to the head, which police ruled a suicide.
Simo learns from a former police colleague that the Reeves suicide has aspects that the cops don't want to touch. Sensing the potential for making a name for himself, Simo begins investigating and notes several apparent conflicts with the official version of Reeves's death. He also bickers with Laurie over his failures as a father, particularly now when his son seems so troubled.
In a flashback to 1951, Reeves, a charming man whose acting career has stalled since appearing in Gone With the Wind, catches the eye of a beautiful woman and they end the night in each other's arms. In the morning, a newspaper photo reveals to Reeves that the woman is Toni Mannix, the wife of Eddie Mannix, the general manager of Metro-Goldwyn-Mayer.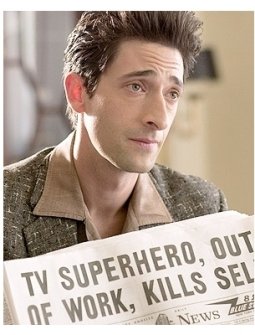 Frightened that an affair with a studio boss's wife will destroy what's left of his career, Reeves is angry that Toni didn't tell him. She claims to have an open relationship with Mannix and tells him not to worry. The much wealthier Toni begins to buy Reeves expensive gifts such as a house, a car and jewelry.
Reeves lands the starring role in the television series Adventures of Superman, based on the comic-book hero. The role makes Reeves famous and gives him a steady income, but he longs for more "serious" work and is uncomfortable with the public's stereotype of him as Superman, resulting in snickers when he is seen on screen in the war film From Here to Eternity.
As the years pass, Reeves becomes bitter at being a kept man and at Toni for not using her clout to help his career. He burns his Superman costume to "celebrate" the program's cancellation in 1958. He also meets a young woman in New York, actress Leonore Lemmon, and leaves Toni for her. Toni is broken-hearted and furious, while Mannix seethes at her "mistreatment" by Reeves.
Simo initially suspects that Leonore might have accidentally shot Reeves during an argument and imagines how the scenario might have played out. Simo goes home to be beaten by thugs, apparently working for Mannix, trying to scare him off the case. This and other evidence lead Simo to suspect that Mannix was the one who had Reeves murdered. Simo has a vision of how that killing would have occurred.
His client's wife is dead, murdered by Sinclair, who grew tired of waiting for information from the detective. A guilt-plagued Simo gets drunk, then visits his son's school, where his inebriation scares the boy. Simo goes to see Reeves' manager, Arthur Weissman, who has a home movie that Reeves had shot in hopes of promoting some wrestling work. The film depicts a sadness in Reeves, a weariness and humiliation with where his life has led. Simo's final imagined variation on Reeves' death concludes with the actor shooting himself. This is the most vivid of the three scenarios, with Simo imagining himself in the upstairs bedroom, even making eye contact briefly with Reeves.
Each of the scenes imagined by Simo begins with Reeves playing guitar and singing "Aquellos Ojos Verdes (Green Eyes)" in Spanish for his house guests. (Reeves was fluent in Spanish.) The lyrics of the popular song lament a love that can never be fulfilled. After each of the three imagined renditions, Reeves says goodnight to his guests, then retires to his bedroom upstairs, just before the gunshot.
Reeves' quest for success and Simo's realization of parallels to his own existence cause the detective to re-evaluate his life. Simo watches another home movie, this one of himself and Laurie and their son in happier days. He goes to Laurie's house wearing a suit and tie, greeting his son hopefully.
| | |
| --- | --- |
| Posted by George Freund on February 19, 2014 at 2:51 PM | 5104 Views |