For those who do not believe the story we are being told by the government and media. The James Holmes Conspiracy. Several witness testimonies, news reports, theories and ideas behind the motives of the crime. Topics discussed include the second suspect, weapons, police audio analysis, James Holmes education and bio, LIBOR scandal, MK Ultra, Project Gunrunner, and several other important elements. Several new pieces of evidence and testimonies all in one video.
Documentary made by Mark Howitt www.youtube.com/lorddefiler Video published on August 14th 2012
This video has been blocked in these locations: Guernsey, Ireland, Isle of Man, Italy, Jersey, United Kingdom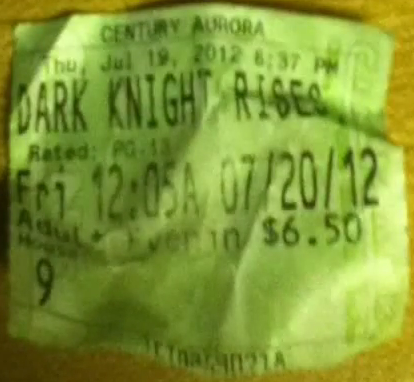 Of course there is no doubt about the numbers on the ticket theatre 9, $6.50 (9/11).
12:05A is 3 6 (666)
07/20/12 is 9 3 (999)
This isn't a ticket. This is an Illuminati calling card.