While he yet spake, behold, a bright cloud overshadowed them: and behold a voice out of the cloud, which said, This is my beloved Son, in whom I am well pleased; hear ye him." (Matthew 17:1-5)
Hereafter shall ye see the Son of man sitting on the right hand of power, and coming in the clouds of heaven.
"I saw in the night visions, and, behold, one like the Son of man came with the clouds of heaven, and came to the Ancient of days, and they brought Him near before Him. And there was given Him dominion, and glory, and a kingdom, that all people, nations, and languages, should serve Him: His dominion is an everlasting dominion, which shall not pass away, and His kingdom that which shall not be destroyed." (Daniel 7:13-14)
"Behold, he cometh with clouds; and every eye shall see him, and they also which pierced him: and all kindreds of the earth shall wail because of him. Even so, Amen." (Revelation 1:7)
And I looked, and behold a white cloud, and upon the cloud one sat like unto the Son of man, having on his head a golden crown, and in his hand a sharp sickle.
Matthew 16:1-3 The Pharisees also with the Sadducees came, and tempting desired him that he would shew them a sign from heaven. He answered and said unto them, When it is evening, ye say, It will be fair weather: for the sky is red. And in the morning, It will be foul weather to day: for the sky is red and lowring. O ye hypocrites, ye can discern the face of the sky; but can ye not discern the signs of the times?
Matthew 24:29-30 Immediately after the tribulation of those days shall the sun be darkened, and the moon shall not give her light, and the stars shall fall from heaven, and the powers of the heavens shall be shaken: And then shall appear the sign of the Son of man in heaven: and then shall all the tribes of the earth mourn, and they shall see the Son of man coming in the clouds of heaven with power and great glory.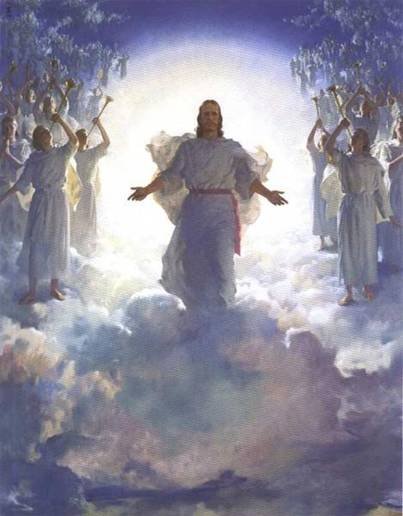 http://focusonjerusalem.com/CominginCloudsofGlory.htm