Bought large quantities of fertilizer that could have been used to bomb
 Dealer confirmed to NRK that the perpetrator through their enterprises in purchased fertilizer from the outlet of their on Rena. Such fertilizers are known as a possible ingredient in bombs, and the suspect should have bought a total of 6 tons of goods.
ØYVIND BYE SKILLE
oyvind.bye.skille @ nrk.no
Published Today 11:20. Updated Today 12:47.
TERRORIST ATTACKS AGAINST NORWAY
Kl 15.26: Bomb Explosion in government building in Oslo. Seven confirmed dead.
A little over an hour after the bomb explosion in Oslo, it is reported shooting at Labour Youth League summer camp at Utøya. Ten people were confirmed killed relatively quickly.
At 19.30 the police confirmed that they suspected explosives at Utøya.
At 20.30 o'clock there came reports that a presumed assailant was arrested.
22.40: Police have found a car containing explosives on Utøya. The car belongs to probably the alleged offender.
Saturday morning informed the police that at least 84 people were killed on Utøya.
The suspected culprits behind the bomb in the government building and firing on Utøya had registered a sole proprietorship that would work with the cultivation of vegetables, melons, roots and tubers.Through the enterprise has the suspect Anders Behring Breivik traded large quantities of fertilizers and Support.
Fertiliser is a familiar ingredient in the powerful homemade bombs, and several major terrorist attacks worldwide has been carried out with bombs made of this.
Dealer has confirmed that the suspects acted in them.
- We have contacted the police as soon as we became aware that he is a customer of us and has given the information that we have as of now. And we will keep an ongoing dialogue with the police, said communications director Oddny Estenstad in the Farmers Agri told NRK.
. Do you know anything about what he bought? - We survey it right now, what products he is actually purchased by us.
Large amounts of
NRK is however the information that Anders Behring Breivik should have bought several tons of fertilizer in the spring of this year.
It will include a question of such large quantities that around 3 tons of different ammonium nitrate, and about 3 tons of the substance kalkamonsalpeter.
It was Friday afternoon full chaos in the city center after a terrorist attack against its ministries.
A loud bang from what should have been a bomb took seven lives and many were injured.
Einar Gerhardsen place was a mess of twisted wreckage and burned building materials. Not a window was intact in high-rise building, the entrance was blown out, it was a burnt out car on the roof in front of the building, and there were pools of blood on the sidewalk.
Later, the perpetrator have shot around the vermin, and there are at least 84 people dead and many injured. Total attacks have thus taken over 91 lives.
After the police had gained control of the island, it became clear that there were explosives there.
Purchased in April and May
Purchases of what may have been the ingredients to have taken place through his company. The time period for purchases is also confirmed by Estenstad in the Farmers.
- These are items that probably purchased in April, says communications director of the Farmers.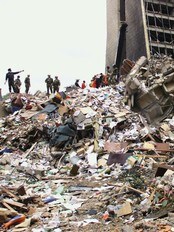 Several major fertilizer bomb destroyed the embassy building in Nairobi almost entirely under attack in 1998.
Photo: THOMAS COEX / AFP
Broadcasting Corporation has been in contact with the head of my department of the Norwegian People's Aid, Per Nergaard, who have knowledge about the various explosives. Nergård can not say exactly how powerful bomb ingredients that the suspect bought can make, but that he had large quantities.
What can it be compared to?
- I would estimate that he had NOK to make a bomb that was about half as powerful as those who blew up the U.S. embassy in Nairobi, Kenya, says Nergård leading my division in the Norwegian People's Aid.
The attack against the embassy in Nairobi was carried out with two or three such bombs, and took a total of 212 lives.
About 4000 people were injured in bomb attack which almost completely destroyed the building where the Americans had its embassy in Kenya.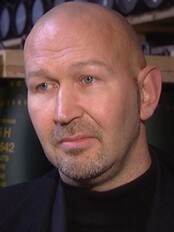 Nergård who have good knowledge of explosives react to a right-wing has been buying such large amounts of fertilizer.
Photo: Bjørn Opsahl / NRK
Nergård react to a person who is now by many associated with extreme attitudes on the right side got hold of such large amounts of chemical fertilizers, which can be used to make powerful bombs.
- I think first and foremost, how in the world with an extreme-right views can buy large quantities of fertilizer at the Farmers', then I think that this has been a big bomb.
What can these ingredients be used for?
- Depending on knowledge and how it is mixed, it creates a powerful, powerful bomb of such large amounts of fertilizer. It needed little else, and everything needed to get your user simply says Nergård who says that, unfortunately, is such that there is much information on how to build such bombs on the internet.
How powerful explosive force could cause?
- It is not easy to determine, but based on what I know now I would assume that there was talk about a bomb on a half tons, says Nergård.
http://www.nrk.no/nyheter/norge/1.7723890