The joy of being a conspiracy show host is that we have great latitude in the story we can present. We tried posting the doppleganger Saddam on our website yesterday and before the day is done the man who filmed Saddam being captured in his bunker was dead. As we say time and time again the proof is in the pudding. The image we found on Saddam was given a trojan and we shut everything down. So we will use another image this time.
The question we asked is who is the guy on the left who looks like Saddam when Saddam is supposed to be in the box.
The doppleganger put on trial looked like this.
The first thing that I noticed were the teeth. Saddam was very, very rich and had the Pepsodent smile.
These are not the same men. The doppleganger didn't even speak good English. I dare say Saddam was fluent after many years of CIA tutelage. For Chris Hondros of Spider Hole was caught up in the net and stung by the spider.
SAY AHH!
"Restrepo" director Tim Hetherington killed in Libya: doctors
Reuters US Online Report World News
Apr 20, 2011 19:36 EDT
MISRATA, Libya (Reuters) - Two photojournalists -- Oscar-nominated filmmaker and photographer Tim Hetherington and Getty photographer Chris Hondros -- were killed on Wednesday after coming under fire in the besieged Libyan town of Misrata.
Hetherington, co-director of Afghan war documentary "Restrepo," and Hondros were among a group who came under fire on Tripoli Street, a main thoroughfare and scene of fighting between rebels and forces loyal to Muammar Gaddafi.
Doctors at a hospital in Misrata had said Hetherington had died while Hondros was in critical condition. Getty Images later released a statement saying Hondros had died of his injuries.
Spanish photographer Guillermo Cervera said the group had been trying to leave Tripoli street when they came under fire.
"It was quiet and we were trying to get away and then a mortar landed and we heard explosions," he said.
Hetherington, who won the 2007 World Press Photo of the Year award, co-directed with Sebastian Junger the 2010 documentary "Restrepo," which was nominated for an Academy Award for Best Documentary.
His British family issued a statement saying they had learned of his death with great sadness and that he would be remembered "for his amazing images and his Academy Award nominated documentary 'Restrepo.'"
Hondros covered major conflicts including Kosovo, Angola, Sierra Leone, Lebanon, Afghanistan, Kashmir, the West Bank, Iraq and Liberia, according to his website. He received multiple awards including the 2005 Robert Capa gold medal. His work in Liberia earned him a Pulitzer Prize nomination.
"Chris never shied away from the front line having covered the world's major conflicts throughout his distinguished career and his work in Libya was no exception," Getty said.
(Reporting by Michael Georgy in Misrata and Daniel Trotta in New York; Writing by Myra MacDonald; Editing by Peter Graff)
Source: Reuters US Online Report World News
http://newsmeat.com/news/meat.php?articleId=96964630&channelId=2951&buyerId=newsmeatcom&buid=3281
TIM HETHERINGTON
Tim Hetherington, award winning photographer and documentary filmmaker is the co-producer and co-director of "Restrepo" with Sebastian Junger, which won the Grand Jury Prize at the 2010 Sundance Film Festival. His latest publishing project is "Infidel", an intimate portrait of a single U.S. platoon stationed in the Korengal Valley in Afghanistan. The images were made over the course of one year while Hetherington and Junger were filming "Restrepo".
Hetherington has reported on conflict and human rights issues for more than ten years. He was the only photographer to live behind rebel lines during the 2003 Liberian civil war - work that culminated in the film "Liberia: an Uncivil War" and the book "Long Story Bit by Bit : Liberia Retold" (Umbrage 2009), and his work for Human Rights Watch to uncover civilian massacres on the Chad / Darfur border in 2006 appeared in the documentary "The Devil Came on Horseback".
He is the recipient of four World Press Photo awards, including the World Press Photo of the Year (2007), and an Alfred I. duPont Award in broadcast journalism while on assignment with Sebastian Junger for ABC News (2009). A native of the UK, he is lives in New York and is a contributing photographer for Vanity Fair.
http://restrepothemovie.com/filmmakers/
Saddam's Spider Hole
January 2004
by Chris Hondros
Two pairs of shoes still in their boxes: A pair of clean new Hongmahwang loafers and a pair of gilded, tacky Italian slippers. The footwear of a madman caught last month hiding in a rat-filled hole almost within sight of one of his many palatial palaces. More than the beard that made him look like a character from a Harry Potter movie, more than the irony of the squalor of his final underground hiding place, it was those shoes that stopped me in my tracks and brought home to me the basic humanity of a man described for more than a year as possessing a subhuman evil. Picking through the modest compound filled with entirely pedestrian possessions, I was unprepared for the feeling that Saddam Hussein's capture gave me.
THE COMPOUND
Photo by Chris Hondros/Getty Images
The compound is located a few kilometers from Tikrit in north central Iraq and is part of a group of homes that don't quite number enough to qualify as a village; it's more like a modestly populated hillside. A day after hundreds of soldiers from the 4th Infantry Division and a group of highly-trained Special Forces soldiers swooped into Al Dawr and captured Hussein, I was whisked to the site in an Army helicopter with a small group of journalists. Our military tour guide tried hard -- with little success -- not to gloat.
It was small, all of it. The contents of the place were strewn about, giving the single room the air of an apartment that was broken into by thieves who chose their target poorly, and frustrated with the lack of anything worth stealing decided simply to make a mess of the place.
The backyard looked like that of a small starter home somewhere where land prices are high. The courtyard, perhaps 30 feet across, was defined at the left by a small single room. The outside wall of the room was covered by an awning, like a single-auto carport. Under this was shelving, a countertop and a little four-burner propane burner. A tea kettle full of cold water sat on the stove. Basic food stuffs were strewn about: honey, sugar, corn oil, canned goods. Some Spam-like meat, in a can laced with Arabic characters. A carton of Turkish milk.
THE SPIDER HOLE
Photo by Chris Hondros/Getty Images
The single room was a bedroom. Its two beds were jostled around by the invading soldiers, their bedding thrown askew. Clothes and books were everywhere. Brand new T-shirts and underwear sat in shiny unwrapped packages on the floor. I found myself particularly fascinated with Saddam's shoes in much the same way as the world was fascinated with his gold-plated plumbing when he lived in more opulent surroundings.
It's weird and strangely embarrassing to be face to face with the type of everyday domesticity that defines most people's lives and to realize that the person who slept in that bed, who takes honey in his tea and who gets his underwear in the same plastic-wrapped packages as any other Iraqi is synonymous with the term "brutal dictator."
For those who've lived under this man's regime, there will be no forgiveness found in this squalor -- if anything, the evidence of Saddam Hussein's modest life while he was on the run serves as an acute reminder of the vanity, avarice and oppressive authoritarianism that defined his time in power. How terrible was it? The reign of Saddam Hussein became synonymous with President Bush's "axis of evil" and his live capture and pending trial are seminal, nearly incomprehensible events for Iraqis, as much as the events of Sept. 11, 2001, were for Americans. The sight of the man emblazoned in their consciousness in countless likenesses around the country -- from posters to statues to currency -- reduced to submitting to something as humiliating as an oral exam at the hands of American soldiers, seen on televisions across Iraq, produced near epileptic displays of emotion. The jubilant stopped traffic and shot at the sky in joy: Saddam loyalists gnashed their teeth and fired rockets at U.S. military convoys. Though the celebrations weren't nearly as extensive as people expected; Baghdad was more chaotic after Saddam's sons were captured, oddly. Perhaps a certain amount of weariness and jadedness had set in by December.
THE HIDING PLACE
Photo by Chris Hondros/Getty Images
From the U.S. military's point of view, there's not much about the raid that could have gone better. Based on intelligence gleaned from intensive interrogation of detainees, the 4th Infantry Division staged a series of raids into Al Dawr in recent days. Saddam's hiding place was ingenious and quite effective: it seems clear he was spirited into the backyard spider hole at the first sign of American activity in the area and his two housemates (who were also arrested and whisked off to points unknown) covered the hole with a Styrofoam plug, a shovel-full of dirt and a few ratty carpets. U.S. soldiers acknowledge that they'd swept that compound before, perhaps walking right over Saddam during their earlier raids. The soldiers who actual netted the deposed president were Special Forces, and thus none of the men who pulled the tyrant out of his hole are available for direct comment. Nor will they be in the foreseeable future, until someone wrangles permission to write a book someday. None of the regular 4th Infantry Division guys that I talked to seem to have seen Saddam; they were doing support and perimeter security, and the Special Forces men apparently whisked Saddam straight into a waiting helicopter outside.
After my brief tour of the room, I walked over to the the spider hole itself. The opening is rectangular and small, but carefully hewn and fringed with stone and wood. It leads down about three feet and angles another foot or two to form a T into the small narrow chamber, about eight feet long. Timbers form the roof, about a yard under the concrete slab of the courtyard above.
Gingerly, I lowered myself down into the chamber and lingered a few minutes, picturing Saddam holding his breath and listening to the sounds of American soldiers hunting him only feet away. I wondered if it ran through his mind what he'd been reduced to: hiding in a tomb with nothing between him and an invading army but a few magazines of ammunition, the parallels to Hitler's last moments inescapable. It was eerie and macabre.
I was glad to get out.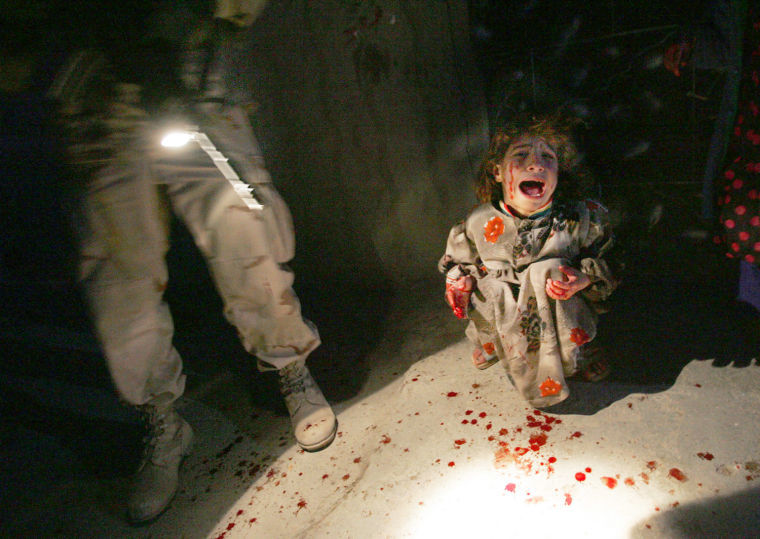 Chris's masterpiece war photo won the hearts and minds of the anti war movement.