| | |
| --- | --- |
| Posted by George Freund on April 17, 2011 at 10:35 AM | |
WHY THEY DON'T INTERVIEW TERRORISTS IN PRISON?
They work for the intelligence agencies. Sometimes they do more than one mission. Lock them up for life and no one connects the dots. OKC to Al Qaida they're the same thing. See how they made him appear after I exposed this.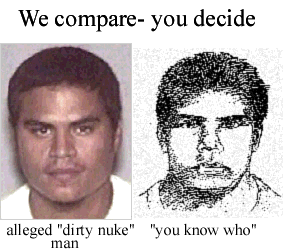 Jose Padilla (left) John Joe #2 (right)
GET THE PICTURE.:o
George.