A Syrian child receives medical treatment after Assad regime forces allegedly conducted a poisonous gas attack
Syrian activists and rescuers say a poison gas attack on a rebel-held town killed at least 40 people yesterday
The alleged attack in the town of Douma in Eastern Ghouta came amid a resumed offensive after a truce failed
Syria said Russia would hold fresh negotiations with rebels today despite airstrikes resuming this morning
The US has hit out at the Russian government for its backing of the Assad regime after the alleged attack
The UK's Foreign Office also called on Russia and Iran to stop the attacks but Moscow denied it had happened
The Pope joined in the condemnation saying nothing could justify the use of 'instruments of extermination'
The attacks came as Syrian government forces have resumed deadly bombardments of the last opposition holdout in the Eastern Ghouta area near Damascus
Britain and the US have hit out at Russia for its support of the Syrian government after activists and rescuers said a poison gas attack on a rebel-held town near Damascus killed at least 70 people on Saturday.
The alleged attack in the town of Douma occurred on Saturday night amid a new offensive by Syrian government forces after the collapse of a truce, while government airstrikes resumed today on the last rebel stronghold in Eastern Ghouta.
A joint statement by the medical relief organisation Syrian American Medical Society (SAMS) and the civil defence, which operates in rebel-held areas, said dozens of people had died in the chemical attack with many others killed in government airstrikes.
The US State Department said Moscow had to bear responsibility because of its support for Syria, while the UK Foreign Office called on Russia and Iran to stop violence against civilians. The Kremlin and Assad regime denied the attack had taken place.
Pope Francis joined the international condemnation of the reported attack, saying it was an unjustifiable use of 'instruments of extermination'.
Syrian state media denied government forces had launched any chemical attack as soon as the reports began circulating and said rebels in the eastern Ghouta town of Douma were in a state of collapse and spreading false news.
The Syrian government said Moscow would start fresh negotiations with the rebel Jaish al-Islam group on Sunday, an official source said, despite the resumption of airstrikes this morning, with Russia offering safe passage out of their beseiged enclave.
I believe the included photos are fakes. The classic foaming symptoms are not there. The people tending to the casualties are not wearing protective equipment. The rebels have been found in possession of chemical weapons before. They have the only motive to either use them or pretend to use them. This tactic buys them NATO air support which can cause overwhelming harm to Syrian forces. The risk, of course, is will Russia shit or get off the pot? Considering the Ukrainians are planning a spring offensive next month, they had better shit. However, no matter which way they turn they will be facing a two theater war. If they bog down in one, they may very well lose the other. So I see this as a ruse to mire Russia in atrocious combat with little opportunity for resolution. The Ukrainian and Syrian people pay the price for this madness until the fighting escalates to the rest of Europe and the world. Russia is being backed into a corner. It is being left with no option save war. The only successful resolution would be for us to kick our vassals and despots out of office and replace them with people not interested in the world order by force.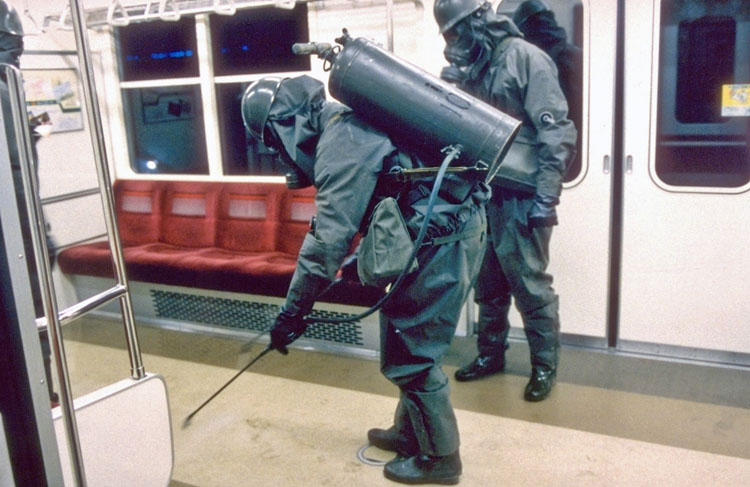 Japanese cleaning up after a sarin gas threat. Notice any difference?