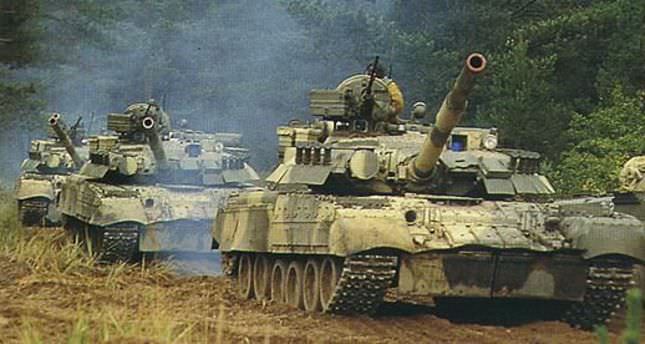 A Russian armored column has crossed into the eastern Donetsk Region of the Ukraine. Reports state that 32 tanks and a support column are involved. There is heavy fighting in the area. Make no mistake that the battle for dominance over the planet Earth has not ebbed in any way. How far will it go is the only question. As
Popeye the Sailor
said, "This is a fight to the finish." There can be no peace.  I would consider the EBS Alert in the U.S. as not an error, but a test of the system for a potential conflict. The police state surveillance laws are indicative of what we in Canada call The War Measures Act being proclaimed without alerting the Russians to same. With the discovery of
mass graves of raped women
and
torture of prisoners
by Ukrainian fascists, I would expect Mr. Putin will clean up the Uraine.
Ukraine says Russian military column has entered east of country
Tanks, howitzer artillery systems and trucks carrying ammunition and fighters in column, says military
The Guardian, Friday 7 November 2014 12.51 GMT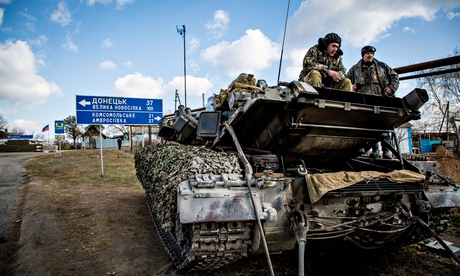 A rebel tank of the Oplot unit is repaired in Donetsk, Ukraine
A rebel tank being repaired in Starobeshevo in Donetsk. Ukraine says Russian tanks and trucks have entered the country. Photograph: Petr Shelomovskiy/Demotix/Corbis
A column of 32 tanks, 16 howitzer artillery systems and trucks carrying ammunition and fighters has crossed into eastern Ukraine from Russia, the Kiev military said on Friday.
"The deployment continues of military equipment and Russian mercenaries to the frontlines," spokesman Andriy Lysenko said in a televised briefing referring to Thursday's cross-border incursion.
The report of a new Russian movement of armour across the border follows a charge on Thursday by pro-Russian rebels in eastern Ukraine that Kiev government forces had launched a new offensive - which Kiev immediately denied.
Sporadic violence has continued since a 5 September truce in a conflict that has cost more than 4,000 lives.
But the ceasefire has looked particularly fragile this week, with separatists and the central government accusing each other of violations after separatist leaders held elections in self-proclaimed "people's republics" last Sunday.
"Supplies of military equipment and enemy fighters from the Russian Federation are continuing," Lysenko said. He added that five Ukrainian soldiers had been killed and 16 wounded in the past 24 hours despite the ceasefire.
Fifteen civilians were wounded by shrapnel in Donetsk, the mayor's office said, in a night of shelling in two neighbourhoods near the ruins of the airport, where government troops are holding out.
Some 150 mourners later attended an emotional memorial service in the city for two teenage boys killed when a shell hit a school playing field on Wednesday. Kiev and the insurgents blamed each other for the incident.
Claims of fresh troop movements are reinforcing fears of a return to all-out fighting.
The Ukrainian president, Petro Poroshenko, said this week that the rushed elections in the Donetsk and Luhansk regions, which the Kiev government and EU had declared illegal, had violated the September peace accord. He said the votes - which the rebel leaders claimed gave them a mandate to negotiate directly with Kiev - had "torpedoed" an offer of autonomy for the east and ordered troops to reinforce frontline cities.
A Kremlin adviser said on Friday that Russia was committed to the two-month-old agreement and wanted further talks held to build on peace moves involving government forces and separatists.
Foreign policy adviser Yuri Ushakov also said Russia respected the will of voters after the separatist elections, but following western criticism of Moscow's stance on Sunday's vote, he said he had deliberately chosen the word "respect" rather than "recognise".
The financial isolation over the Ukraine crisis - along with falling oil prices - has hammered Russia's flagging economy, with the rouble plunging early on Friday to a new record low against the euro.