| | |
| --- | --- |
| Posted by George Freund on March 30, 2014 at 12:30 AM | |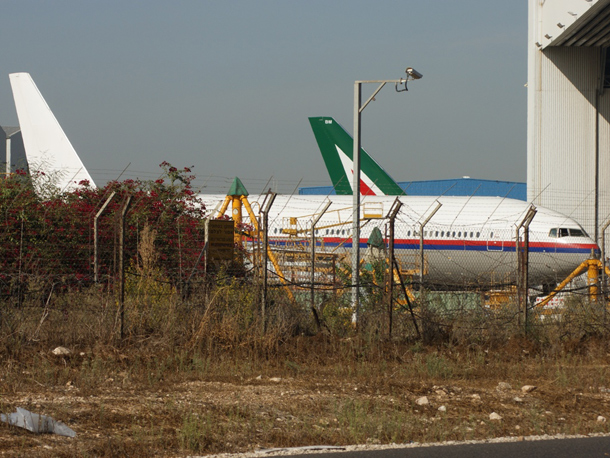 This was found on This Hebrew forum. It was promptly removed and cannot be found there anymore;(but that does not work with the web, heh.) When translated, other people ridicule the poster for taking a picture in a forbidden area.
The Malaysia airlines logo has been removed from the tail, but the general paint scheme remains.
Let's hope we don't see this one make a cameo appearance somewhere with "Allahu Akbar" painted on the tail. I have confirmed that it arrived at Tel Aviv with a blank white tail, which was repainted before it left America.
Plane history: It was first leased by Malaysia airlines. Then purchased by GA Telesis. Then, FIVE FULL YEARS before the absolute MINIMUM life span, was scheduled to be scrapped for parts (makes no sense at all, it could have flown for at least 10 more years), and then for some mysterious reason it showed up in France, only to end up in Tel Aviv. This is where it all gets odd – WHY would it be slated for scrapping in America while still far too new, only to end up in Israel just sitting there? Most probably this plane was indeed purchased for the reason most people suspect and the repainted tail was an inconvenience. WHY pull it from the forum it posted on if this picture was meaningless?