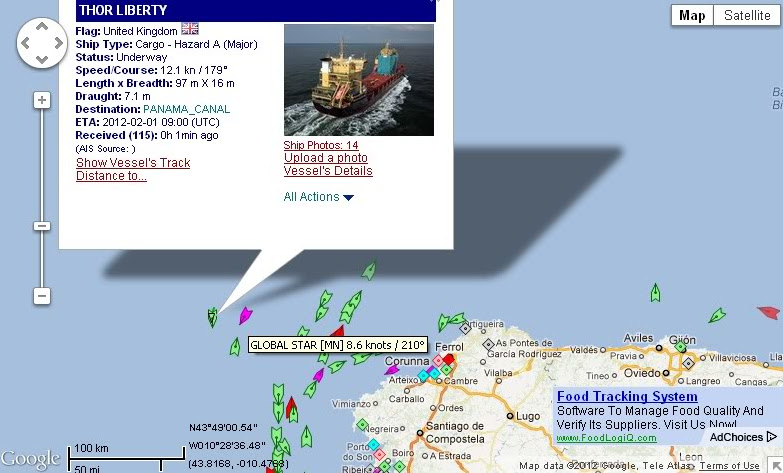 -
Have you had your morning yawn? Is the apocalypse a little slow in starting this year? Don't worry. Her Majesty's secret services are always prepared to pull a covert action while your thoughts are diverted elsewhere and yesterday starts to swirl down the memory hole.
-
Not to worry. I come from a country whose national anthem is composed on the phrase we stand on guard for thee. Our national police force was established with the best of intentions with their motto of Maintiens le Droit (Maintain the Right) even if they don't practice what they preached in the 19th century.
-
A covert cargo that was supposed to get the year off to a real bang is still sailing to a predetermined destiny. Unlike the Costa Concordia, there are no busty girls to cling on to and no cocktail parties and dress whites to wear. It is a back to basics operation that should never have been exposed to the light. It was most likely Her Majesty's secret services at the helm since
the ship was after all registered to one of the Queen's islands
directly under her control.
-
Isle of Man
Ellan Vannin
-
Flag Coat of arms
-
Motto: Quocunque Jeceris Stabit (Latin)
Whithersoever you throw it, it will stand.
-
The Isle of Man has become a centre for emerging private space travel companies.[75] A number of the competitors in the Google Lunar X Prize, a $30 million competition for the first privately funded team to send a robot to the moon, are based on the Island. The team summit for the X Prize was held on the Island in October 2010.[76] In 2010 the Island was named the fifth most likely nation to reach the moon next.[77] In January 2011 two research space stations owned by Excalibur Almaz arrived on the Island and were kept in an aircraft hangar at the airfield at the former RAF Jurby located near Jurby.[78]
-
Who would have thunk? The Isle of Man is space central. Their ship is carrying missiles. How simple it would have been to install a little extra equipment on Thor Liberty.
-
In the Manx tradition of folklore, there are many stories of mythical creatures and characters. These include the Buggane, a malevolent spirit who according to legend blew the roof off St Trinian's Church in a fit of rage...
-
For centuries, the island's symbol has been the so-called "three legs of Mann" (Manx: Tree Cassyn Vannin), a triskelion of three legs conjoined at the thigh. The Manx triskelion, which dates with certainty to the late 13th century, is of an uncertain origin.
-
It may also have a purely militant attestation, as it was common in Gaelic folklore and custom to throw the sword of a fallen hero before a battle following their death. If the weapon landed upright, it was a blessing and a call to arms, if it did not stand upright, Ie simply fell or landed without being erect, there would be no such call. The very nature embedded in the motto is indicative of this custom, or at least its sentiment is starkly present.
-
Ah yes. We throw the sword of today, the Patriot missile, and see if it 'lands' upright, i.e. starts the war of the Apocalypse. Its success will be viewed as a blessing. Our investigation will keep the eyes and ears of the world from falling into the memory trap. We see a ship trailing (the pink ship) Thor Liberty off the coast of Spain as we speak. It is on a one way mission to the breaker's yard in India. It has a Russian crew. It was detained on a pretext in England while Thor Liberty was delayed by her seizure in Finland.
-
Chemical tanker Global Star can't set sail for a final voyage, detained in UK
Saturday, January 14, 2012 - 9:31:00 PM - More articles in Accidents
-
Chemical tanker Global Star en route to Alang scrapyard called in Portland, UK, for bunkering, on Jan 10. Vessel wasn't able to get bunker because the captain had no means of paying, so it anchored in Weymouth Bay. Later money problem was settled, presumably by Jan 13, but the Maritime and Coastguard Agency (MCA) stepped in and detained Global Glory for a number of deficiencies found during the inspection. Maggie Hill, from the MCA, said: "We have concerns about the crew accommodation, the engine room, and the safety equipment on board." Such a diligence on the part of MCA seems to be rather exaggerated, after all, tanker is sailing to scrapyard. The 14 crew is Russian, vessel was supplied with some fuel to keep its generators running. Chemical tanker Global Star IMO 8800767, dwt 8192, built 1989, flag Mongolia.
-
http://www.odin.tc/news/read.asp?articleID=455
-
Global Star (IMO: 8800767)
-
-
Photo of the vessel Global Star
Global Star by Becks93
Type of ship: Other Ship
IMO Number: 8800767 Flag: Mongolia
MMSI Number: 457900046 Length: 115.0m
Callsign: JVPJ4 Beam: 22.0m
-
-
There is a bit of a resemblance too. With a little paint Global Star could easily be made to look like Thor Liberty. No one is going to pay much attention to a ship heading to the scrap heap except us. We change destinies. We are Conspiracy Cafe. Or you can go back to sleep and wait for the explosions to wake you up. The new Pearl Harbor is the old Pearl Harbor trick.
-