-
-
It could be a bestselling novel this murder most foul. The body of a woman is found at the Sandringham Estate of Her Majesty the Queen during the annual 'hunt.' However, the body was heavily decomposed suggesting the victim met her demise at least one month ago and possibly as long as four.
-
Even though there are no secrets in the world of cyberspace and all the relevant clues have been aired in public, it is still a 'mystery.' Really?
-
-
-
As they say in the mysteries, the plot thickens. In this case though, there will be a hardening like concrete because not only has Mr. Epstein visited Sandringham as the personal guest of the Prince, he was granted
landing rights to his personal private jet at Royal Air Force base Markham
. That's a nice way to avoid the usual customs ritual the mere peasants have to endure. That was back in 2000 when three women accompanied him.
-
Ghislaine Maxwell looks on as Andrew put his arm around Virginia. Robert Maxwell's daughter invited her to work as Epstein's personal masseuse soon after her 15th birthday.
-
Ghislaine Maxwell is the daughter of the late Robert Maxwell who has been alleged to be a
spy for the Mossad
and a specialist at high end money laundering. Now that certainly thickens the broth. Mr. Maxwell had access to the corridors of power in the Thatcher government, the Reagan White House and a large part of Europe. He sold these secrets to the Mossad. He was their unofficial ambassador to the Soviet bloc.
-
The Mossad acquired Promis software
and Mr. Maxwell sold it to client states with the slight modification that allowed Mossad to monitor its use. There were 42 sales including China and Russia and Los Alamos. Even old Bin Laden got in on the Promis it has been said.
-
-
I'm sure daughter Ghislaine was instrumental in acquiring power over the elites by sexual blackmail with the underage playthings. Perhaps worse may have been the odd demise of these sex slaves as they possessed more knowledge than should have been prudent.
-
Some people just cannot say enough about Mr. Epstein and the circle of friends.
-
Yes the circle of friends does include some very interesting people.
-
Ehud Barak
Bill Clinton
Sir Evelyn de Rothschild and his daughter Hannah
Lord Mandelson and Lord Mandelson's boyfriend Reinaldo.
Naomi Campbell
Sir Richard Branson
Lord Palumbo, the UK's former Arts Council chairman and godfather to the Duke of York's eldest daughter Beatrice
The journalist Toby Young
Dame Gail Ronson, wife of the multi-millionaire British developer Gerald Ronson
The JCB tycoon Sir Anthony Bamford
Philippe Amon, a Swiss industrialist
Caroline Stanbury, a former girlfriend of Prince Andrew.
-
Sir Richard had a horrendous house fire that nearly claimed his life and the lives of his mother and Kate Winslett. In fact Diana and Prince Harry visited his island paradise in 1990 as well. There is no rest for the wicked it seems, but that is just the beginning.
-
Paris Hilton claims to have had some memorable experiences with Prince Andrew and Prince Harry. However, dear Paris has a unique connection in the conspiracy genre. Her British Best Friend, Kat McKenzie, died of a suspected suicide July 3, 2009. Also on the same day her designer died in an apartment block fire in South London. Catherine Hickman was conducting a fashion show at the World Trade Centre on Sept. 11, 2001. It was mysteriously cancelled. Then Ms. Hickman is one of 6 killed in a deliberately set fire that started on the 9th floor and quickly spread to the 11th. The synchronicity is breath taking.
-
Kat McKenzie and Paris
-
Innocent mother and children that died in the blaze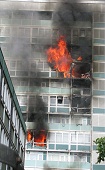 -
Even more bizarre is the fire brigade refused to enter the building with protective equipment and rescue the victims who succumbed to the smoke. Catherine was sentenced to death for something she knew. She was a graduate of the Salisbury School of Art and the Winchester School of Art. We must remember a group of artists had the run of the WTC before the 'attack' even drawing its demise and the jumpers so immortalized in the press by RFK's infamous photographer.
-
Catherine Hickman

-
So we see a complex circle of friends associated with the Princes, the intelligence agencies, child sex rings, the international rendition of young girls, and a body of a young girl found at the Queen's estate. If this were anyone else, and you partook of the flesh and cavorted with sex offenders and had the body of a murdered woman on your property, it wouldn't be going so well. However, when you're heir to the throne, the police know not to be too thorough in their investigations for fear of not living to a pensionable age. You can be eliminated from the list of suitable suspects. Mr. Epstein was only prosecuted through the tenacious efforts of a Florida Police Chief. He was far enough outside of the control on the Monarchy. He did blaze the trail. It is obvious.
-
On August 31st of last year at 12:15 p.m. a young woman by the name of Alisa Dmitrijeva who was 17 was last seen getting into a green Lexus GS800 on Friars Street, King's Lynn, which is about ten miles from Sandringham. Now we truly see the cement harden in the plot. The Prince and the pedophile friend who have attended Sandringham together and have a taste for young girls have a deceased young girl found at his mother's estate. Remember the look of alarm on her face as she went riding? You can't make that up.
-
-
The body is a girl's who may be as young as 15. Alisa was 17. The DNA tests were inconclusive. That could be a fix. DNA has been matched with much older specimens. I think we're not going to get too close to the royals on this one. It spoils the hunt, but that's the way the system works. The plot is too thick except for the Cafe here.
-
-
Bang! Bang! Maxwell's silver hammer
Came down upon her head.
Clang! Clang! Maxwell's silver hammer
Made sure that she was dead.
-
We have to expose these Satanic monsters for all they're worth. They consume people's flesh without limits. Our biggest failure is a lack of moral resolve or denial. I stopped drinking the Kool-Aid years ago. The elite rich are on my short list of suspects from the outset. Their next step is a full blown war in the Middle East and a financial collapse. We can't stop them until we change the channel and stop the programming of our minds.
-
-
LITTLE ST. JAMES
-
Jeffrey Epstein 'kept a diary of his under-aged victims'
-
The Duke of York's billionaire paedophile friend kept a secret journal, described as "The Holy Grail" by lawyers, which listed his alleged under-aged victims and the celebrity guests he entertained at his Florida mansion.
-
Jeffrey Epstein used the "black book" to log contact details of the girls that gave massages to him and his friends and those of his powerful and famous associates, such as Bill Clinton and Donald Trump.
-
A servant at the £4 million manor in Palm Beach, where Prince Andrew enjoyed daily massages during several stays, stole the journal and initially kept it secret from investigators. He is now in prison after attempting to sell it for $50,000 (£31,000).
-
Epstein, 58, was accused of sex offences by more than 20 under-aged girls. They alleged that after being recruited as masseuses by aides including Ghislaine Maxwell, daughter of the late tycoon Robert, they were seriously assaulted and then paid hundreds of dollars.
-
The billionaire financier, who attended The Queen's birthday party in 2000, was sentenced to 18 months in prison in 2008, having secured a plea bargain that prevented full criminal trials. He later settled more than a dozen multi-million dollar civil lawsuits from his alleged victims out of court.
-
The previously undisclosed journal, however, "detailed the full scope and the extent of Epstein's involvement with underage girls", according to lawyers for several alleged victims.
-
RELATED ARTICLES
-
Prosecutor of the Duke of York's sex offender friend Jeffrey Epstein speaks of 'assault' 26 Mar 2011
-
Duke of York pleads with government over links to dictator 05 Mar 2011
-
It contained the names of girls that Epstein allegedly abused in "Michigan, California, West Palm Beach, New York, New Mexico, and Paris", according to court papers.
-
It also listed extensive contact details for Epstein's house guests, who had "no connection whatsoever" with alleged offences, including Mr Clinton, the former US President, and Mr Trump, the famous businessman.
-
It could not be confirmed last night whether the book contained contact details for the Duke. One lawyer for Epstein's alleged victims said: "I would bet he is, because he is that good a friend".
-
There is no suggestion that the Duke did anything wrong. However he has this week faced a string of questions about his judgment due to his association with a convicted child sex offender.
-
Epstein kept 21 different phone numbers for Mr Clinton, including some for his assistant and also "Clinton's personal numbers", the court papers state.
-
Alfredo Rodriguez, a servant who "saw numerous underage girls coming into Epstein's mansion for purported 'massages'," took the journal and did not mention it to investigators.
-
"Because of the importance of the information in the journal to the civil cases, Mr Rodriguez called it 'The Holy Grail'," the court documents state.
-
He attempted to sell the book to lawyers for $50,000 (£31,000) in August 2009 - by which time Epstein had already been sentenced and released from jail.
-
The lawyers contacted the FBI, who sent an undercover agent to buy the book from Rodriguez. He was then arrested and charged with obstruction of justice.
-
Rodriguez, who said in sworn testimony that he was terrified of Miss Maxwell, also said he took the book as an "insurance policy" to prevent Epstein making him "disappear".
-
He was sentenced to 18 months in prison – the same punishment Epstein received for his sex offences – in June last year. His wife, Patricia Dunn, told The Daily Telegraph that he was "sorry" for his error.
-
Dave Lee Brannon, an Assistant Public Defender who represented Rodriguez, said: "If this book had been produced when requested, Mr Epstein's sentence may have been significantly different."
-
Details of the journal emerged in a lawsuit brought in Florida by Epstein against Brad Edwards, a lawyer representing several alleged victims.
-
Epstein alleges Edwards was linked to a "Ponzi scheme" run by a colleague, which lured investors by falsely claiming Epstein had agreed to settle sex-offence lawsuits for hundreds of millions of dollars.
-
Edwards rejects the allegation, which has already been dismissed by the Florida Bar.
-
There is a body of evidence The Jack the Ripper murders were Royal directed.
-
Jack the Ripper's Letter from Hell:
-
" From hell
Mr Lusk
Sor
I send you half the Kidne I took from one women prasarved it for you tother piece I fried and ate it was very nise. I may send you the bloody knif that took it out if you only wate a whil longer
signed
Catch me when you Can Mishter Lusk.
-
The Goulston Street graffito was some writing on a wall that was found beside a clue in the Whitechapel murders investigation. The Whitechapel murders were a series of brutal attacks on women in the Whitechapel district in the East End of London that occurred between 1888 and 1891. The prime suspect in the murders was the notorious serial killer called "Jack the Ripper", whose identity remains unknown.