| | |
| --- | --- |
| Posted by George Freund on September 17, 2011 at 10:20 AM | |
America's 9/11 September 11th Mayor
While the dancing star was selecting his wardrobe, America was under the sights of an evil terror network. Is there any wonder New York fell victim? You would vote for this man. You would let him have more responibility. You are the victims of mass mind manipulation in the selection of your leaders. You can change the channel or you can polish your nails. After the crash, you'll have lots of time.
Rudy Giuliani Dancing with the Rockettes
Former New York City mayor and cross-dressing fetishist Rudy Giuliani wears fishnets and high heels while performing leg kicks with the Radio City Rockettes in 2001. Sadly we weren't able to find the video clip, but we will always cherish the photos.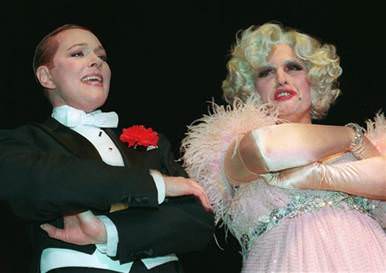 Giuliani was described by Newsweek in January 2007 as "one of the most consistent cheerleaders for the president's handling of the war in Iraq"[176] and as of June 2007 remained one of the few candidates for president to unequivocally support both the basis for the invasion and the execution of the war.[177]

"My religious affiliation, my religious practices and the degree to which I am a good or not-so-good Catholic, I prefer to leave to the priests."
For his leadership on and after September 11, Giuliani was given an honorary knighthood (KBE) by Her Majesty Queen Elizabeth II on February 13, 2002.[118]