I have a policy of looking at models of reality based on fit or fall off. In the Norwegian terror event there were many things that don't fit as we understand perceived reality. However, our ideas of reality are generally quite out of date to put it mildly. I'm sure most people are unaware of even the technological advances in science and medicine that are in the public domain. Can we be prepared for what advances are doable in the highly classified realm of the defence industry? 
Sometimes all it takes is the right key world or idea to catapult one's mind light years ahead of where we thought we were comfortably at. I found that idea in an old movie I found in the bargain bin. It was a little crass and vulgar in spots, but the idea was staggering - suitcase nuclear weapons without the suitcase. Using all the latest technology to build a humanoid robot as a delivery system to carry a tactical battlefied nuclear weapon.
Eve of Destruction is a 1991 science fiction film about a cyborg named Eve, designed in secret by the United States military for undercover operations. The film stars Gregory Hines as Colonel Jim McQuade and Dutch actress Renée Soutendijk (in her first U.S. film) with the dual roles as the cyborg's creator Dr. Eve Simmons, and the cyborg Eve herself.
Eve VIII is a military robot created to look and sound exactly like her creator, Dr. Eve Simmons (Soutendijk). When the robot is damaged during a bank robbery, it accesses memories it was programmed with by her creator. The memories used, though, are the dark and angry ones.
The robot is also programmed as a killing machine if anyone tries to stop her mission. Colonel Jim McQuade (Hines) is tasked with stopping the robot. With the help of Dr. Simmons, he tries to outthink the intelligent and emotional killing machine.
http://en.wikipedia.org/wiki/Eve_of_Destruction_(film)
To the uninformed this science fiction at its best. To the informed many pieces in the Norwegian terror event no matter how extreme are starting to fit and NOT fall off. What have we done? We have manufactured human tissue. This is being done right now at the Wake Forest Institute for Regenerative Medicine which is funded by the U.S. Dept. of Defence.
Wake Forest Institute for Regenerative Medicine is a research institute affiliated with the Wake Forest School of Medicine and located at Winston-Salem, North Carolina, United States. Regenerative medicine is "a practice that aims to refurbish diseased or damaged tissue using the body's own healthy cells."[1] The institute opened its doors in May 2006 in an urban research downtown park in a 189,000-square-foot (17,600 m2) research building. The facility is part of the Piedmont Triad Research Park.[2][3]
Anthony Atala, M.D., is the Director of the Institute. He and many of his team came to North Carolina from the Laboratory for Tissue Engineering and Cellular Therapeutics at the Children's Hospital Boston and Harvard Medical School. Notable achievements announced at Wake Forest Institute have been the first lab-grown organ, a bladder, the artificial urinary bladder to be implanted into a human.[4][5] and stem cells harvested from the amniotic fluid of pregnant women. These stems cells are pluripotent, meaning they can be manipulated to differentiate into various types of mature cells that make up nerve, muscle, bone, and other tissues while avoiding the problems of tumor formation and ethical concerns that are associated with embryonic stem cells.[6]
http://en.wikipedia.org/wiki/Wake_Forest_Institute_for_Regenerative_Medicine
http://www.good.is/post/future-growing-pains-will-take-place-in-petri-dishes/
Skin to Be Bioprinted Onto Burn, Accident Victims By New Technology
http://www.techi.com/2010/04/skin-to-be-bioprinted-onto-burn-accident-victims-by-new-technology/
http://minidigita.com/topic/science/
The Japanese have very advanced technology in human like robots. With a quick glance you may not see that this is not a woman. Now use the techniques from Wake Forest and cover your robot with artificially grown human skin.
Ultra Lifelike Japanese Robot - Repliee Q1
http://www.itmweb.com/cgi-bin/blog/weblog.pl?reply=40
In the movie Eve of Destruction that robot was female too. Now speculate they made some males too. Speculate one of them looked like this.
Notice the cold detached expression. We are told this is the same man as this Anders Breivik. We were told he had plastic surgery. People who knew him said he was different from before. This is clearly obvious I think. This photo before surgery seems human. The upper face is puffed and not quite the same. That's one of my first fits. They are the same, and yet they are different.
Another fit is the conundrum between the on the scene witnesses describing two shooters and the police saying there's only one. You can make several Anders Breivik's or you can have your Anders and your robot too. That's another fit.
The explosion in Oslo was massive. A couple of hundred pounds of ANFO isn't going to cause that much damage over such a broad area. However, Eve was created as a tactical battlefield nuclear weapon. A micro nuke can take out a football field sized area. That fits with the observable evidence. Anders was seen near the explosion and miraculously made it to the ferry dock 19 kilometers away to transport to the island in a very short period of time. Or was Anders 1 the bomb?
Oslo Explosion: Blasts Rock Norway Government Buildings
The evening before the attacks there was an earthquake near Anders Breivik's farm. That's a tough one to fit. However, if the suitcase mini nuke without the suitcase was tested, it would fit this model as well. People might even think the next jolt of the ground was another 'earthquake'.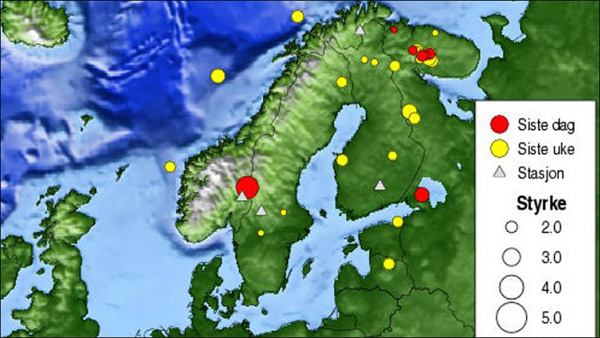 http://www.redicecreations.com/article.php?id=16233
Anders Breivik and some of the other mass murderers using firearms have used them with devastating effect. The word killing machine comes to mind. It's hard to believe any human being could be so ruthlessly efficient unless maybe they were a machine with computer optics and alignment of the weapon.
The police confronted Norway's ultimate killing machine and he just gave up. I doubt if I'm the only one who finds that a bit odd. One would expect he would have been 'terminated'. But he wasn't. One of the features of the humanoid tactical battlefield nuclear weapon is that they're virtually indestructible. Their features are armoured. Bullets will not penetrate them. Their vital organs may be real flesh created in a lab, but they are for cosmetic purposes only. Shots into the vitals will have no effect. In fact they would illustrate that the shooter was not human at all but a machine. In the movie Eve of Destruction only the eye was a vulnerable point to get at the control center.
Can we build a cyborg weapon? Yes we have the technology in the declassified realm. In the highly classified realm, they may have been doing it for years. One factor outside of the Oslo event is that America has been very, very concerned about a bomber with surgically implanted explosives. Or are they just saying that because they know the modern battlefield regularly includes things that are machine but covered inside and out with things that are human so to speak but are really manufactured in a lab. It's all about Eve.
TRAILER:
http://www.youtube.com/watch?v=QxDF0Nx-3oY