Is he the second shooter?
Man arrested on Sundvollen with knife
Man arrested on Sundvollen
The man should have alleged that he was a Labour Youth member, and must have had a knife in his pocket. Police arrested the man immediately.
CAMILLA WERNERSEN
camilla.wernersen @ nrk.no
Published 1:01 p.m. today. Updated 1:31 p.m. today.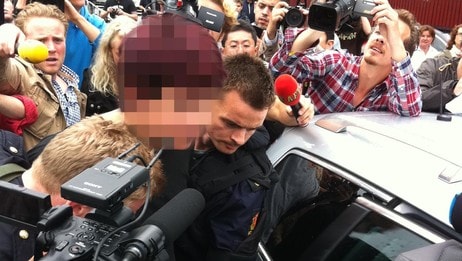 - I had a knife on me because I do not feel safe, a man should have screamed before he was led away in handcuffs by police, according to NRK reporters Sundvollen in Buskerud.
He was arrested outside Sundvolden Hotel, where many victims and their families after Utøya massacre staying.
The key members of government are at this moment in the same place.
The man who carried a knife was quickly apprehended by police.
Photo: Ingunn Andersen / NRK
Read more: Police reject multiple perpetrators
Read more: Police reject multiple perpetrators
Read more: Games in the death of one hour
- The press was waiting for Stoltenberg at the barriers when they were suddenly made aware of two police officers who were held in a young man, tells NRK.nos reporter Sundvollen, Ingunn Andersen.
- They took the handcuffs on him and he was led into a civil police. He shouted that he was a member of the AUF and was carrying a knife because he did not trust anyone here, she continues.
The man claims he was out on the Labour Youth League summer camp at Utøya yesterday.
The police drove by the place of sirens. Further circumstances of why the police arrested the man is not yet known.