There always those little loose ends that don't make any sense in the conspiracy world because the whole world is rife with people who plot and conspire. It's always been that way despite the minds games the NWO plays with the term conspiracy theory. It's cover fire for the thinking mind.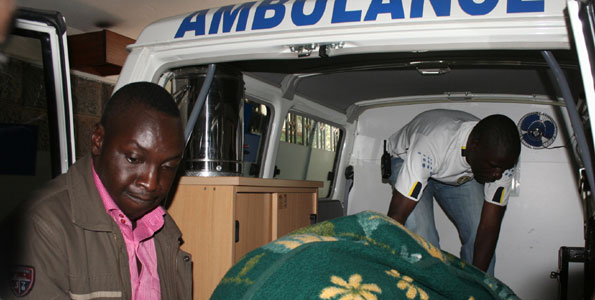 It started with the mysterious death of Deputy Police Commissioner of the Kenyan Police Mr Bernard Kimeli. On the night of April 26th 2011 he was murdered in his home in the gated community of Westlands. There was no sign of forced entry. His pistol and vehicles were not stolen. Usual robbery has been ruled out. He apparantly knew his attackers because they were let in. He was stabbed several times in a horrific struggle and then shot. His personal papers were ransacked and some were stolen. It appears he knew too much of something very sensitive. The press is hinting at upcoming International Criminal Court actions resulting from a recent election. Mr Kimeli retired in March 2008.
http://www.standardmedia.co.ke/relationship/InsidePage.php?id=2000034043&cid=4&
That in and of itself is suspicious, but the notorious embassy bomber was reportedly killed in a clash with security forces in Mogadishu. Everything seemed so clear cut except in the BBC report on the death of Fazul Abdullah Mohammed an African Union peacekeeping force spokesman said the photo's supplied did not match. Somalia's National Security Agency is supposed to have performed DNA tests. However, at first security forces had no idea these men were wanted terrorists in the embassy bombings. According to General Abdikarim Yusuf Dhasabadan Somalia's deputy army chief they were buried and then exhumed for DNA tests and photos. There is a $5 million reward up for grabs to offset the $40,000 in cash recovered. Of course Kenya's present Police Commissioner certifies our man Fazul as the real deal.
http://www.bbc.co.uk/news/world-africa-13737942
http://www.nydailynews.com/news/world/2011/06/11/2011-06-11_fazul_abdullah_mohammed_mastermind_behind_1998_us_embassy_bombings_in_africa_kil.html#ixzz1P5mE9t5J
STOP POLICE Fazul's SUV shot to pieces by security forces
It would appear the driver was shot head on and the passenger at an angle. The question of the rock on the front wheel seems strange since the vehicle would hardly roll with a flattened tire
In this shot with the bodies on the road there is a notable lack of something the soldiers
In this photo from Mogadishu Radio there's lots of soldiers. Perhaps this was after the exhumation.
In light of further information it looks like we are at a crossroads. However, there are more bothersome bodies. One is Lutfiya Abubakar Bashrahil age 53 who was arrested in 2008 along with her husband Mahfoudh Ashur Hemed and son Ibrahim Mahfoudh for harbouring said Fazul Mohammed. She died in police custody two weeks before Deputy Commissioner Kimeli. She was being tortured by psychiatric means. She had an infection as well and was hospitalized. 
Kenyan authorities were about to drop charges against her. Two FBI agents were scheduled to testify against her. The family was originally arrested in a villa in Malindi. The notorious Fazul Mohammed is claimed to be the head of al Qaeda's East Africa cell. This is all well and good, but where is the conspiracy? Fazul was coming to Kenya for treatment of get this a kidney ailment. So are all Al Qaeda heads damned with bad kidneys like their leader Osama Bin Laden? I'm seeing one of those something's bothering me moments. What if the mysterious guest was the master of dialysis himself? That would account for all the subterfuge. The deceased woman's nephew is even a doctor. Hmmm?
http://english.people.com.cn/90001/90777/90855/7348689.html
Then one of the other bizarre murders in what was called a 'Night of Terror' without the terrorists of note eight people were killed gruesomely. We won't be counting the ones shot in the head by the police. 
Three cut and charred bodies were found on the Magadi-Nairobi road about 40 kms. from Nairobi. They had rope burns on their legs and hands. They were severely burned with acid on the chest, face and genitals. They had no I.D. and their fingerprints were corroded with acid as well. One victim had his jaw disfigured seriously. This gruesome crime happened a couple of weeks after the Commissioner's murder.
http://m.standardmedia.co.ke/headlines.php?id=2000034122
Hillary Clinton even happened to be in Africa for the occasion. The bodies of the men included Mohammed Dere the Fazul associate were given to U.S. authorities. The face of Fazul bore a 'resemblence' to his wanted poster.
http://www.theaustralian.com.au/news/world/clinton-hails-shootout-killing-of-embassy-bomb-mastermind-fazul-abdullah-muhammad/story-e6frg6so-1226073724532
Then in a surprise move the charges against Osama Bin Laden were mysteriously dropped. He was never charged with 9/11 the cause for lynch mob justice only the embassy bombings. Of course many don't find that a bit odd. The greatest crime of the century and there is enough evidence to wage war but not lay charges against the world's most nefarious terrorist. 
So lets look at Fazul.
There is a striking resemblance, but a master of disguise might have done a better job I think. In the world of doubles and patsies I think some of the bodies burned with acid in Kenya might bear a striking resemblance too. A deceased police commissioner might have had the documentary evidence to prove it. A deceased woman who died in police custody may very well have known it as well. All the loose ends have been tied up. In Orwellian logic will we be able to say the bombings never occurred some day because no one stood trial. But then in the world of doubles, where was Obama Sin Laden born? Kenya of course. There are many loose ends being cleared up and just in case the charges must be dropped. That doesn't happen very often. We must be nice to diabolical terrorists.
Maybe there's something to the plastic surgery scars.