| | |
| --- | --- |
| Posted by George Freund on May 5, 2011 at 6:15 PM | |
The White House may have changed its story many times. When you make things up that's frequently the case. I was interested in the writings of the wall of the so called 'compound.' It was translated for me.
Green - (something) Public School
Abbotabad High School System
Girls College Hostel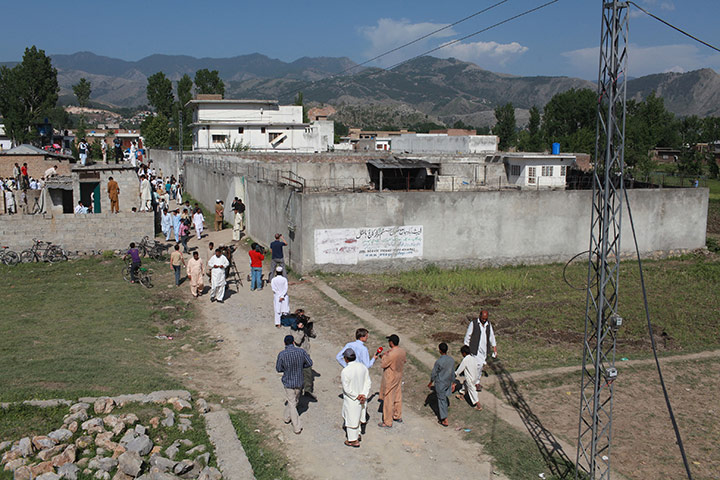 So what we have here is a girls school. The building is obviously more than five years old. We being used to other forms of schools in the western world forget that Islamic girls schools are set up differently. They're more like prisons. The girls are actually locked in hence the high walls and wire. There have been many fires in these types of schools with high losses of life because the girls can't get out. At the bottom of the sign is an English portion.
The website is no longer active. The school must have fell into disuse. That's why no one was worried about it. It was a school. The intelligence agencies seconded the site for their fairy tale.
There are several things wrong with the official stories besides the fact they're all lies. The man who lives next door to the compound fifteen feet away in fact heard the arrival of the helicopters. The masked men who got out spoke fluent Pastu a dialect of the locals. We were told they were Navy Seals. I find it a little to hard to believe we have so many Seals that are fluent in Pashtu.
Prime Minister Musharraf jogged by the place when in town. The Pakistan military academy is close by.
The 12 year old identifies as Bin Laden's daughter says he was captured alive and the shot execution style in front of them. He wasn't armed and no one fired on the soldiers. The Pakistani military recovered no arms or explosives.
This fairy tale doesn't have a happy ending. Someone was shot and killed. The President and his inner circle watched it unfold live. Hillary Clinton recoiled in horror. It was the witch's day known as Beltane. The sacrifice may very well have been real but not Bin Laden.
http://www.telegraph.co.uk/news/worldnews/al-qaeda/8490859/Osama-bin-Laden-dead-the-mysterious-Khan-family-who-were-good-neighbours.html