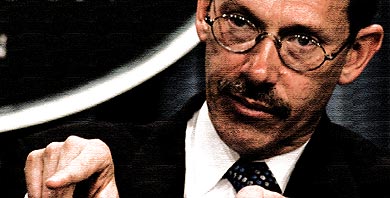 There is a way through which airplanes can be flown remotely. A company by the name of Systems Planning Corporation (SPC) of Arlington, Virginia has created the Flight Termination System (FTS) and the Command Transmitter System (CTS). CTS is a fully programmable multiple mission capable command and control system with a destruct sequance. WOW! Now that's not another flash in the pod system. This is serious equipment for troubled times.
In fact SPC's Vice President, Dov Zakheim, joined the Department of Defense in May 2001 as a Chief Financial Officer and Comptroller. He was a member of the Project for a New American Century (PNAC) document contributor. He is a long time Bush associate from Texas even. He returned to SPC after his mission was accomplished in May 2004. He did not find any of the missing $3 Trillion from the Department of Defense budgets.
Also, System Planning Corporation markets the technology to take over the controls of an airborne vehicle already in flight.
For example, the Flight Termination System technology could hijack hijackers and bring the plane down safely.
The Flight Termination System can be used in conjunction with the CTS technology that can control up to 8 airborne vehicles simultaneously.
Not long before Rabbi Zakheim rose to power over the Pentagon's labyrinthine, bottomless accounts, he co-authored an article entitled "Rebuilding America's Defenses: Strategy, Forces and Resources for a New Century" which was published by The Project for a New American Century in September 2000, exactly a year before 9/11.
On page 51 of this article, it is stated that "the process of transformation, even if it brings revolutionary change, is likely to be a long one, absent some catastrophic and catalyzing event - like a new Pearl Harbor"!
http://www.conspiracyplanet.com/channel.cfm?channelid=101&contentid=1406&page=2
DR. DOV S. ZAKHEIM
Former Under Secretary of Defense (Comptroller) and Chief Financial Officer
Dov S. Zakheim was sworn in as the Under Secretary of Defense (Comptroller) and Chief Financial Officer for the Department of Defense on May 4, 2001. Dr. Zakheim has previously served in a number of key positions in government and private business. Most recently, he was corporate vice president of System Planning Corp., a technology, research and analysis firm based in Arlington, Va. He also served as chief executive officer of SPC International Corp., a subsidiary specializing in political, military and economic consulting. During the 2000 presidential campaign, he served as a senior foreign policy advisor to then-Governor Bush.
Command Transmitter SystemSystem Planning Corproation's Command Transmitter Systems (CTS) provide remote control and flight termination functions through a fully-redundant self-contained solid-state system.
Exciter
The exciter incorporates state-of-the-art Direct-Digital-Synthesis technology to simultaneously generate an RF carrier and up to 6 of 20 available standard IRIG-B tones. It has 20 watts of output power and an internal ferrite isolator. The exciter may also be used as a standalone unit.
High-Power Amplifier
The high-power amplifier (HPA) is solid-state, dependable, and cool running, allowing continuous 1-kW output power at temperatures from 0o to 50oC, and from sea level to 30,000 feet AMSL. The Command Transmitter System is MIL-STD-461C qualified and designed to military standards for high MTBF and continuous 24-hour-per-day operation.
State-of-the-art CMOS micro-controllers provide full fault detection and reporting. High-power ferrite isolators allow full-power operation with antenna VSWRs up to 2:1. The HPA is designed for graceful degradation, which allows high-output power operation even with several amplifier modules inoperative. As an optional feature, each HPA sub-system is provided with an RF switch matrix that allows real-time replacement of HPA units.
External modulation inputs may be used to modulate the transmitters with externally-generated tones from 10 Hz to 100 kHz.
The system can be switched automatically or manually between transmitters. Automatic switching to the redudant system is completed in less than 5ms upon detection of an internal fault or at preset RF power thresholds. The system is mounted in two standard 60"-high racks for easy installation in mobile platforms. The roller-bearing, tiltable rack slides allow easy access within the chassis for low MTTR. CTS generally ships with front panel button operation for broadcast frequency and tones. Add-on options are available from SPC for remote control features. For more information on an integrated control system, see SPC's Flight Termination System
So you see it's not just another 'flash' in a pod.
Flight Termination System (FTS)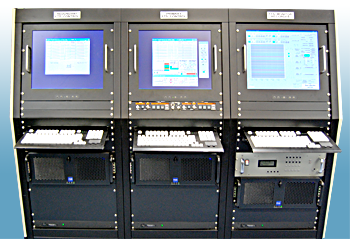 The Flight Termination System (FTS) is a fully redundant turn-key range safety and test system for remote control and flight termination of airborne test vehicles. The FTS consists of SPC's Command Transmitter System (CTS) and custom control, interface, and monitoring subsystems. The system is fully programmable and is flexible enough to meet the changing requirements of today's modern test ranges.
The FTS control software features a LabVIEW-based graphical user interface (GUI) that can be easily customized to suit specific requirements. FTS software automatically coordinates communication and control among range-control subsystems, site-control subsystems, and CTS units. The user-friendly interface is simple and straightforward, yet provides considerable power and flexibility.