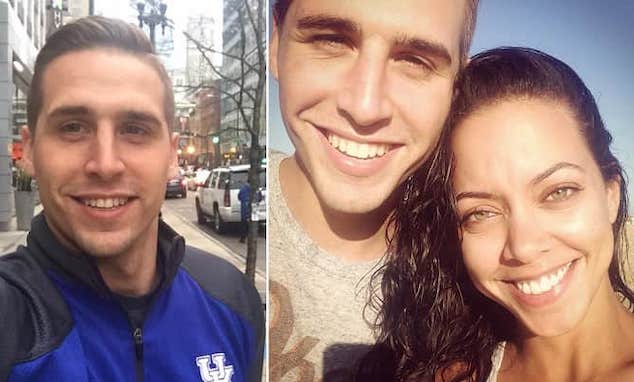 Authorities believe Sgt. Jared Esquibel Harless was helped by his wife, Sheryll Ann, when murdering their four children in June
The couple killed themselves in an apparent murder-suicide in San Antonio, Texas
Lt. Salame said a combination of life stress, mental health and the stress of raising a special needs child could have sparked the murder-suicide
But an official motive has not been determined by authorities
Police discovered the dead family in a SUV during a welfare check at the home
A medical examiner determined the family died of carbon monoxide poisoning
By LAUREN EDMONDS and KAREN RUIZ FOR DAILYMAIL.COM
PUBLISHED: 06:47 BST, 8 August 2020 | UPDATED: 06:48 BST, 8 August 2020
Authorities believe Army Staff Sgt. Jared Esquibel Harless (pictured) had help from his wife when committing a murder-suicide in June
Authorities believe Army Staff Sgt. Jared Esquibel Harless and his wife were both responsible for murdering their four young children before killing themselves two months ago.
When authorities discovered the entire Harless family dead in the back of an SUV last month, they theorized that the 38-year-old father was solely responsible the deaths.
Now, Lt. Jesse Salame said Harless had help from his wife, 36-year-old Sheryll Ann, and conspired together in the murder-suicide.
A medical examiner confirmed that the family-of-five died from carbon monoxide poisoning.
Lt. Salame admitted to the San Antonio Express-News that an official motive has not been determined, but listed several possible catalysts that could have triggered the deaths.
'A combination and life stress that was exacerbated by some mental health issues, and the stress that is not uncommon with having children with special needs as well,' were key factors in the apparent murder-suicide.
Authorities identified the children as Esteban Lorenzo Harless, 4; Penelope Arcadia Harless, 3; Avielle Magdalena Harless, 1, and 11-month-old Apollo Harless.
It's unclear which of the four children may have had special needs.
CONTINUED AT LINK:
https://www.dailymail.co.uk/news/article-8606539/Army-intelligence-soldier-38-wife-murdered-four-children.html
REALLY? This picture, which is recent, shows the couple. Do they look like psychos waiting to murder their children, kill their pets and then themselves? I find it hard to believe. The media show Jared from his beginning in the military and add the narrative which smells of a cover story. The cryptic message would be nice to see. Perhaps someone knows what the unit was up to to enlighten us further. I'd say he knew something and was retired. I would say the cryptic message was for those looking into this or being asked about it to remember they have families too as long as they keep their mouths shut. This guy has the perma pressed smile of a happy man. So does his wife.
DOES COVID HAVE ANYTHING TO DO WITH THIS? If the military is doing anything with the injection, he may well have found out. They threw James Forrestal out of a window, and Frank Olson too. It's in the classic method of operation.
Fort Sam Houston is known as the "Home of Army Medicine" and "Home of the Combat Medic." At the end of World War II, the Army decided to make Fort Sam Houston the principal medical training facility. In conjunction with this decision came the determination to develop Brooke General Hospital into one of the Army's premier medical centers. This combined the capabilities of Wilford Hall Medical Center located at nearby Lackland Air Force Base to create the largest medical treatment facility and teaching hospital in the Department of Defense. Construction associated with this transition increased the square footage of the hospital by 50%, including a much larger, variable capacity emergency department, additional surgical suites and recovery facilities, as well as teaching facilities and bed space. Despite the installation transitioning to Air Force control, the command and control of the facility will remain with the Army. The command and other key positions will rotate between the Army and Air Force. Staffing consist of members of both services, as well as a large number of civilians.
As of 2011, Fort Sam Houston is the largest and most important military medical training facility in the world. Military Medical Training is provided by numerous elements, including METC, AMEDD Center and School, Brooke Army Medical Center, US Army Institute of Surgical Research, The Center for Battlefield Health and Trauma, Defense Medical Readiness Training Institute, as well as many smaller organizations.