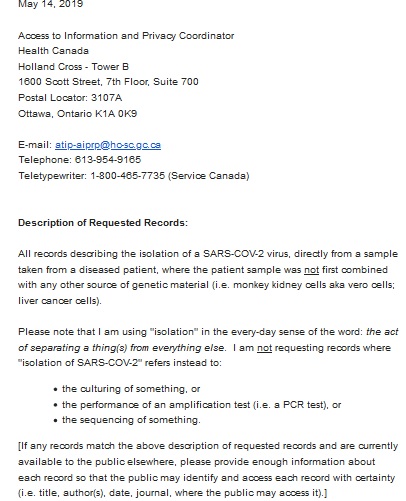 Here is the request I submitted to Health Canada:
I (CM) have been submitting Freedom of Information requests to various Canadian institutions seeking records that describe the actual isolation of a SARS-COV-2 virus from any diseased patient.
My requests have not been limited to records of isolation performed by the respective institution, or of records authored by the respective institution, rather they were open to any records describing "COVID-19 virus" isolation performed by anyone, ever, anywhere on the planet.
Thus far (July 19, 2020) 5 Canadian institutions have provided me their final response to my request: Health Canada; the National Research Council of Canada; the University of Toronto; Sunnybrook Health Sciences Centre; and the Region of Peel (Ontario).
Every institution has indicated the same: that they searched and could locate no record describing the isolation of any "COVID-19 virus". See the above links to access the responses from institutions other than the Health Canada.
Regarding Health Canada specifically… despite:
the fact that a virus that has never been isolated has also never been sequenced or shown scientifically to be the cause of any illness;
the fact that COVID-19 diagnostic "tests" (PCR "tests"
are sequence-based;
the fact that the entire country has been under lock-down and Canadians have experienced a mind-boggling level of disruption and devastation over an alleged deadly "novel coronavirus";
having authorized 51 clinical trials for "COVID-19" drugs and vaccines as of July 19, 2020; and
being the sole authorizing authority for "COVID-19" testing devices imported or sold in Canada, and having already authorized 26 "COVID-19" medical devices;
Health Canada has apparently seen no need to ensure that "the deadly virus" has actually been isolated from a patient sample by anyone, ever, anywhere on the planet, and has no records indicating that it has been.
Virus isolation and other basic COVID-19 science is simply an article of faith with Health Canada.
For the sake of transparency, below are all the emails back and forth between Health Canada and I.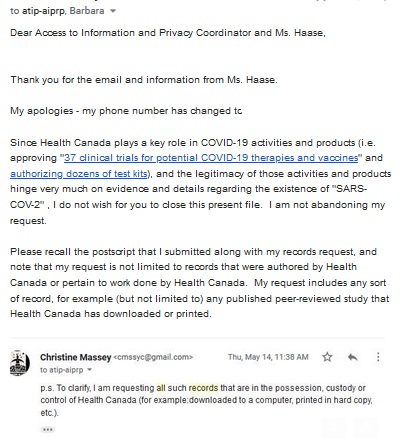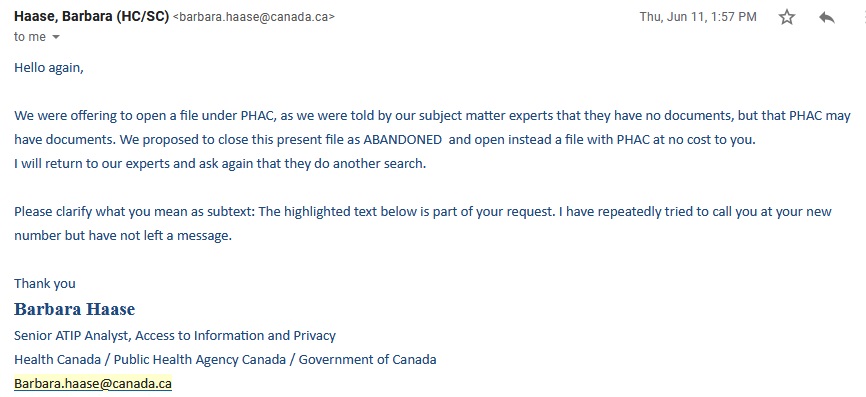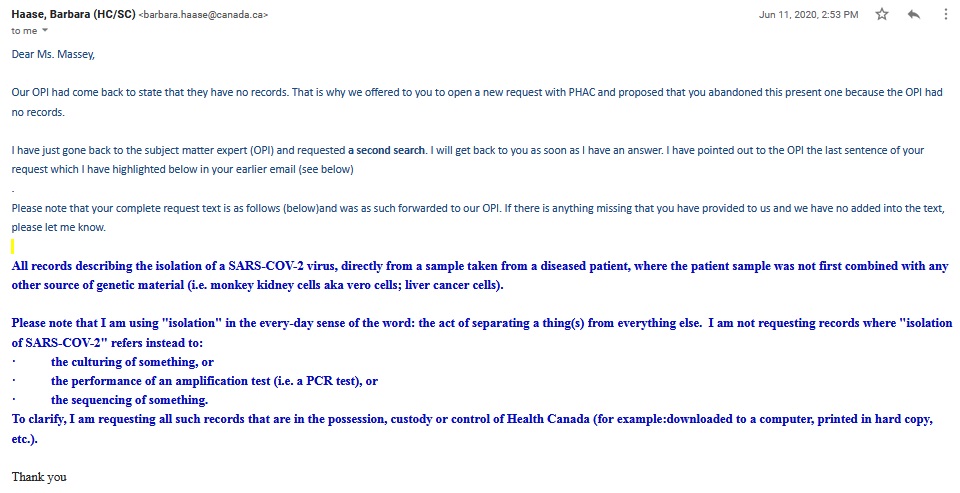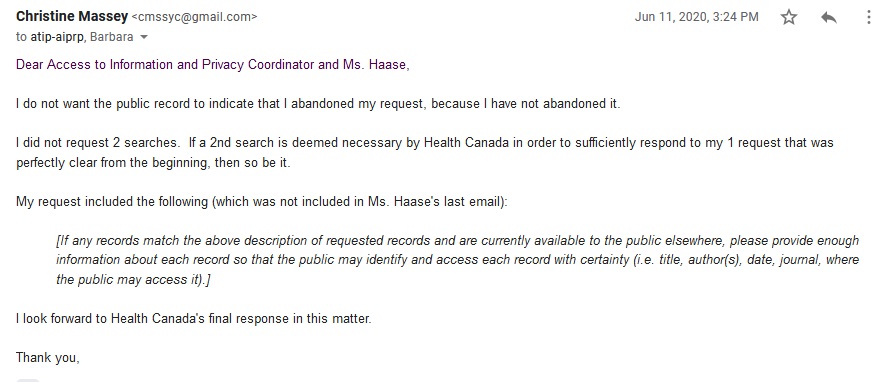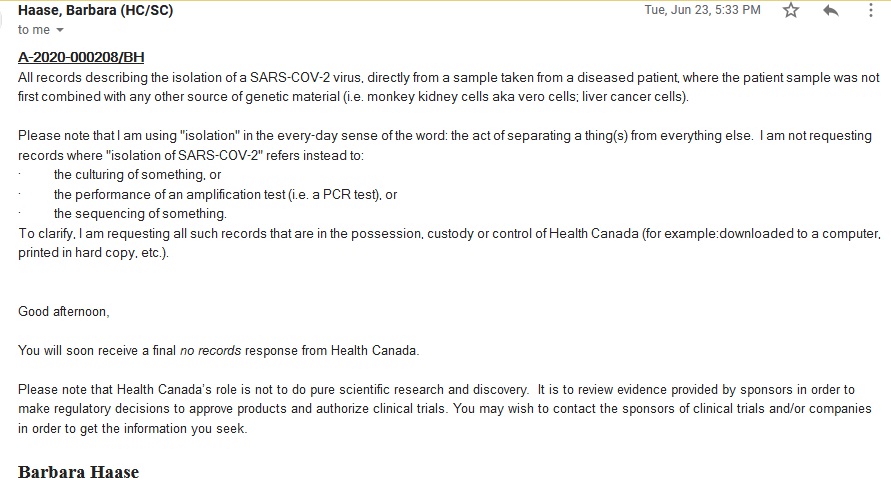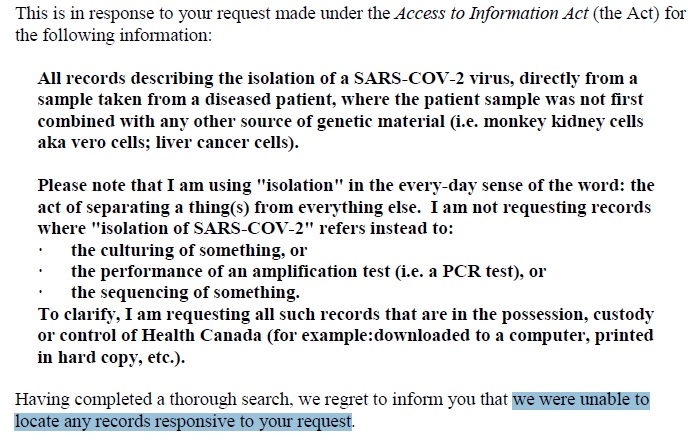 When Health Canada finally provided their final response via email on June 24, 2020, sure enough "we were unable to locate any records…"
Here is the pdf of Health Canada's final full response: https://www.fluoridefreepeel.ca/wp-content/uploads/2020/06/Health-Canada-FinalResponse-A-2020-00208-2020-06-13.pdf
So "What The Hell Is Going On"?
To get a better understanding of this bizarre situation, the following presentations (censored by youtube!) of Dr. Andrew Kaufman, MD are highly recommended:
COVID-19 Testing Procedures
https://www.bitchute.com/video/U2xM8ZJ0Xmdx/
Koch's Postulates: Have They Been Proven For Viruses?
https://www.bitchute.com/video/dX0wqs2xbM05/
The brilliant work of Canada's own David Crowe is invaluable. Months ago David meticulously documented stunning Flaws in Coronavirus Pandemic Theory.
On his Infectious Myth podcast David has interviewed many experts re: "COVID-19". (David is now dealing with a cancer diagnosis that he discusses on his podcast – please send this man LOTS of love!)
More helpful resources: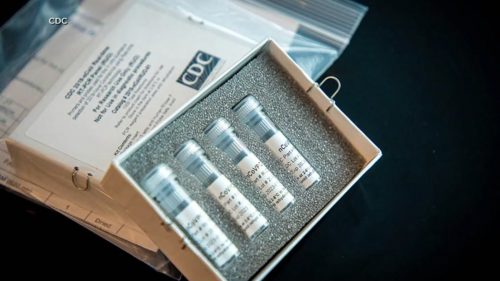 COVID19 PCR Tests are Scientifically Meaningless
Lockdowns and hygienic measures around the world are based on numbers of cases and mortality rates created by the so-called SARS-CoV-2 RT-PCR tests used to identify "positive" patients, whereby "positive" is usually equated with "infected." But looking closely at the facts, the conclusion is that these PCR tests are meaningless as a diagnostic tool to determine an alleged infection by a supposedly new virus.
Was the COVID-19 Test Meant to Detect a Virus?
The Corona Simulation Machine: Why the Inventor of The "Corona Test" Would Have Warned Us Not To Use It To Detect A Virus "Scientists are doing an awful lot of damage to the world in the name of helping it. I don't mind attacking my own fraternity because I am ashamed of it." –Kary Mullis, … Continue reading
Investigative Reporter Jon Rappoport has published countless critiques of the "COVID-19 pandemic" dogma on his blog https://nomorefakenews.com/
and created a series of "COVID-19" podcasts with Catherine Austin Fitts: https://thegnmsolution.com/the-creation-of-a-false-epidemic-with-jon-rappoport/
The next article "Faith in Quick Test Leads to Epidemic That Wasn't", remarkably, was published by the New York Times in 2007.
Guess which "quick test" they refer to? And note the quote from a scientist supported by the Bill and Melinda Gates Foundation.
Faith in Quick Test Leads to Epidemic That Wasn't
Please share this information!
Also note: I have submitted the same FOI request as above to several other Canadian institutions and await their responses:
Ontario Ministry of Health (submitted May 14, 2020; after some initial emails with the FOI coordinator John Babos, I have heard nothing since June 2, 2020)
Public Health Agency of Canada (submitted June 13, 2020)
Public Health Ontario (submitted July 16, 2020)
Vaccine and Infectious Disease Organization-International Vaccine Centre (VIDO-InterVac) (submitted July 16, 2020)
McMaster University (submitted July 17, 2020)
Mount Sinai Hospital in Toronto (submitted July 17, 2020)
On July 21 the following was reported:
Health Committee votes to censor government's handling of pandemic
Liberal and Bloc Québécois MPs voted to censor the documents pertaining to the Public Health Agency of Canada's handling of the coronavirus pandemic.
What cowards!
Please share this information
https://www.fluoridefreepeel.ca/health-canada-has-no-record-of-covid-19-virus-isolation/
Links at source