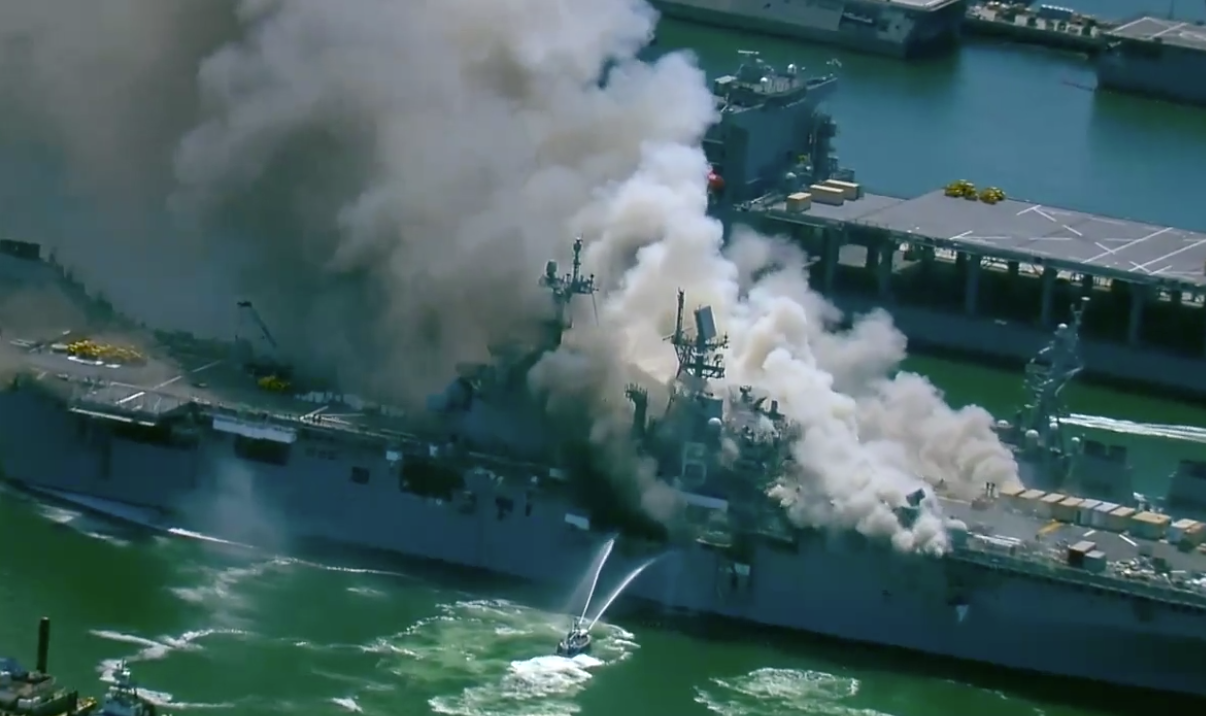 SAN DIEGO, Calif. – A fire that broke out Sunday morning in amphibious assault ship USS Bonhomme Richard (LHD-6) sent 17 sailors and four civilian workers to local hospitals, Naval Surface Force Pacific officials said.
Billowing clouds of white and black smoke poured into the clear, blue sky throughout the morning as local and federal fire and rescue crews responded to the multiple-alarm fire aboard the gray hull, berthed at Pier 2 at Naval Base San Diego. By late afternoon, fire boats continued to pour water onto the ship at Naval Base San Diego in a futile effort to stem the smoke and quash the fires still burning on the 844-foot-long ship, which was going through a maintenance period.
"Seventeen sailors and four civilians are being treated for non-life threatening injuries at a local hospital," Mike Raney, a SURFPAC spokesman, said in an afternoon statement that updated a previous report of 18 injured sailors. "All inport ships have been contacted and directed to provide fire parties to possibly assist with firefighting efforts." All personnel were accounted for, officials reported.
About 160 sailors were aboard Bonhomme Richard when the fire was reported about 8:30 a.m., according to SURFPAC. The ship, with a crew of about 1,000, "is going through a maintenance availability."
It's unclear whether any crew were staying aboard the ship, but aerial video showed a berthing barge was parked nearby, and it didn't appear to be damaged by the fire.
In a Sunday evening press conference, Navy officials provided additional details on the fire.
"There was a report of an internal explosion" in a lower stowage area, Rear Adm. Philip Sobeck, Expeditionary Strike Group 3, told reporters during an evening press conference at the base. "We don't quite understand yet the source of….the seed of the fire," he added.
Sailors with ship's company initially responded to fight the fire before base fire crews were called in. By evening, sailors and federal firefighters continued to attack the fire inside the ship and were putting firefighting foam on the Class A fire, which was continuing to be fueled by debris and materials in the ship's internal spaces, "normal things" typically inside a ship such as office equipment and clothing.
"There is no ordnance onboard, which was our initial concern for safety," Sobeck said, referring to Navy and fire officials' concerns about the safety of crews fighting inside the ship. Navy and San Diego authorities set an 1,800-foot perimeter around the ship and a one nautical mile safety zone in San Diego Bay. "There's always that concern," he said, noting efforts to cool the hull with water through as many access points as possible to thwart any further explosions. "Right now, the risk is low for those secondary explosions."
Sobeck said he didn't have available specific details of the sailors' injuries but described them as likely smoke inhalation and heat exhaustion. "All are in stable condition at this point," he said, adding, "we want to make sure they're well taken care of."
News conference on USS Bonhomme Richard fire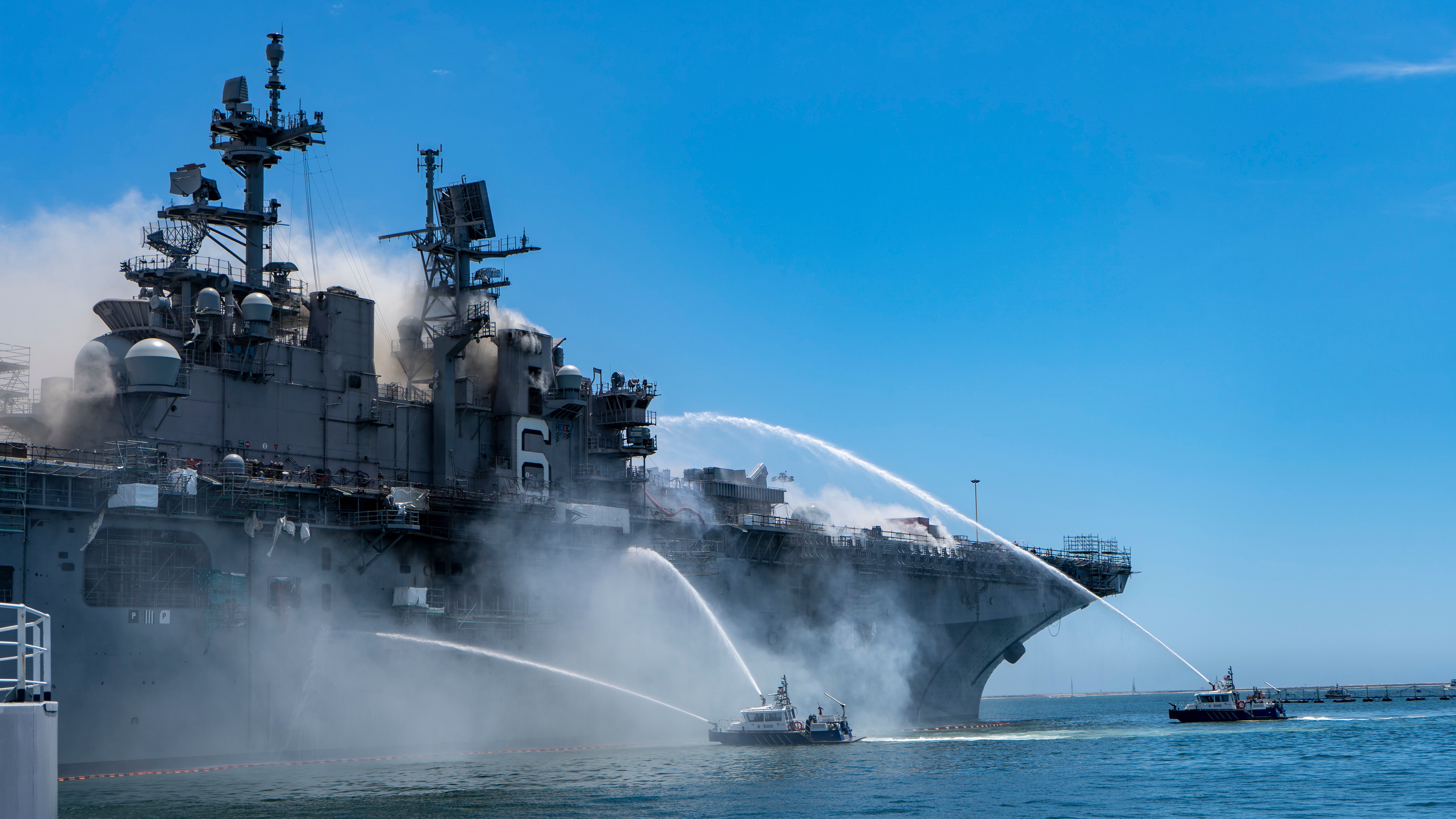 Port of San Diego Harbor Police Department boats combat a fire on board USS Bonhomme Richard (LHD-6) at Naval Base San Diego on July 12, 2020. US Navy Photo