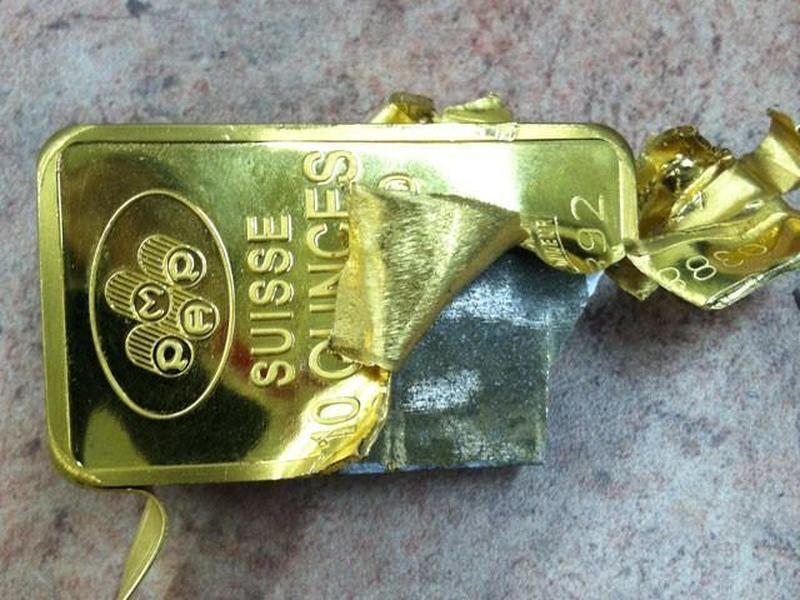 by Tyler Durden
Tue, 06/30/2020 
Over the years, we have periodically reported of the occasional gold bar discovered as counterfeit in Manhattan's Diamond District which instead of containing the yellow precious metal would be filled with gold-plated tungsten or in some cases copper. The news would spark a brief wave of outrage, prompting physical gold holders to run ultrasound spot checks of their inventory, at which point interest would wane and why not: buyer, after all, beware in gold as in every other market, and if someone is spending thousands to buy fake gold, well that's Darwinism in action.
Yet one market which seemed stubbornly immune to any counterfeiting was that of physical gold in China, which was odd considering that over the past decade China had emerged as the world's biggest counterfeiter of various, mostly industrial metals used to secure bank loans, better known as "ghost collateral", and which adding insult to injury, would frequently be rehypothecated meaning often several banks would have claims to the same (fake) asset.
All that is about to change with the discovery of what may be one of the biggest gold counterfeiting scandal in recent history. And yes, not only does it involve China, but it emerges from a city that has become synonymous for all that is scandalous about China: Wuhan itself.
Gold Star memorial groundbreaking ceremony at Wesley Bolin Plaza
With that preamble in mind, we introduce readers to Wuhan Kingold Jewelry Inc., a company which as the name implies was founded and operates out of Wuhan, and which describes itself on its website as "A Company with a Golden future."
In retrospect, it probably meant "copper" future, because as a remarkable expose by Caixin has found, more than a dozen Chinese financial institutions, mainly trust companies (i.e., shadow banks) loaned 20 billion yuan ($2.8 billion) over the past five years to Wuhan Kingold Jewelry with pure gold as collateral and insurance policies to cover any losses. There was just one problem: the "gold" turned out to be gold-plated copper.
Some more background: Kingold - whose name was probably stolen from Kinross Gold, one of the world's largest gold miners - is the largest privately owned gold processor in central China's Hubei province. Its shares are listed on the Nasdaq stock exchange in New York (although its current market cap of just $10MM is a far cry from its all time highs hit when the company IPOed on the Nasdaq around 2010) . The company is led by Chairman Jia Zhihong, an intimidating ex-military man who is the controlling shareholder.
What could go wrong?
Wuhan? Release the virus.
Project G-2101: Pentagon biolab discovered MERS and SARS-like coronaviruses in bats
Two years ago, I investigated an alleged laboratory accident at the Lugar Center, the Pentagon biolaboratory in Georgia's capital Tbilisi, which had resulted in the death of two Filipinos working in the laboratory. The death cases were hidden by the local authorities but I recorded on camera witnesses who testified about this tragic incident.
However, what then seemed to me to be a local issue, turned out to be part of a bigger story. The Lugar Center in Georgia is just one of the many Pentagon biolaboratories in 25 countries across the world. They are funded by the Defense Threat Reduction Agency (DTRA) under a $ 2.1 billion military program – Cooperative Biological Engagement Program (CBEP), and are located in former Soviet Union countries such as Georgia and Ukraine, the Middle East, South East Asia and Africa. Much of their work is classified and includes projects on bio-agents and pathogens with pandemic potential.
CONTINUED AT LINK: