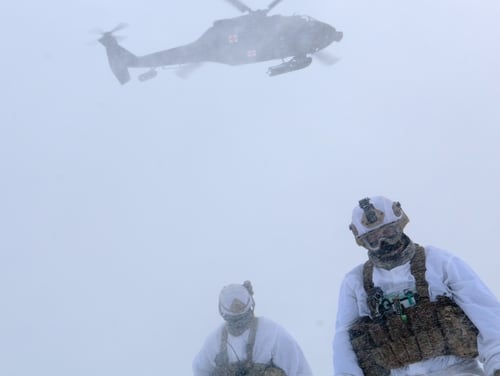 The removal of Vindman and Sondland came after a promise of "payback" by White House officials.
The purge of impeachment witnesses has begun.
Within hours of each other, President Donald Trump and the White House removed two of the most crucial witnesses against the president in the investigation that led to his impeachment for abuse of power.
Late Friday, news emerged that Trump had ordered the recall of Gordon Sondland, the U.S. Ambassador to the European Union — "effective immediately," the ambassador noted in a statement. Hours earlier, the White House escorted out Lt. Col. Alexander Vindman, the top Ukraine policy officer on the National Security Counsel — along with his twin brother Yevgeny, who was not an impeachment witness.
The succession of personnel moves came amid a promise of "payback" by White House officials against those who testified or played a role in the impeachment of the president. Trump has spent the two days since his acquittal by the Senate railing against his perceived enemies. He slammed Sens. Mitt Romney and Joe Manchin earlier Friday for their votes to convict him, and he retweeted calls by his allies to exact revenge on his opponents, including the Democratic lawmakers who led the drive against him.
A transfer would almost certainly be interpreted by some as an act of retribution for Lt. Col. Alexander Vindman's testimony
Several of the top witnesses in the impeachment inquiry — including former U.S. envoy to Ukraine Marie Yovanovitch and former top U.S. envoy to Ukraine Bill Taylor — departed the State Department in recent days. Others, including former State Department hand Michael McKinley, former Ukraine envoy Kurt Volker and Vindman's NSC supervisor Tim Morrison, left during the course of the House investigation that ultimately resulted in Trump's impeachment on charges that he abused his power and obstructed a congressional inquiry. The Senate acquitted Trump of both charges Wednesday, which was followed quickly by a vow from the White House to exact retribution on those who crossed the president.
A handful of the House's 17 witnesses remain in their posts.
Of course, the pictures are satire, but indicative of the Russian practice of Siberia. A little honest work wouldn't hurt them. You can't expect to serve the president without loyalty. 
By Al's standard they got off easy.