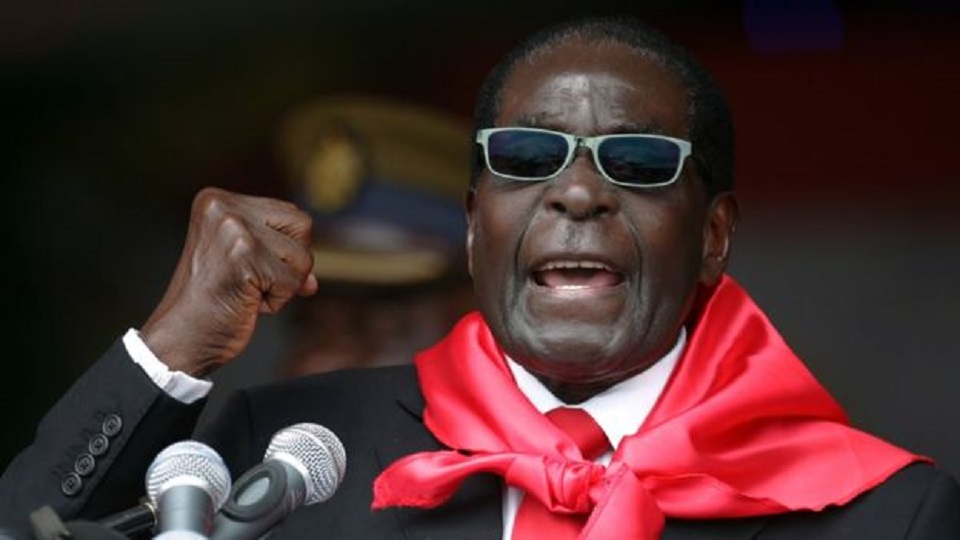 Former Zimbabwean president Robert Mugabe died yesterday at 95 years old
Initially a revered freedom fighter, Mugabe's legacy will be one of bloodshed
The dead president had lost the ability to speak and was like 'a child' at death
By IAN BIRRELL FOR THE DAILY MAIL
PUBLISHED: 17:09 EDT, 6 September 2019 | UPDATED: 19:36 EDT, 6 September 2019
Back in 2009, a diplomatic delegation arrived in Harare to see President Robert Mugabe. They found the despot, in his 80s and reportedly cancer-ridden, snappily dressed in his usual bespoke single-breasted dark suit yet as sharp-witted as ever.
Zimbabwe, once the 'breadbasket of Africa', was collapsing in one of the most shocking peacetime implosions of any modern country. Hyper-inflation was raging, unemployment was rife, people were starving, public services non-existent and corruption, brutality and bloodshed a way of life for millions.
The visit by EU diplomats — seven years in the making — was greeted with a trademark Mugabe rant in the media about 'bloody whites' interfering in Zimbabwean affairs.
Yet one incident stood out, according to those present. 'A strong young man entered with a bowl and pitcher of water on a silver tray,' they reported. 'He knelt in front of Mugabe, who made a show of washing his hands with the subservient man at his feet.' The message was clear: the Marxist liberation leader once lionised by the West was demonstrating his power to former colonial masters in a parody of a medieval potentate, oblivious to the suffering of his people.
The diplomats were horrified: 'It showed that Mugabe had lost the plot of normal human interaction and the responsibility of leaders towards their people,' said one.
Now this monstrous man, who accumulated a fortune as his people were plunged into poverty, has died aged 95 after a slow decline in a Singapore hospital.
His was a life etched in blood, with a ruthless focus on power that used starvation as a tool of policy and oversaw plundering of his nation on an epic scale.
Those who did not bend to his will were beaten, raped, tortured and killed, while his final years in power before being ousted by his own army in 2017 were scarred by in-fighting as his second wife and closest cronies fought for the succession. In the end the battle was won by Emmerson Mnangagwa, a former spy chief nicknamed The Crocodile.