| | |
| --- | --- |
| Posted by Conspiracy Cafe on September 9, 2018 at 6:05 PM | |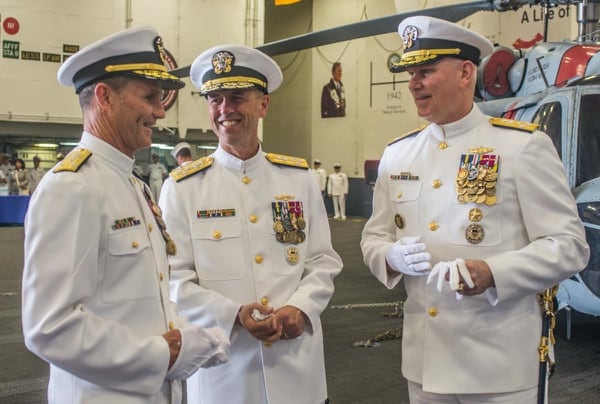 Vice Adm. Andrew "Woody" Lewis 2nd Fleet commander, left, shares a moment with Chief of Naval Operations Adm. John Richardson, middle, and Fleet Forces Commander Adm. Chris Grady.

The US Navy's new command puts Russia in the crosshairs
The move is the latest sign that the Navy is focusing its attention away from the war on terrorism and toward its major competitors China and Russia.
By: David Larter, Mark D. Faram
NORFOLK, Va. — There's a new sheriff in town and his name is Woody.
But he doesn't wear a cowboy hat or ride a horse.
He's Vice Adm. Andrew "Woody" Lewis, a highly decorated combat aviator, and he took command of the Navy's newly re-established 2nd Fleet during a Friday ceremony aboard the aircraft carrier George H.W. Bush.
His beat now is what strategists increasingly say is America's backdoor — the Atlantic Ocean — and it now will be patrolled by his Norfolk-based 2nd Fleet.
As a Cold War with Russia grew cooler in early 1950, the Navy created the 2nd Fleet to check Moscow's designs on the Atlantic Rim, especially Europe.
The Navy disbanded it in 2011 and folded most of its personnel, warships and responsibilities into Fleet Forces Command.
Increasing activity by the Russians in the North Atlantic and in Europe prodded Chief of Naval Operations Adm. John Richardson to revive it.