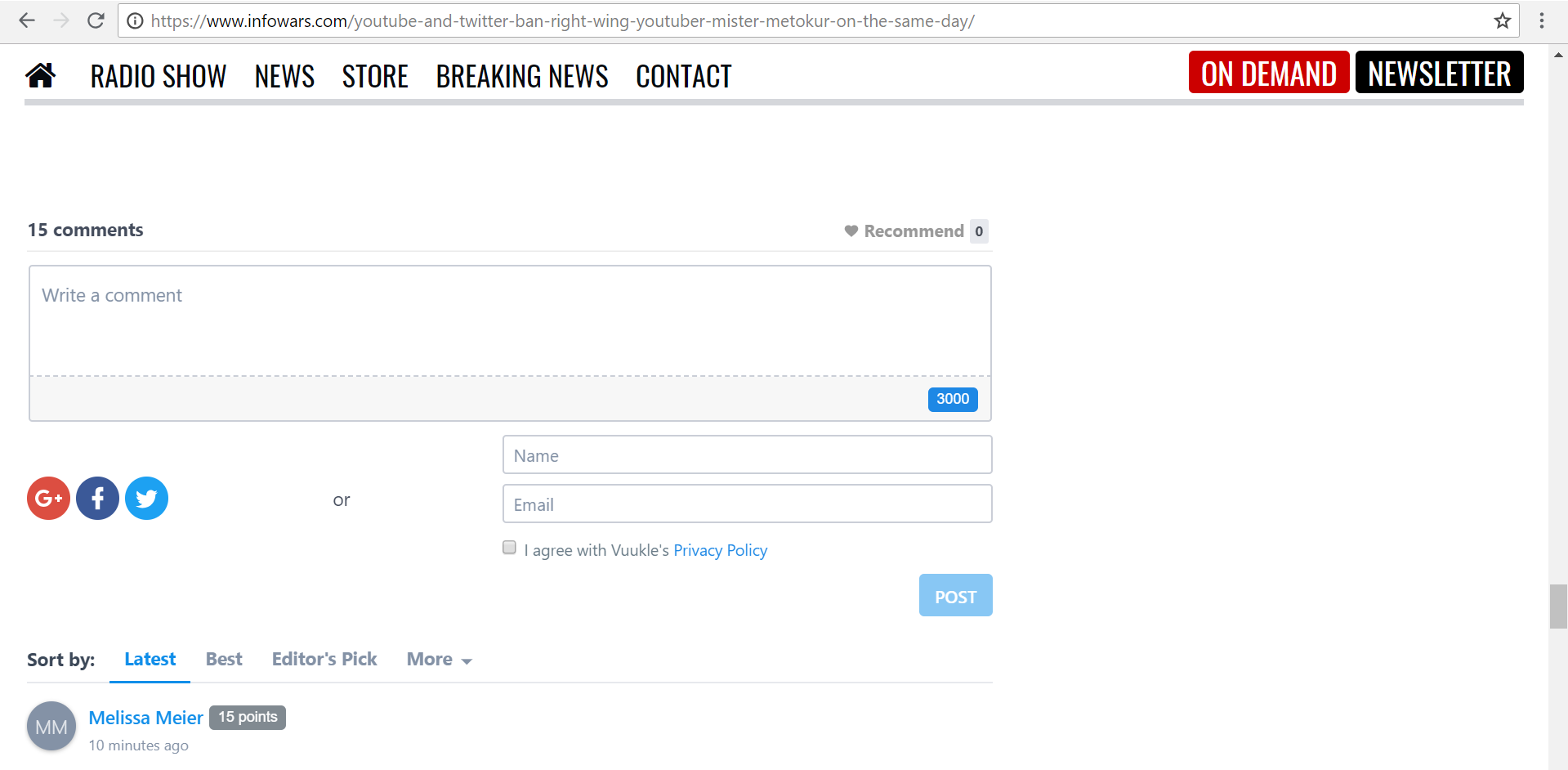 I was shocked today when I went to INFOWARS and was going to post a comment. There's a new system. I went to sign in and I was greeted with Vuukle. They collect all my data and store it. I have to give them permission so contract law overrides Constitutional safeguards. I clicked Facebook and they take my contacts and friends. I beg your pardon. What is this a secret police sweep to round up patriots for the deep state? I'll be damned if I agree with this shit. 
Updated over a week ago
Who we are? What we do?
What data we collect
Purpose of collecting the above data
Whom we share your data with
For how long we store your data
The user data stored by Vuukle exists with Vuukle for as long as the user has their profiles maintained with us. The data will be deleted whenever a user decides to delete his/her profile over which user has complete control.
How you can delete your data
You may delete your Vuukle account by following the instructions found at this link: Delete my Vuukle account.
In case you are unable to delete your data we are here to help you for any support, requests can be sent to support@vuukle.com After a user requests to delete his/her profile data, the data will be deleted from Vuukle servers with in 30 days or a maximum of 75 days if there are many such requests.
Right to be forgotten
To delete any data stored with the respective publishers powered by Vuukle, Vuukle will forward your query to the publisher for deletion and we expect everyone to follow the rules and guidelines. Vuukle will not be liable whether the data has been deleted or not by the publisher on their end as GDPR EU law equally applies to the publisher.
If the user decides to come back again they will have to create a fresh profile like a new user.
Children's policy
Services provided by Vuukle are not intended for use by children under the age of 13. Since Vuukle does not collect any data on age we do not know if a person who has created an account is under the age of 13 or not. In case we learn or is notified that a certain profile is under the age of 13, Vuukle will delete it. If parents have any information regarding the same they can contact us for deletion.
Third party or publicly available sources
When a user logs in into our system for commenting from various social networks like Facebook connect, google or twitter your account is automatically linked to Vuukle commenting services. In such cases we collect users personal data on only three parameters that is name of the user, email of the user and avatar of the user. The user can later customise their avatar by managing their profile page on Vuukle. Also, the deletion policy will apply as narrated above.
Targeted advertising and AD partners
We work with many third party ad partners to serve ads which are displayed around the Vuukle widgets on publisher sites to the user. Vuukle does not share any user information with these partners, however, in the course of serving or displaying ads through Vuukle, these partners may place a cookie on your browser. We expect all third party partners to follow all relevant privacy laws and regulations(including GDPR EU law) when serving ads through Vuukle, who collect users information like, [cookie IDs, device IDs (including mobile), hashed email addresses, IP address, ISP and browser information, demographic or interest data, content viewed and actions taken on the Service or Partner Sites, including information about the websites you've viewed and advertisements you've interacted within order to provide you with more relevant advertising targeted to your preferences and interests derived from your interaction with the Service, Partner Sites or other third party websites.
Vuukle has no control over these ads partners as they are independent of Vuukles' control. Vuukle owns no responsibility for any data of the data subject they store.
To learn more about this type of targeted advertising (also called interest-based advertising), analytics services and your choices, including how to opt-out of some third party ads, advertising networks and ad servers, please visit the DAA Consumer Opt-Out Page, NAI Consumer Opt-Out Page, and Google's information page.
Opting out of newsletters
You may opt-out of Newsletters and promotional emails from us at any time by using the opt-out mechanism contained in such emails (also referred to as "unsubscribe"). Please note, unsubscribing from Vuukle emails will unsubscribe you from Vuukle notification emails and Vuukle digest emails. You will still receive transactional emails necessary for the Vuukle service to function, these include, but may not be limited to, emails confirming you created a new account, emails helping you reset your password etc.
Disclosures of your personal data
In any case we acquire other businesses or may choose to sell, transfer or merge our parts of business with others Vuukle may have to share users personal data that it collects with these other parties.
In addition to the above, we may access, preserve, and disclose your personal data, including your Identity, Contact, or Technical data, if we believe doing so is required or appropriate to comply with law enforcement requests and legal process, such as a court order, government request, or subpoena, or to meet national security or law enforcement requirements. We may also access, preserve, and disclose such personal data if we believe in good faith that disclosure is necessary to protect yours', ours' or others' rights, property, or safety, or to investigate fraud.
Declining Cookies
If you do not want to accept our cookies, you can adjust your browser settings to decline cookies. You should note, however, that certain areas of the Site may not operate properly if you decide not to accept cookies.
Change of purpose
We will only use your personal data for the purposes for which we collected it, unless we reasonably consider that we need to use it for another reason and that reason is compatible with the original purpose. If you wish to get an explanation as to how the processing for the new purpose is compatible with the original purpose, please contact us. If we need to use your personal data for an unrelated purpose, we will notify you and we will explain the legal basis which allows us to do so. Please note that we may process your personal data without your knowledge or consent, in compliance with the above rules, where this is required or permitted by law.
Security
All commercially reasonable safety procedures are taken by Vuukle for user information collected through Vuukle services and we make sure that we are preserving the privacy and security of the your data.
You have complete control over your profile but before granting you access to your profile we request a unique password to verify your identity. Once you are granted the access from thereon you are responsible for maintaining the secrecy of your unique password and account information, and for controlling access to your email communications from Vuukle. Your privacy settings may also be altered by accessing the Service through a third party such as social networks. Vuukle is not responsible for the functionality or security measures of any third party.
California privacy rights
California law gives residents of California the right under certain circumstances to request information from us regarding the manner in which we share certain categories of personal data with third parties for their direct marketing purposes. Because our Privacy Policy gives you a choice of opting out of having your contact information disclosed to third parties for their own direct marketing purposes, we may instead provide you with information on how to exercise your preferences. To request such information, please contact us at privacy@vuukle.com
General
If you have any questions about this Privacy Policy, please email us at privacy@Vuukle.com, or contact us by mail at Unit No. 2980,DMCC Business Centre, Level No. 1, Dubai,UAE
Changes to Privacy Policy. Vuukle may, in its sole discretion, modify or update this Privacy Policy from time to time, and so you should review this page periodically. When we change the policy, we will update the 'last modified' date at the bottom of this page. Your continued use of the Site following the posting of any changes to this policy means you accept such changes.
This Privacy Policy was last modified on May, 2018.
---------------------------------------------------
Trust us. We're the Prophet's good cops. We're collecting all your data through INFOWARS for the bad cops. 
I beg you're F'n pardon DUBAI! I'm going to give all my contacts and data to some Middle Eastern Sheikhdom in Dubai to aid in the Islamic usurpation of the west. 
Secret UAE surveillance programme reveals the true face of a police state