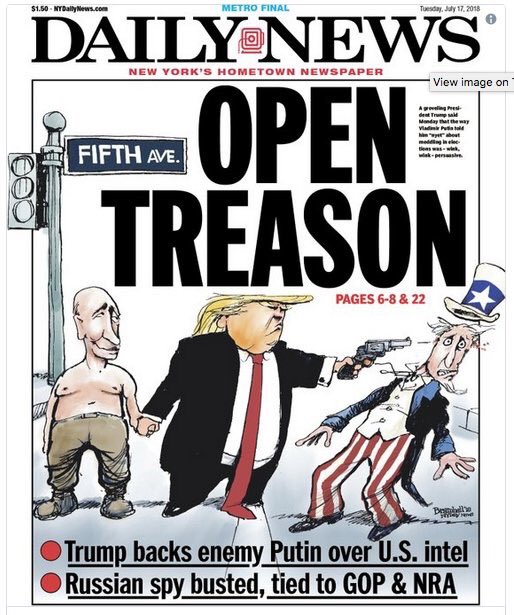 By DAILY NEWS EDITORIAL BOARD
JUL 16, 2018 | 1:45 PM
Who's the boss? (AP)
Before the entire world Monday, the self-styled tough-guy, America-First President revealed himself to be Russian President Vladimir Putin's poodle.
Putin flatly denied what every U.S. intelligence agency has concluded, what new indictments by Special Counsel Robert Mueller now underline: That agents of the GRU, the intelligence agency Putin used to work for and still leads, spearheaded 2016 presidential election interference.
The Russian president counters the mountain of evidence with an empty and robotic assertion: "the Russian State has not interfered and will never interfere in internal American affairs."
Associated Press reporter — and Daily News alum — Jonathan Lemire gave Trump a binary choice: "who do you believe?"
At first, the man it pains us to say is our President refused to answer the question. He attacked Democrats for losing the election and dissembled, weaving together bits of conspiracy theories. Then he got down to brass tacks: He believes Putin.
Trump gets chance to stand firm against Putin — and completely blows it »
"Coats said they think it's Russia," Trump said, referring to his director of national intelligence. "Putin says it's not Russia. I don't see any reason why it would be" Russia.
That sound you hear is the head of the U.S. executive branch stabbing his intelligence agencies in the back in order to side, against all evidence, alongside the leader of a country that meddled in an American election and wants to do it again.
Trump, in fact, blessed Putin as "extremely strong and powerful" in his denial — words he would never assign to the reams of proof compiled by the top four American intelligence agencies — and talked up the Russian president's "incredible offer" to have his own agents review what U.S. officials have found.
He derides reports with which he disagrees as "fake news," then buys the Russian narrative hook, line, sinker, pole and boat.
Ignorant about decades of Moscow meddling, from the Korean and Vietnam Wars, to Cuba and Eastern Europe, Trump says relations have "NEVER been worse." Worse than the ignorance is the finger-pointing: He blames "many years of U.S. foolishness and stupidity and now, the Rigged Witch Hunt."
Reporter forcibly removed for waving sign at Trump, Putin press conference in Helsinki »
Nothing about Russia's annexation of Crimea. Or its complicity in the shooting down of a civilian airliner. Or its meddling in the 2016 elections.
"We're all to blame," said the American President Monday, the foreign-policy equivalent of his "both sides" drivel after a white supremacist rally in Charlottesville.
It would be high comedy if it were not a national tragedy. And a national emergency.
http://www.nydailynews.com/opinion/ny-edit-putins-poodle-20180716-story.html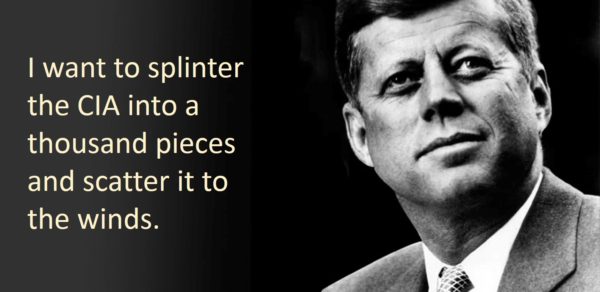 Aren't those the same intelligence agencies that set up wars for profit, torture and violate the rule of law, arranged 9/11, shot John Kennedy, Robert Kennedy and Dr. Martin Luther King. We're not all naive. Many of us remember. We know where the treason lies. It lies in the press room.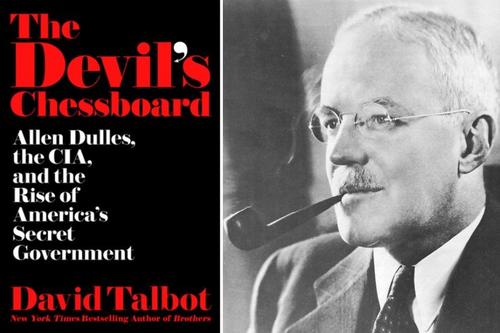 And don't forget young JFK, Jr. He would have easily been elected mayor of New York. He wouldn't have sold out his country or his city on 9/11. It's too bad Jack Kennedy couldn't have pulled the trigger on the intelligence agencies as depicted above. Firing Allen Dulles and General Lemnitzer was enough. Maybe if he could have worked with Krushchev he's still be alive and a whole lot of war could have been avoided. The American Gestapo has to go. Put them on ICE!