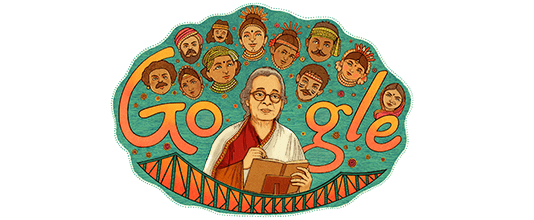 Mahaswetah Devi was an Indian writer and activist born on this day in 1926 in Dhaka which was British territory at that time. In the partition it was ceded to Pakistan. A version of the name, Dhakeshwari, means hidden goddess. In light of yesterday's doodle devoted to Zhou Youguang, we reveal many things that are hidden with interpretation of the twilight language. There was a great struggle that ensued there with The Indian Mutiny, famines, and the Bangladesh War of Independence. This region is a major focal point in history. 
The Hatirjheel bypass in central Dhaka seems to be a focal point from the doodle. Will it be a work of fiction or the center of attention in a forthcoming nuance of history.
However, from our surmise of the Zhou Youguang Google Doodle we were left with the innuendo of hidden spaces like Mount Kailash. There is a connection. It appears the major river which passes Dhaka the Brahmaputra is part of a major initiative of China to divert water to the desolate region of the Xinjiang desert. It will involve the construction of a 1,000 kilometer tunnel. It will terminate near Mount Kailash. We determined that there was ample evidence that Christ made journeys to the Guge which lies under the shadow of the mountain long maintained to be an access point to the inner earth. The funny thing is Brahmaputra means son of God. 
Mahasweta lived to be 90 and this is the 92nd anniversary of her birth. The numerology is clear. It is a 9/11 reference. Will titanic struggles ensue on the frontier? She died in Kolkata, India. There is a massive boring project underway there. The twilight language does reveal not conceal. It is also located on the other side of the Brahmaputra River proving its significance. 
There are opinions that recent turbidity in the water has been linked to China's building of a damn project to divert the water. They deny any responsibility. However, the river is turning black from its previous clear state. The world is in a great state of flux with the signs and wonders in the Russian sky. The glowing phenomenon stands in line with the strange glow over Mount Kailash recorded a couple of years ago. There may very well be a uniquely strange sort of conflict going on that could involve very advanced weapons systems or a force from a place not on the horizon if the inner earth advocates are correct. These are set to be interesting times. Russia has put its newest, most powerful missiles on line, Hawaii hit the alert warning, the U.S. deployed bombers to Guam, and a mysterious UFO was seen in China. 
China's 'jellyfish' UFO.
There are many sages and gurus spouting all manner of fables and tails. There are very many inured to them. We are addicted to our lies more than any narcotic. I believe most of them are false prophets in the employ of the deep state. The biggest reason to believe it is they seem to do it professionally at great expense without a day job. It is most difficult to break people away from their cultish teachings. God had a few words to say on the matter. 
Micah 5:9-15:
10 And it shall come to pass in that day, saith the LORD, that I will cut off thy horses out of the midst of thee, and I will destroy thy chariots:
11 And I will cut off the cities of thy land, and throw down all thy strong holds:
12 And I will cut off witchcrafts out of thine hand; and thou shalt have no more soothsayers:
13 Thy graven images also will I cut off, and thy standing images out of the midst of thee; and thou shalt no more worship the work of thine hands.
14 And I will pluck up thy groves out of the midst of thee: so will I destroy thy cities.
15 And I will execute vengeance in anger and fury upon the heathen, such as they have not heard.
God is very clear on what will transpire. Like Guge a great civilization will disappear overnight. The soothsayer shills will disappear with them. I ask for sanctuary in Eden under the mountain near the path of the son of God. Join me while you can. Once the warning of doom goes out, your chances will be over. You'll have a few minutes to say your prayers and then you'll be part of the lost civilization.