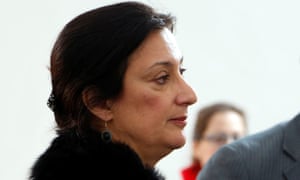 Daphne Caruana Galizia relentlessly highlighted alleged corruption among Maltese politicians.
Jon Henley and Juliette Garside Tuesday 17 October 2017
Daphne Caruana Galizia was killed because she 'stood between rule of law and those who sought to violate it', says son Matthew
The son of the murdered Maltese investigative journalist and blogger Daphne Caruana Galizia has described running desperately round the blazing car in which she died and hit out bitterly at the island's "culture of impunity" and the "crooks" in charge.
"My mother was assassinated because she stood between the rule of law and those who sought to violate it, like many strong journalists," Matthew Caruana Galizia wrote in amoving and at times graphic Facebook post.
"But she was also targeted because she was the only person doing so. This is what happens when the institutions of the state are incapacitated: the last person left standing is often a journalist. Which makes her the first person left dead."
Daphne Caruana Galizia, who led the Panama Papers investigation into corruption in Malta on which her son, another investigative journalist, also worked, was killed on Monday afternoon when her Peugeot was destroyed by an explosive device so powerful it scattered large pieces of the car around a nearby field.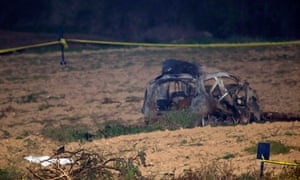 The scene of the car bomb that killed Daphne Caruana Galizia.
Several thousand people gathered at an impromptu candlelit vigil in Sliema, near the island's capital Valletta, on Monday night to mourn the journalist, described as a "one-woman WikiLeaks" whose blogs were as fiercely critical of the island's politicians as they were of its organised crime gangs.
Matthew Caruana Galizia said he would never forget "running around the inferno in the field, trying to figure out a way to open the door, the horn of the car still blaring, screaming at two policemen who turned up with a single fire extinguisher to use it".
One of the policemen said: "Sorry, there is nothing we can do," he wrote. "I looked down and there were my mother's body parts all around me. I realised they were right, it was hopeless. 'Who is in the car?', they asked me. 'My mother is in the car. She is dead. She is dead because of your incompetence.'"
Caruana Galizia, 53, ran a hugely popular blog relentlessly highlighting cases of alleged high-level corruption among politicians across Malta's party lines. "There are crooks everywhere you look now. The situation is desperate," she wrote in a post published barely half an hour before the bomb exploded.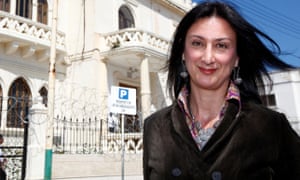 Witnesses told police the journalist had just left her home and was on a road near the village of Bidnija in northern Malta when the bomb detonated. Local media reported she had filed a complaint to the police two weeks ago to say she had received threats.
Caruana Galizia's most recent revelations pointed the finger at Malta's prime minister, Joseph Muscat, and two of his closest aides, connecting offshore companies linked to the three men with the sale of Maltese passports and payments from the government of Azerbaijan.
Muscat denounced the journalist's killing on Monday, calling it a "barbaric attack on press freedom", and announced that the US Federal Bureau of Investigation (FBI) had agreed to send a team of experts to help local police investigate. "I will not rest until I see justice done in this case," Muscat said.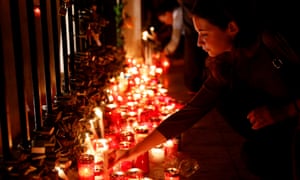 Candles are lit at a vigil to protest against Caruana Galizia's death.
There is great evil in this world. The worst of it holds high office and is generally not considered suspect. We, however, know that is far from the case. There are great heroes and heroines in the world prepared to lay down their lives for the sake of truth and justice. The journalist is one of the professions they choose. Daphne's death should bring tears to the eyes of the world for she struck at the root of the evil and gave her life that we might free ourselves from evil rule. God bless her and keep her. May she achieve her objectives as a martyr for the courage she must have had.
Psalm 23 King James Version (KJV)
23 The Lord is my shepherd; I shall not want.
2 He maketh me to lie down in green pastures: he leadeth me beside the still waters.
3 He restoreth my soul: he leadeth me in the paths of righteousness for his name's sake.
4 Yea, though I walk through the valley of the shadow of death, I will fear no evil: for thou art with me; thy rod and thy staff they comfort me.
5 Thou preparest a table before me in the presence of mine enemies: thou anointest my head with oil; my cup runneth over.
6 Surely goodness and mercy shall follow me all the days of my life: and I will dwell in the house of the Lord for ever.