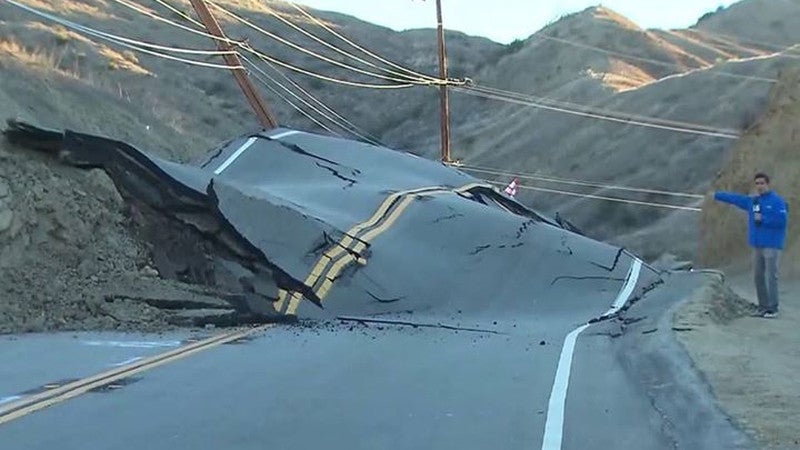 A stretch of Vasquez Canyon Road in Santa Clarita has inexplicably lifted upwards over the course of just a few hours. Geologists are stumped.
As CBS Los Angeles reports, it all started last Thursday, November 19, when motorists starting calling the California Highway Patrol about the road lifting and warping. Over the course of the next three days, the road kept rising along a 60m stretch. In some places the road lifted as much as 4.6m, and some sections were practically vertical.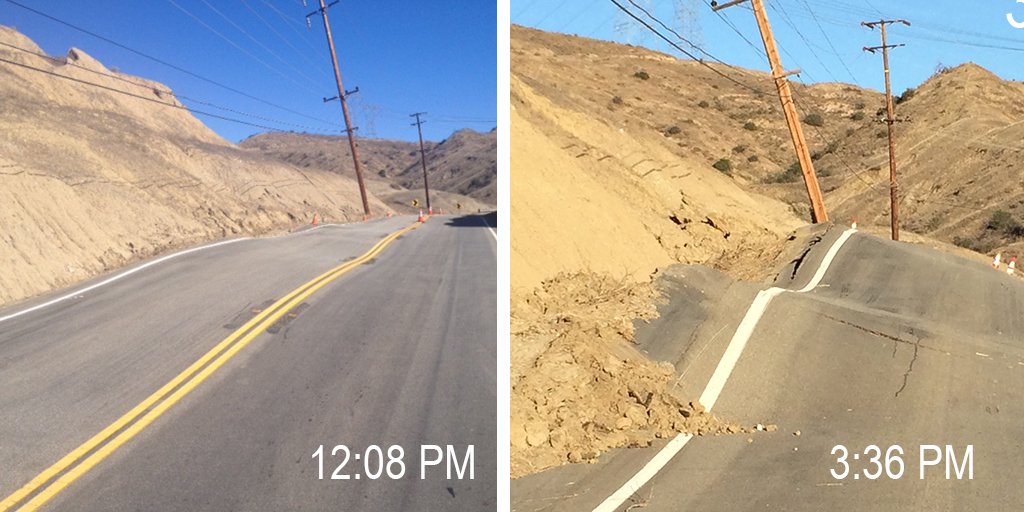 As noted in the Santa Clarita Valley News, some people thought it was triggered by an earthquake, while others joked that it was caused by the worm-like creatures featured in the Tremors movies.
But what's particularly strange about this event is that it wasn't precipitated by any obvious geological phenomenon (or mythical subterranean creature, for that matter), be it an earthquake or rainstorm. Even weirder is the fact that it happened over the span of a few hours.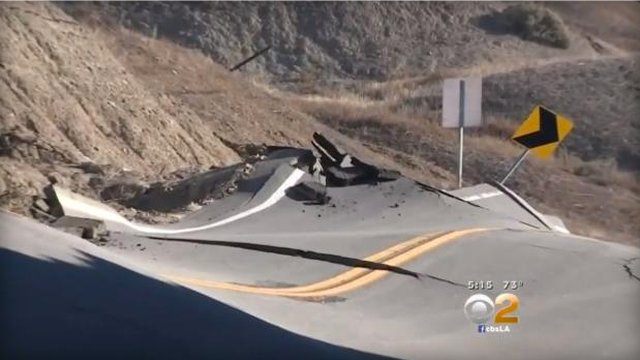 UCLA professor Jeremy Boyce recently visited the site with his students. Here's what he told CBS News:
When we think about geology, we think about processes that happen over millions and billions of years, so the opportunity to bring students out and see something happening over a scale of hours gives them the idea that not only does geology take forever, it can also happen almost instantaneously.
Over at the AGU Landslide Blog, geologist Dave Petley makes the case that it was caused by a progressive landslide, though one without an obvious trigger. This photo, taken from the Santa Clarita Valley Signal, offers a revealing perspective: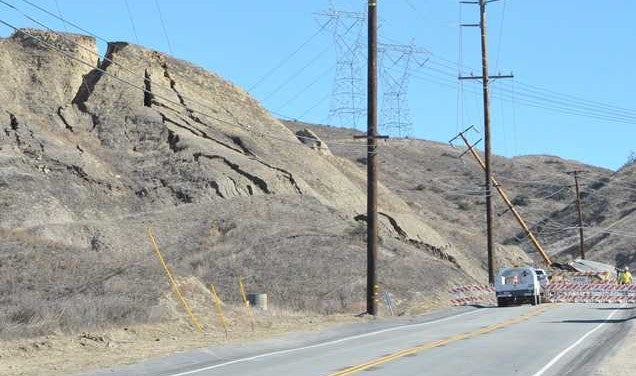 Petley admits that media reports of the road rising up appear to be accurate.
A spokesperson for the LA County Department of Public Works described it as some "really extraordinary soil movement" that turned the road into "essentially catastrophic failure." Indeed, it appears as though the soil moved underneath the road, and then lifted it up. Which is quite odd. Normally, a landslide would just wipe the road away.
Before-and-after pics of the site show that the road is situated on a box cut, and that the unloading of material from the slope likely contributed to the landslide.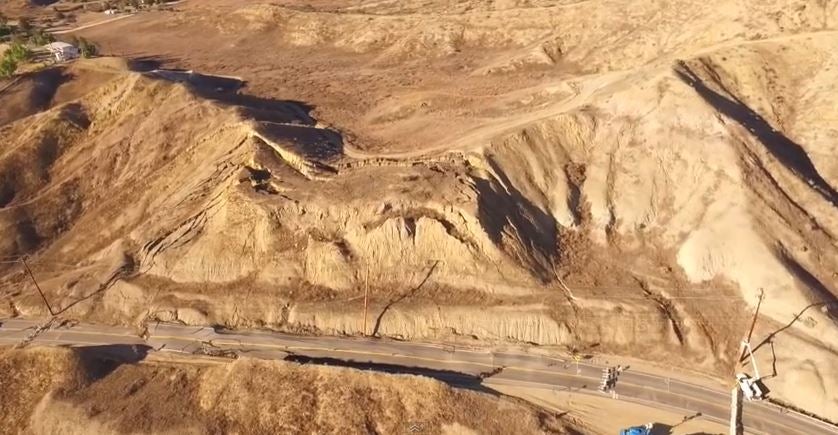 Footage of the road from a few years back show signs of extensive cracking, though nothing quite on the current scale.
A geology professor at College of the Canyons referred to it as a "massive wasting event," adding that "some sort of water event saturated the rock" causing it to act as a lubricant, thus facilitating the layers above it to move along a curved surface.
Here's some drone footage of the site:
The stretch of Vasquez Canyon Road between Lost Creek Road and Vasquez Way is closed until further notice. Geologists will continue to investigate.
http://www.gizmodo.com.au/2015/11/what-the-hell-caused-this-california-road-to-suddenly-rise-up-and-crumble/