| | |
| --- | --- |
| Posted by George Freund on January 7, 2015 at 10:00 PM | |
Running away: Gunmen shoot dead a wounded police officer on the ground at point-blank range as they flee the offices of Charlie Hebdo
There is no blood or splatter from a close range execution shot. Ain't going to happen like that. The man below shows the difference. In the video when the high powered round is fired there was no recoil ergo nothing went out the muzzle either or Newtonian physics is all wrong. We'll spare you from graphic wounds to the head, but we're being misled about this shooting like the others. The objective is to get anti-terror laws passed so that you'll surrender your liberties for security. Then they'll round you up.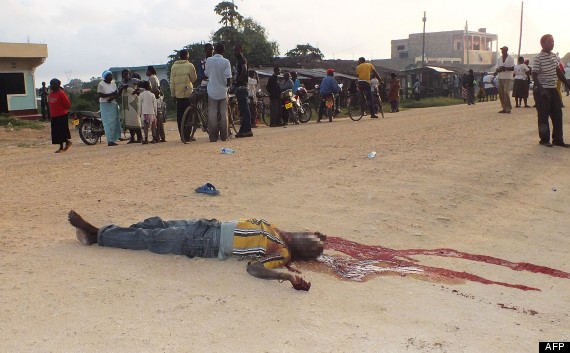 People gather near the body of a man lying in the street in Mpeketoni, in Lamu county along the Kenyan coast
INK BLEEDS PEOPLE DON'T
Prsident Hollande says this was an attack on 'CIVILIZATION.' In the propaganda war that's a major victory. We can wage war on Islam and join the crusade. Are you ready?