-
Welcome to the Church of Satan Newtown, CT. That's right. After their San Francisco headquarters; P.O. Box 210666, San Francisco, CA 94121; the recruiting central is P.O. Box 3184, Newtown CT. The representative is Curtis M. LeBlanc who resides on West Street in Newtown. As the information goes, his E-mail address is zdervish@gnn.com. That is even more scary. There are several GNN's.
-
Global News Network, a news channel in the Philippines
Good News Network, a Christian radio network in the Southeastern United States
Goodnight Nurse, a New Zealand alternative rock band
The National and Nomadic Guard of Chad (Garde Nationale et Nomade du Tchad or GNNT)
-
Some can be eliminated from the start. They are not linked. Guerrilla News Network ceased official operations in 2010. Good News Network and The Great News Network are both Christian operations. That leaves us with the Government News Network which is a British operation. 1776 still burns in their minds. Ask Piers, rewrite the Bible, Morgan. The prime candidate is Global Network Navigator. They were headquartered in San Francisco like the Church of Satan. We are left to wonder if the internet service was for the faithful.
-
It has understood that Mr. LeBlanc's domicile on West Street is a short drive to Sandy Hook Elementary School. Would the followers of Satan traverse the woods in red capes or hoods as the Grimm's fairy tale doodle implied? The map below outlines the route. You travel along Route 6, of course, until it turns into Route 816. I say that because it is a play on 666. 8+1 is nine which can be flipped to 6. The Route is called Church Hill Road. It leads directly to Sandy Hook.
-
-
Where the twilight shines to those who know their history is Church Hill Road. Your first inkling is to connect it to Winston Churchill, but there was another. He was Marlborough Churchill. He was a Colonel in the U.S. Army in WWI. He was head of American intelligence in the post war era. He was instrumental in setting up a police state surveillance grid in the 'homeland' that rivaled any. It is the twilight clue that this was an homegrown intelligence blackop. I am not alone in my surmise. Douglas J. Hagmann was interviewed on the Alex Jones show Thursday. He quoted sources in the Dept. of Homeland security that stated there would be another school shooting.
-
RB: But Sandy Hook, there's something very wrong there. But I am hearing that won't be the final straw. There will be another if they think it's necessary.
RB: Yes.
DH: That would mean they are at least complicit.
RB: Well, that's one way of looking at it.
-
Adam Lanza is being revealed as a practicing Satanist. Should we be surprised? He had a devil worshipping page inscribed with 'DEVIL.' Is it any wonder his computer hard drive was smashed? It would easily blaze a trail to many respectable Satanists who infest corporate media and the government. It would be the red flag to the red cape of the occult.
-
Dead teacher Vicki Soto with warlock, i.e.male witch, making sign of Baphomet
-
-
Netizens are pointing out that the Parker family seems to be the only one revealed to the public at large. They highlight in these photos that even the children make the devil's horns. There are allegations Mr. Parker was acting while being interviewed by the media. En route to the microphone he was captured smiling from ear to ear. Then as the camera was turned on, he started his emotional speech. Who would smile after their child was murdered save and except Satan himself.
-
-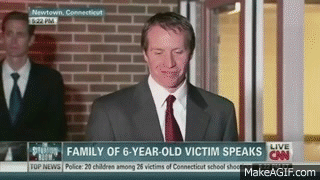 -
Robbie Parker walking up to the mike grinning from ear to ear. As the director yells action, he preps and starts his tear testimony. When queried, he could have said the devil made me do it. There are people that laugh with pain, but they do not cry. Robbie does both.
-
Teach your children well lest the master of deceit puts them to sleep.
-