-
Just when you thought you could escape, you found yourself in one of Canada's most notorious mental hospitals. You weren't very far from Robert Pickton's pig farm the scene of a plethora of grisley murders. You were at the door step of
ESSONDALE
. There are deep, dark secrets here. The hospital opened in 1913 has been indicted by many of its inmates as a state sanctioned
HELL ON EARTH!
-
The
treatment program
initiated here by medical superintendent Charles Doherty involved putting mental patients to work in manual labour and farming situations. The Picktons were neighbours buying their farm in 1910. It states male patients worked on the neighbouring stock farm. That could have included the Pickton farm. In those early days that could have been a noble exercise.
-
In time
Child Guidance Clinics
were established around 1934. That could have been another attempt at a noble cause, but the reports from inside suggest otherwise. The record is truly glossed over. The details are frightening. We must also wonder if Robert Pickton was ever 'treated' here as well. The seeds of his future disorders may very well be attributed to the wholesale abuse children received here. That may have been another reason the State would have preferred to let Willie run amok. Systemic State sponsored child abuse was the norm already.
-
A survivor reports being tied to the toilet and having hot water poured on their genitals, staff in bed with the children, being submerged in water to the point of drowning, being immersed in a canvas sack, and worse having their teeth pulled out.
-
Ombudsman Dulcie McCallum's report detailed the following:
McCallum's review, completed in August 2001 and released by the province in July 2002, found widespread sexual, physical, and emotional abuse of children at Woodlands, as well as unexpected and uninvestigated deaths. The physical mistreatment included "hitting, kicking, smacking, slapping, striking, restraining, isolating…very cold showers, very hot baths resulting in burns, verbal abuse, extended isolation, wearing shackles, and a belt leash with documented evidence of injuries including bruising, scratches, broken limbs, black eyes and swollen face".

-
Between 1926 and 1957 3,000 people died in custody. The headstones were removed in 1977 from 1,800 graves and used for a BBQ patio. The graveyard was turned into a park. After 1958 unclaimed bodies were given to the University of British Columbia for use as anatomy cadavers. Children never left. You were committed for life. Speculate the staff having an 'arrangement' with the local pig farm to dispose of bothersome bodies too obviously murdered to be used by medical students.
-
-
-
Woodlands children were used in genetic research and drug experiments for more than 30 years. Between 1954 and 1978, almost three dozen research papers, including drug studies, were published by the then-medical director of Woodlands, Dr. Bluma Tischler. Research continued until 1986.
-
In 1978, Premier Bill Bennett praised Tischler's work at Woodlands when he announced a fellowship in her name. "Dr. Tischler has conducted outstanding research…during the past 24 years. Her more than 35 scientific publications have made such an impact that Dr. Tischler has increased the knowledge of scientists throughout the world," he said in the legislature.
-
(One published paper was about extracting urine samples from children by inserting a needle through the abdomen above the pubic bone and aspirating the fluid with a syringe-a method of obtaining a sterile sample that is commonly used today in uncooperative cats and dogs.)
-
This is where grown men should cry. What demons are running the system? This is my country. I am ashamed. We continue.
-
Flames engulf the Woodlands building in New Westminster on Wednesday, the fourth fire at the site in the past four days. (Amar Parmar/CBC)
-
Not everyone agreed with Bennett's adulation, but those who were critical of the way children were cared for at Woodlands met with dismissal or worse.
-
In the fall of 1972, Marie White had been working at Woodlands for almost 10 years. She was head nurse of the isolation ward, and she was worried. According to a letter from her attorney, Brian Stanton, to Woodlands superintendent Pauline Hughes-and copied to Opposition health critic Bob McClelland, who read it in the legislature-her complaints about alleged sexual abuse of children by a janitor fell on deaf ears. Her concerns that kids were also being overmedicated and that there wasn't enough control over access to drugs elicited no response from the administration.
-
When she couldn't get the administration to act, she threatened to go to the media-a threat that sealed her fate in a scenario mimicking a script from TV's The Prisoner.
-
According to Stanton, while working one day in November 1972, she was told by the director of nursing that she was unwell and required immediate treatment. Neither the nature of her alleged sickness nor the treatment required was revealed by her supervisor. She was escorted to Dr. Hughes's office. (Besides being superintendent of Woodlands, 10 years earlier Hughes had been involved in genetic-research experiments there.)
-
Once inside Hughes's office, according to Stanton (who is now dead), White was confronted by a Dr. McKenzie, whose first name is not mentioned in the letter. McKenzie told her she was being committed to a private facility for the insane for her own good.
-
Stanton wrote that when White tried to resign on the spot, McKenzie called for an orderly and a matron. They took her from the office and bundled her into a waiting car. Despite having no committal papers, she was admitted and sedated at the Hollywood Sanitarium in New Westminster, from where they planned to send her to Riverview for 30 days. However, according to a May 7, 1973, article in the New Westminster Columbian newspaper, her daughter intervened and secured her release with the help of Stanton's partner, Norman Einarsson.
-
As Stanton wrote to Hughes: "In short, our client was seized, abducted, imprisoned, drugged, and reported as insane for the purpose of protecting certain improper procedures at the Woodlands School."
-
As the Columbian noted on December 29, 1972, B.C.'s NDP health minister, Dennis Cocke, under pressure from the Opposition, belatedly asked for an investigation.
-
The Columbian reported in January 1973 that Cocke had ordered the month previous that White be reinstated without loss of wages, and the attorney general, Alexander Barrett MacDonald, announced his office would also conduct an investigation, but in January White had still heard nothing about her reinstatement and Hughes refused comment when the Columbian came calling.
-
At the time, White told the newspaper: "I am quite willing to go back to Woodlands to work. But I haven't heard from Woodlands at all. When I receive instructions to return to work in writing, I will go back. But they haven't written to me yet, nor have they sent me any money."
-
Three months later, White was still not working. By May 1973, though, Woodlands gave her five months' salary, a lump sum to pay her lawyers, and another job in an undisclosed government institution. The Georgia Straight was unable to ascertain her present-day whereabouts.
-
-
COCKE'S INVESTIGATION wasn't the first review of abuse at Woodlands. Ten years earlier, there had been the so-called Amos Gill inquiry into abuse and the misappropriation of funds at the facility.
-
After the March 2005 class-action lawsuit became certified, hope was beginning to dawn for Woodlands survivors, but in October of last year many of them learned they may never be compensated for the abuse they suffered-even if the class action is successful.
-
A little-known court decision in October 2005-the Arishenkoff ruling-may have decided the fates of Woodlands survivors who were abused before 1974. In 1974, the government passed the Crown Proceedings Act, which allowed the Crown to be held liable for the actions of its employees.
-
The Arishenkoff case arose out of abuse at residential schools where Doukhobor children were interned by the B.C. government in the '50s and '60s. But the Arishenkoff ruling meant that liability for injury or abuse can't be laid at the government's door retroactively-if the alleged wrong was done before the Crown Proceedings Act became law.
-
The Arishenkoff case wasn't even before the courts when lawyer Jim Poyner first tried bringing the Woodlands class-action suit.
-
On October 31 last year, a frustrated Poyner told Woodlands survivors at one of their regular meetings: "If we hadn't had to fight to represent this group for the last three years, we might have already reached a settlement. This is really bad…Only a political decision can make this right."
-
Len Zimmer, who lived 18 years at Woodlands, was devastated by the news of the Arishenkoff ruling. "I thought I was going to have a heart attack," he told the Straight. "It's just so unfair." Zimmer was born in Essondale (now Riverview)-B.C.'s psychiatric hospital where, post-Second World War, up to 4,000 B.C. residents languished in the care of only seven doctors at any one time.
-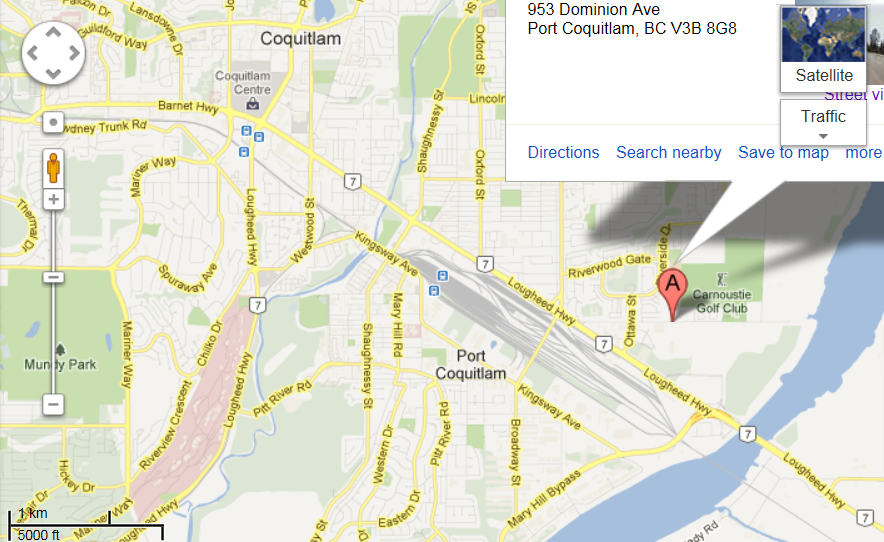 The Pig Farm 'A' The Riverview Hospital is the long pink portion to the left
-
Zimmer spent the first years of his life at Essondale, until he was moved to Woodlands in 1954 at age seven. Conditions inside Woodlands weren't better; they were worse. Zimmer said he was repeatedly sexually abused and tortured by staff until he finally won his freedom by escaping in 1972. For years, Zimmer said, he tried to tell his story, but the police didn't believe him and no one else listened.
-
Sexual abuse of children was widespread within the institution, members of the Woodlands Survivors group told the Straight. McCallum's review found sexual "assault, intercourse and in the result, injuries and in a few cases pregnancy".
-
Bill MacArthur, the boy who was dropped off at "summer school", is angry at the way Woodlands survivors have been treated by government. "I want everyone to remember what happened at Woodlands so that it never happens to anybody again…A whole group of people will be denied justice with this [Arishenkoff] ruling," he said.
-
Luann Bradshaw was 12 in 1961 when her parents' divorce divided her family. Her mother, Amy Reiter, told the Straight that she put Luann in B.C. government care at Woodlands for a weekend to get some doctor-ordered rest for herself. When she tried to bring her daughter home, staff refused to release her. She said she was assured Luann would get good care at the facility. But that didn't happen.
-
Bradshaw is an independent and outspoken critic of Woodlands. "I was determined not to let myself become permanently damaged. I'm a long-time survivor because of that," she told the Straight. "I've been in the [survivors'] community for 22 years. The physical, social, mental, and psychological torture at Woodlands was ongoing. They would make you go hungry. They took your home visits away, even your phone calls…They made you kneel for hours at a time on a hard wooden floor until you could hardly move…
-
"There was an all-male ward where everyone getting out of the bathtub got badly whipped. They became so scarred they could hardly stand.
-
"And there was slavery. I'd make 30 to 50 beds a day, every day, and I folded thousands of diapers each month for $12. Woodlands was a deadly prison. No one deserves to go through what we had to go through."
-
Will there be justice for the forgotten children of Woodlands?
-
The final wards of Riverview Hospital as it has morphed will be closed on Friday the 13th 2012. It is an apt day since a film of the horror genre was so named. Films of the horror genre were actually filmed at Riverview. They include Dark Angel by James Cameron no less. It's about a child escaping from a covert government biotech/military facility. Halloween: Resurrection typical death porn. The Killing which really hits the nail on the head. It involves a murder that involves a CONSPIRACY in a political campaign involving the Seattle Police. How apropos.
-
Then there is the novel at the top ESSONDALE.
-
Is this hell, or just a psychiatric hospital? Dr. Robert Snow isn't sure. Waking from a drunken stupor in a small green room, the doctor finds he's on the other side of the diagnosis - in a place where life and mental health seem to be going pretty cheap these days. Murder and sexual abuse haunt the hospital, but Snow doesn't really care. He'd rather be dead anyway. When a charming, manic cowboy and a world-weary intellectual invade Snow's self-imposed isolation, they drag him out of his depression - and into the heart of Essondale's black mysteries...
-
This is the story of the nurse Marie White in a very close way. They make movies. They write books. They raise issues in Parliament and nothing happens. Our whole society is the pig farm. What is left? As Pickton states at the end of The Pig Farm the truth hasn't come out. I would suspect an MK Ultra mind control angle as well I'm afraid.
-