-
The world is rife with the latest media crusade the shooting of Trayvon Martin. Still to date the plight of Daniel Omar of Sudan is lost for its lack of propaganda value to elicit change. You see the NWO has no problem if you die by the thousands, tens of thousands, or better yet the hundreds of thousands. It's the defective seeds thing Barbara Marx Hubbard opines. However, here at the Cafe we have great passion for the genocide being perpetrated on Sudanese Christians. You see if Obama had a son he wouldn't be a Christian, he'd be a hood shot in a fight in Florida. While it is a shame Trayvon Martin was shot and killed, he had an option to disengage to de-escalate the level of conflict. The children of the Sudan do not have that option because the quest for petro dollars takes center stage.
-
There has been a conflict in the Sudan for many long years. I have been one of the few to harp on the subject. After viewing one of the most gruesome press photographs that should change anyone with a soul, I wrote every Member of Parliament in Canada about it. I'd have joined the army for that one. The level of brutality was difficult to comprehend. The lack of compassion is impossible to comprehend. I was able to embarrass a Canadian oil company to opt out of the Sudan and let the French and the Chinese occupy the ground cleared by helicopter gunships. This was accomplished live on air on a Calgary radio program. You see one person can make a difference. Too add insult to injury one of Canada's largest teachers' pension funds invested in that oil company while at the same time supporting gun control in Canada. So it's O.K. to shoot poor black children at their schools in Africa from helicopter gunships to feather your retirement nest, but the shooting sports are anathema in our schools.
-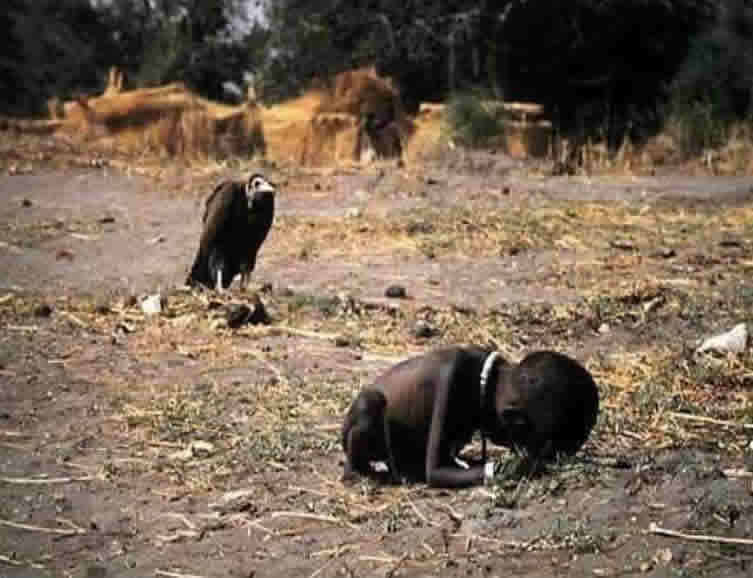 Pulitzer Prize winning photo from the Sudan by Kevin Carter

-
Those were large pills to swallow for everyone. Canada decided to join the crusade in Afghanistan for what was really the resolution of the softwood lumber dispute. We had to placate Bush and that was the price lives for lumber. In those days I dared to believe a poor black child in Africa had a right to call 911 and get a response. Our leaders run on a cost benefit analysis. If they don't get cash, there is no benefit. Kevin committed suicide after that assignment. He was haunted from guilt and debt. You can't help but be changed after looking at this much reality. I sold off all my mutual funds. I tried to lobby the government to acquire the old Canadian navy supply ship HMCS Provider to convert to a humanitarian relief ship. Outside of former Prime Minister Joe Clark, there was little interest. The government did a cost benefit analysis. It was too expensive. It was better to throw cash even though most never makes it. I prefer spoon to mouth aid. That was not to be my path. That base is covered by a Christian charity called Mercy Ships. I cry for the work they do. The Canadian government spent several fold more sending destroyers to New Orleans for hurricane Katrina. HMCS Provider is a dive wreck.

-
Angelina Jolie made a great film on the topic from the point of picking up the chid. In all likelihood the baby was doomed as Clive Owen says in the film Beyond Borders. However, we have to pray for miracles. Kevin Carer's task was to get the picture out to save the other children who still suffer and die in droves. He fulfilled his mission. There are other equally disturbing photos. They remain in obscurity because they are not Obama's children. They have no propaganda value. After this I have no hesitation in understanding how God says we're all sinners. In law there are acts and equally omissions. Both are crimes. We kill far more by omission than hands on slaughter. You would tire and need to rest. If I were a billionaire, I could have a private jet or ten and a yacht. That is an awesome sin debt. I'd buy a mercy ship. I'd fly a fast plane under the radar to get supplies into the one hospital featured in Daniel Omar's news piece. But that's just me. I'd ride shotgun on the village. I guess that's why I'm not really into the preparation cult. I have been blessed with more than enough. I would prefer to see the spoon go into the mouths of others. God has destined I be alternative media, but I dream of sailing on a mercy ship as opposed to a big yacht.
-
-
Another dream would be a member of doctors without borders instead of reporters without borders. There is a doctor working alone at the Mother of Mercy Hospital in the Nuba Mountains. He is a former U.S. Navy surgeon. His name is Dr. Tom Catena. He works all day every day. He hasn't left the hospital in two years. They only get what can be smuggled in by priests. The nurse, Sister Angelina Nyakuru, goes without food. She is not Obama's sister because she has no propaganda value either. That is not the kind of change he believes in. I call her sister and thank God for her.
-
Dr Tom Catena, the only surgeon in the Nuba Mountains, and SisterAngelina Nyakuru at the Mother of Mercy hospital. The hospital was opened in 2008 with room for 80 in-patients. Now it houses 500
-

Food is used as weapon in the Sudan. It is something we may see when our blessings our run out. I use blessings in my cost benefit analysis'. It's something the evil ones cannot understand. It is the LAW of the universe - for every action, there is an equal and opposite reaction. That is why we face the persecution as Christ did. Evil is rewarded. However, the blessings come from above. God smiles down on you and sees you are worthy. Our reward is a seat at the table. So I spend every day at the task I have been assigned while dreaming about mercy.
-
The crimes in Sudan are egregious. In the source article linked above women are beaten and fuel is poured upon them and they are set alight. Children are beaten and raped. They are now bombed after drones mark the targets. They are driven from their fields to induce starvation. The gun control activists are absent for some reason. I dream about liberating them with an army of real Christian men. I pray my spoon reaches their mouths. We will pay for our omissions. Economies may collapse. Wars for corporation's profits may come home. There is no escape from the karma wave or what has been called God's judgment except through the mercy of blessings. That is the cost benefit analysis of the universe.
-
-
Children hiding in the caves to escape the Antonov bombardment
-
You have the right not to be killed. Change the channel please.