MICROSOFT'S PAUL ALLEN'S SUPER SECRET YACHT EXPLORES THE ANTARCTIC AND THE OCEAN FLOORS IN THE SUPER RICH'S BIGGEST COVERT ACTIVITY
http://seattletimes.nwsource.com/html/businesstechnology/2003783824_luxurysubs11.html
-
After WWII there was serious interest in the Antarctic. Admiral Byrd led an enormous expedition to 'map' the continent. It was a mission that included an aircraft carrier, destroyers and submarines. There has never been anything like it before or since. While there has been much divulged in the clear, the root interest in the expedition is concealed. As a naval history buff, I find it difficult to understand why a research expedition should be so well armed. There were allegations though that escaping Nazis fled to Antarctica. That would be a reasonable excuse for taking a naval task force approaching from three directions.
-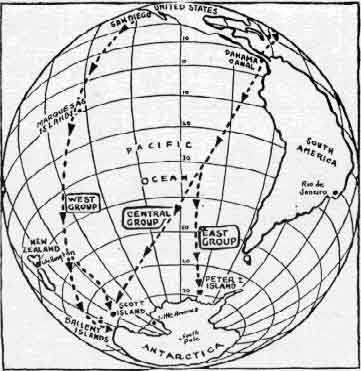 -
The Germans preceded the American invasion by almost a decade. In the late 30's and through the period of WWII, the Germans explored Antarctica extensively. This document captured by the Russians clearly illustrates the land under the ice. We know from the film evidence Neushawbenland that the Nazis built Base 211 to accommodate 5,000 personnel. That was just the first attempt. There were most likely other larger ventures.
-
-
http://hollowplanet.blogspot.com/2011/07/wwii-german-maps-of-antarctic-entrance.html
-
This is a 1946 map of Antarctica made by National Geographic cartographer and artist Heinrich C. Berann. Not to be outdone the Nazis mapped the lands of the inner earth as well. The land was called Agharta.
-
-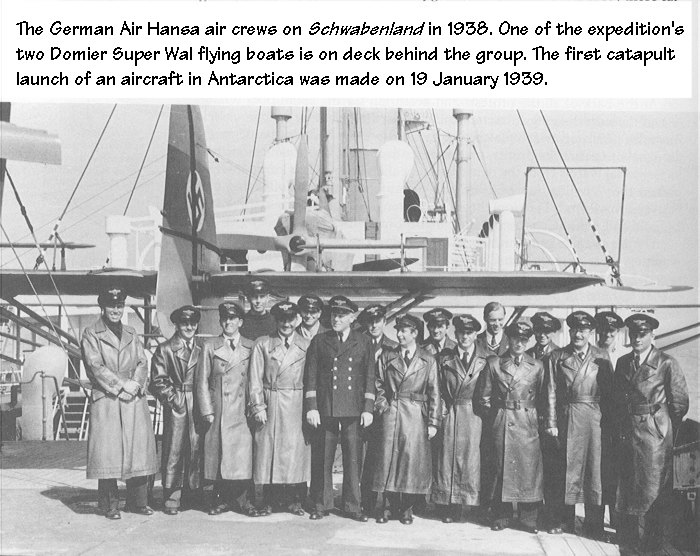 http://www.south-pole.com/p0000150.htm
-
It is the British mission though that reveals more. Classified top secret, this mission involved commandos. Their mission was to reply to a call for assistance from the survivors of a previous mission. They discovered a tunnel that led into a subterranean lair. Their mission was to seal the tunnel with explosives at all costs. They entered the tunnel and found a base with much activity. There were allegations that a human hybrid was seen and hostile to the English. Three men left the tunnel alive, but it was sealed. The mission was known as OPERATION TABARIN.
-
Britain's Secret War in Antarctica
http://www.bibliotecapleyades.net/tierra_hueca/esp_tierra_hueca_13.htm

-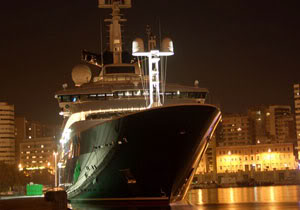 -
Now we have a quantum leap to the present day (2007). Microsoft co-founder Paul Allen has built the world's largest yacht. That doesn't seem to be too unreasonable for one of the world's richest men. However, this vessel has many options that would fit in a Bond movie.
-
It is the mother ship to a 10 man submarine and the control of a sea floor exploring remote controlled vehicle. It would not be too wise to board without an invitation because Mr. Allen has recruited a team of former US Navy Seals to provide protection and/or the ability to conduct a serious covert action capability. All this and more exist on the OCTOPUS a 416 foot wonder of the seas that would rival a Verne novel in its scope.
-
And yes this year's February voyage was a special trip to Antarctica. My Allen already had two super yachts. The $200 million price tag and $20 million annual budget are quite the investment. They say the meek inherit the earth; the brave will get the oceans. I should think the brave and the daring will get even more -- the world perhaps that sleeps far too deeply.
-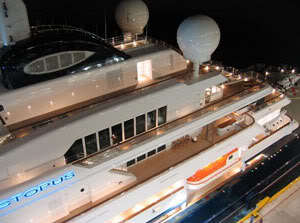 -
Bill Gates and Paul Allen cruise Antarctica in super yacht

http://www.mercopress.com/vernoticia.do?id=9800&formato=pdf
-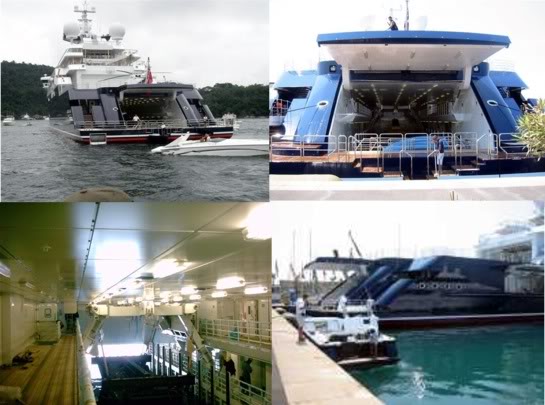 OCTOPUS has Permanent crew of 60, including several former Navy Seals. It has two helicopters, seven boats, a 10 man submarine and a remote controlled vehicle for crawling on the Ocean floor. The submarine has the capacity to sleep eight for up to two weeks underwater.
-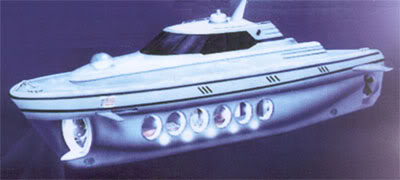 -
Superyachts of the CEOs
From miniature submarines to multiple helipads, boats of the business elite keep getting fancier.
-
Details about the 416-foot boat, named Octopus, are hard to come by. Spokespeople for all the boat owners in this story declined to comment. One even asked if this was an investigation into executive compensation. Of course it isn't -- it's simply an unabashed celebration of maritime largesse.
-
But according to various reports, Allen's Octopus is what's called an expedition boat, its high bow allowing for better handling in rough seas and icy waters and equipped for travel to remote places. It has two helicopter pads (where else would guests land their chopper?), one on the bow and one astern. A garage near the rear deck houses a four-wheel drive vehicle, which can be transported to shore via a specialized landing craft.
-
The submersible -- yes that's right, submersible -- which is said to be able to stay under water for up to two weeks, launches through a hatch in the bottom of the hull. The former Navy Seals are presumably there to fend off pirates, or just in case you run into a real-life Dr. No in some forlorn corner of the South China Sea.
-
http://money.cnn.com/2005/07/28/news/funny/ceo_yachts/index.htm
-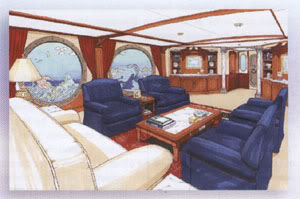 -
Seafaring Super-Rich Dive to Ocean Bottom in Luxury Submarines
-
July 10 (Bloomberg) -- The luxury-submarine business is sometimes hard to fathom.
-
``If you can find my submarine, it's yours,'' says Russian oil billionaire Roman Abramovich. And that's all the reclusive owner of the Chelsea Football Club has to say.
-
The ocean floor is the final spending frontier for the world's richest people. Journeying to see what's on the bottom aboard a personal submersible is a wretched excess guaranteed to trump the average mogul's stable of vintage Bugattis or a $38 million round-trip ticket to the International Space Station aboard a Russian rocket.
-
Luxury-submarine makers and salesmen from the Pacific Ocean to the Persian Gulf say fantasy and secrecy are the foundations of this nautical niche industry built on madcap multibillionaires.
-
``Everyone down there is a wealthy eccentric,'' says Jean- Claude Carme, vice president of marketing for U.S. Submarines Inc., a Portland, Oregon-based bespoke submarine builder. ``They're all intensely secretive.''
-
Who owns the estimated 100 luxury subs carousing the Seven Seas mostly remains a mystery.
-
Paul Allen, co-founder of Microsoft Corp., warned his boat builder that loose lips sink ships.
-
http://www.bloomberg.com/apps/news?pid=20670001&refer=&sid=a9s.rOyb3IaU
-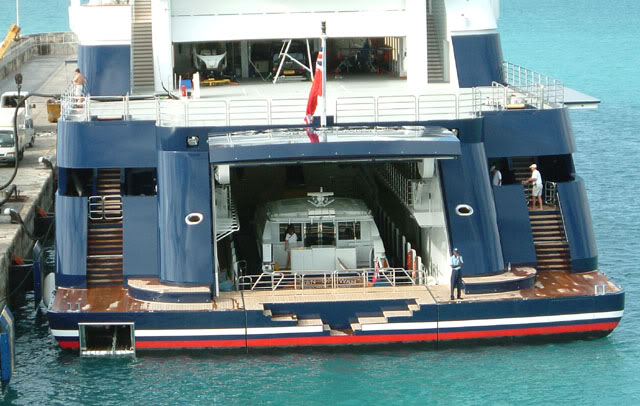 So now we see that certain of the super rich have their own private navies and research capabilities. How they use them are outside of the purview of nations and their intelligence agencies. Mr Allen's latest journey to Antarctica leads one to wonder if the rumours were true. Was there really an access port to underground tunnels in Antarctica? Did Hitler and the riches of the Third Reich escape? Is the secret technology buried under the ice? Octopus is more than capable to find out. The ultra rich are taking an initiative. We should not sleep.
-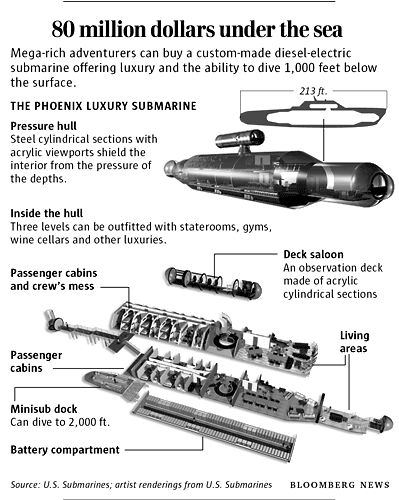 -
So what have all the wars been about? Secrets we could never ever imagine. A long time ago the theory of the world being round was all the rage. We were told by the elite rich it was flat. They did that so they could take advantage of the knowledge for their financial gain. Today the 'conspiracy' says the Earth is hollow and there are access points at the poles. The elite rich are investing heavily in the 'conspiracy' theory. They know something they are not revealing to us. What is the payoff for such a venture? EVERYTHING AND MORE!