Thor Liberty departs with missiles and explosives
published Thu Jan 5 03:26 PM, updated Fri Jan 6 10:19 AM
-
The Thor Liberty was reloaded with its cargo on Thursday evening.
Image: YLE
-
The Thor Liberty, a Manx-flagged ship stopped at Kotka harbour before Christmas carrying Patriot missiles and over 150 tons of explosives, has departed Finland, headed for Asia.
-
According to reports, the 69 Patriot missiles that had been impounded by Finnish officials and the explosives were re-loaded aboard the vessel before its departure.
-
A travel ban on the two main officers was lifted Thursday. However, the Captain and First mate are being charged with a dereliction of maintaining seaworthiness and possibly of transporting military materials without transit documents.
-
Transit permits for the materials the ship is carrying were approved by the Finnish government on Wednesday.
-
Charges filed
-
State Prosecutor Juha-Mikko Hämäläinen says the ship's captain should have understood that packing explosives in cardboard containers did meet cargo shipping requirements.
-
"This is a case of inadequate packaging. The explosives were packed in cardboard boxes when they should have been placed in separate closed containers," he told YLE.
-
If convicted, the Captain and First Mate will most likely face fines.
-
The cargo included 158 tonnes of explosives loaded in cardboard packaging. Regulations stipulate the cargo should have been loaded into sealed containers.
-
The decision by the State Prosecutor to press charges did not affect lifting a ban on travelling earlier imposed on the Captain and the First Mate.
-
They are also suspected of defence material export crimes.
-
The Manx-flagged ship was intercepted at Kotka harbour before Christmas, when 69 missiles and over 150 tons of explosives were discovered onboard without proper transit papers.
-
YLE
-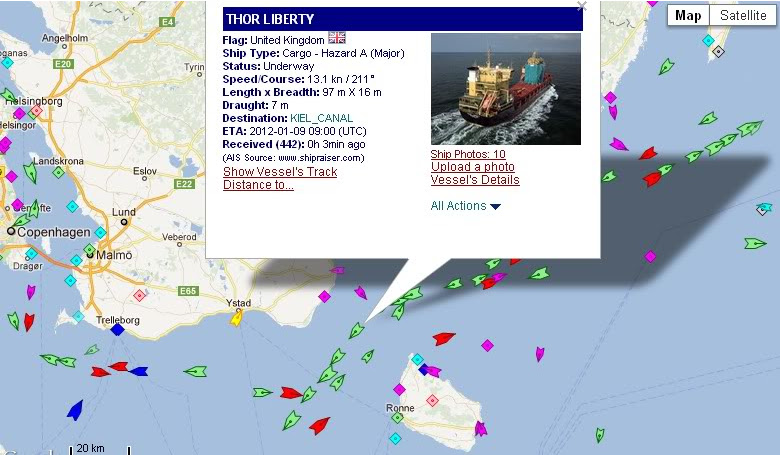 -
They know we're peeking. The ship fell off the radar.
-
Last known positions: MMSI 235218000
-

-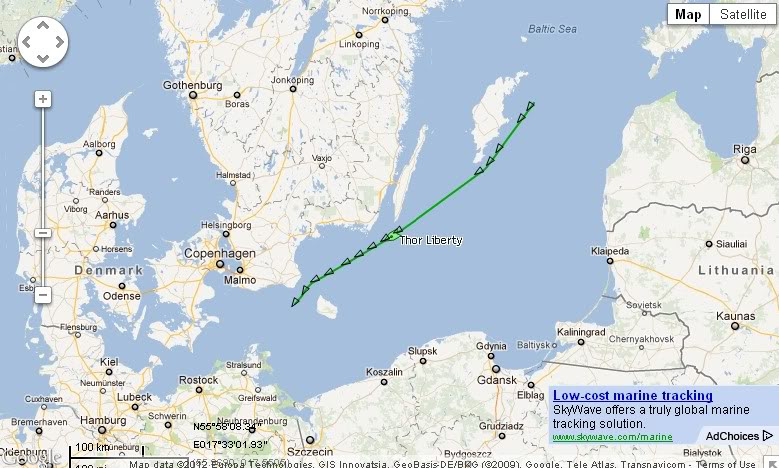 -
We're back on line. The Thor Liberty is anchored off Kiel awaiting passage through the canal.
-