James Joseph DeAngelo, 72, was arrested at his home in Citrus Heights, Calif. The so-called Golden State Killer is thought to have killed 12 people, raped at least 45 people and burglarized more than 120 homes in the 1970s and '80s
By THOMAS FULLER and CHRISTINE HAUSERAPRIL 25, 2018
SACRAMENTO — It was a rash of sadistic rapes and murders that spread terror throughout California, long before the term was commonly used. The scores of attacks in the 1970s and 1980s went unsolved for more than three decades. But on Wednesday, law enforcement officials said they had finally arrested the notorious Golden State Killer in a tidy suburb of Sacramento.
Joseph James DeAngelo, 72, who was taken into custody outside his home on Tuesday and charged with six counts of murder, had been living undisturbed a half-hour drive from where the 12-year rampage began. He was described as a former police officer, and his time in uniform partly overlapped with many of the crimes he is accused of committing.
The case was cracked in the past week, Sheriff Scott Jones of Sacramento County said on Wednesday, when investigators identified Mr. DeAngelo and were able to match his DNA with the murders of Lyman and Charlene Smith in Ventura County in 1980.
"We found the needle in the haystack and it was right here in Sacramento," said Anne Marie Schubert, the Sacramento district attorney, who helped organize a task force two years ago that included investigators from across the state as well as the F.B.I. A DNA database showed links to other murders in Southern California, the authorities said Wednesday.
A series of rapes in an old gold mining area east of Sacramento in 1976 were first linked by the authorities for their geographic proximity, the similar description of the rapist — a white male with blond hair who was just under six feet tall — and the peculiar and cruel rituals that he inflicted on his victims. His victims included women home alone and women at home with their children. The suspect went on to rape women with their husbands present and then murder them both. He is also thought to have burglarized more than 120 homes.
He became an infamous figure, sometimes known as the Golden State Killer and other times as the East Area Rapist and the Original Night Stalker. His planning was meticulous and he seemed to know precise details about his victims' schedules. They described the gravelly, angry whisper that he used as he tormented them. He wore gloves and a mask and was a predator with quirks: As his victims lay terrified, he would pause for a snack of crackers after raping them. He placed a teacup and saucer on the bodies of some of his victims and threatened them with murder if he heard the ceramic rattle.
The authorities in California arrested Joseph James DeAngelo in connection with the infamous case.CreditSacramento County Sheriff's Department

One of the composites bears a striking resemblance to Robin Williams.
Michelle McNamara (April 14, 1970 – April 21, 2016) was an American writer and crime blogger. She is the author of I'll Be Gone in the Dark: One Woman's Obsessive Search for the Golden State Killer, a true crimebook about the Golden State Killer. The book was released posthumously in February 2018.
McNamara attended Oak Park and River Forest High School in Oak Park, Illinois. She graduated from the University of Notre Dame in 1992 and earned a master's degree in creative writing from the University of Minnesota.
She launched her website TrueCrimeDiary in 2006. She became interested in the Golden State Killer case and penned an article for Los Angeles magazine about the serial killer in 2013. McNamara was the first to coin the term "Golden State Killer", after authorities linked DNA evidence that connected the Original Night Stalker and East Bay Rapist. She then signed a book deal with HarperCollins and began to work on a book about the case.
Her book was posthumously updated and finalised by true crime writer Paul Haynes, and her widower Patton Oswalt, and was released on February 27, 2018 (almost two years after her death), reaching the top of the New York Times Best Seller list for nonfiction. As of April 25, 2018, the book had been on the list for four weeks. In April 2018, HBO announced that they have purchased the rights for I'll Be Gone in the Dark and are developing it into a documentary series.
On April 25, 2018, Californian authorities arrested Joseph James DeAngelo as the alleged Golden State Killer. Oswalt stated that authorities' use of the killer's name that McNamara coined was "proof of the impact of her work." Authorities have also linked DeAngelo to the Visalia Ransacker.
McNamara married actor Patton Oswalt on September 24, 2005. The couple's daughter Alice was born in 2009. McNamara died on April 21, 2016, as a result of taking Adderall, Xanax and Fentanyl combined with an undiagnosed heart condition.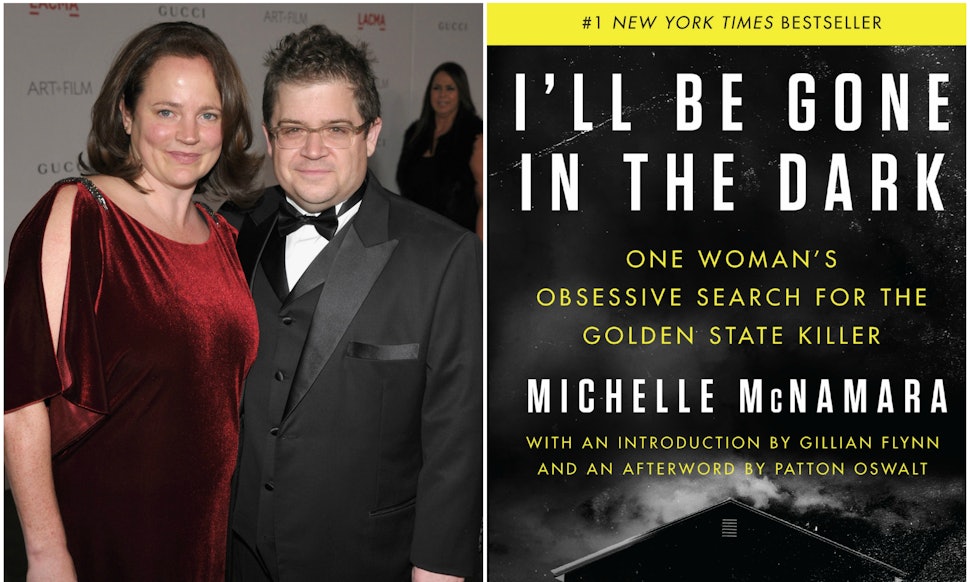 It is hard to believe a person with a mission to bring truth and justice to the world would be into the abuse of drugs. I believe this Fentanyl was more a murder weapons to silence the determined reporter looking to expose the rot that exists in the world. Perhaps she had ADHD or used tranquilizers, but Fentanyl is a brutally powerful drug. It is highly fatal and the source of many drug related deaths.