"Another One Bites the Dust" is a song by the British rock band Queen. Written by bass guitarist John Deacon, the song featured on the band's eighth studio album The Game (1980). The song was a worldwide hit, charting number one on the US Billboard Hot 100 for three weeks, from 4 October to 18 October (their second number-one single in the country). The song spent fifteen weeks in the Billboard top ten (the longest running top ten song of 1980) and 31 weeks total on the chart (more than any other song in 1980). It reached number two on the Hot Soul Singles chart and the Disco Top 100 chart, and number seven on the UK Singles Chart. The song is credited as Queen's best-selling single, with sales of over 7 million copies. This version was ranked at number 34 on Billboard's All-Time Top Songs.
ANOTHER DEAD HILLARY CLINTON ASSOCIATE, SPECIAL AGENT KURT SMOLEK FOUND DEAD IN A RIVER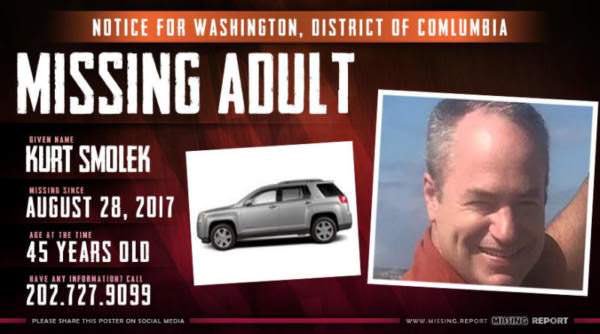 04 SEP 2017 POSTED BY SGT REPORT
The lifeless body of Diplomatic Security Special Agent Kurt Smolek was found in the Potomac River on Wednesday evening. Smolek (45) had been declared a "critical missing person" in a tweet released by the police department of the District of Columbia.
According to a Missing Persons report by the DC Metropolitan Police Department, Smolek was last seen on August 28, 2017 at approximately 10 pm, in the 600 Block of Water Street, Southwest, Washington. "He was last seen wearing a blue oxford shirt and khaki pants,"read the report. "Kurt was last seen operating a grey 2011 GMC Terrain SUV, bearing Virginia tags XGG6532 with tinted windows."
Smolek was described by police as a white male with greying brown hair, and brown eyes. He is 5 feet 8 inches tall and weighs 190 pounds.
Diplomatic Security Services of the Department of State is charged with global responsibilities, including the safeguarding of American diplomatic personnel, property, and classified information. DSS also has jurisdiction over classified communications, such as secure email and other platforms.
On the Internet emerged condolences for Smolek's passing, which are attributed to Deputy Assistant Secretary of State and Assistant Director for International Programs Christian Schurman. The note read:
"It is with great sadness that I share with you the news of the death of Diplomatic Security Special Agent Kurt Smolek. Kurt was found deceased today and the DS [Diplomatic Security agency] is working closely with local authorities to investigate the circumstances of his death. Please keep the Smolek family in your thoughts and prayers during this difficult time.
"Christian Schurman."
According to a State Department bio for Christian J. Schurman:
"Christian J. Schurman was named Deputy Assistant Secretary of State and Assistant Director for International Programs on September 15, 2014. Mr. Schurman is responsible for evaluating, managing, and mitigating security threats to, as well as the direction of resources for, more than 240 diplomatic posts within the International Programs Directorate.
"A Diplomatic Security (DS) Special Agent since 1987, Mr. Schurman was promoted to the rank of Minister Counselor in April 2014."
A search of the Department of State website for mention of Kurt Smolek proved fruitless.
On Facebook, a post by Beverly Santicola read as follows:
"Please pray for my cousins and Uncle Emil as Kurt Smolek died in a tragic accident this week. He was a husband, dad, son, brother and grandson to them and they are dealing with a lot of shock, grief and pain. This photo was taken in happier times. Kurt is the one in the red during a trip to Vietnam when he was on assignment there. His mom and dad are in the front. Kurt's dad Don is my first cousin. Words cannot convey my sadness and grief."
Also, a photo appeared on social media that showed former Secretary of State Hillary Clinton. Standing next to her is a man who is purportedly Kurt Smolek. (UPDATE: the man in the photograph above has been identified as Kurt Campbell, former assistant to Clinton for Asian affairs). Kurt Smolek, however, worked for the Hillary Clinton State Dept in CAMBODIA up to 2015.