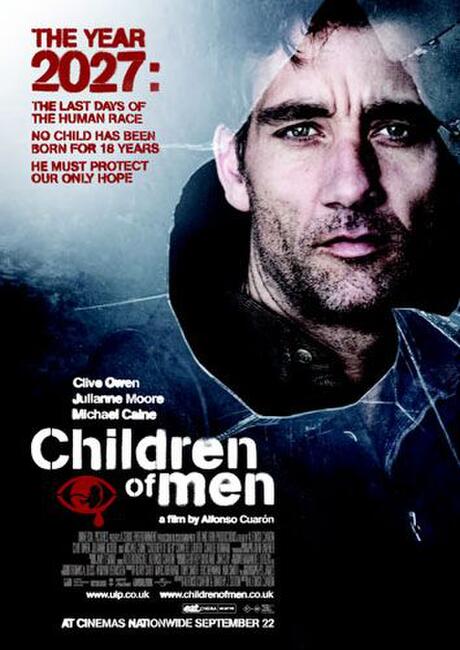 DIRECT LINK:
http://vidto.me/q8mia5kfi928.html
https://www.watchfree.to/watch-27d-Children-of-Men-movie-online-free-putlocker.html
Children of Men is a 2006 British-American dystopian thriller film directed and co-written by Alfonso Cuarón. The screenplay, based on P. D. James' 1992 novel of the same name, was credited to five writers, with Clive Owen making uncredited contributions. The film takes place in 2027, where two decades of human infertility have left society on the brink of collapse. Illegal immigrants seek sanctuary in the United Kingdom, where the last functioning government imposes oppressive immigration laws on refugees. Owen plays civil servant Theo Faron, who must help a refugee (Clare-Hope Ashitey) escape the chaos. Children of Men also stars Julianne Moore, Michael Caine, Chiwetel Ejiofor, and Charlie Hunnam.
A co-production of the United Kingdom and the United States, the film was released on 22 September 2006 in the UK and on 25 December in the U.S. Critics noted the relationship between the U.S. Christmas opening and the film's themes of hope, redemption, and faith. Despite the limited release and low earnings at the box office compared to its budget, Children of Men received wide critical acclaim and was recognised for its achievements in screenwriting, cinematography, art direction, and innovative single-shot action sequences. It was nominated for three Academy Awards: Best Adapted Screenplay, Best Cinematography and Best Film Editing. It was also nominated for three BAFTA Awards, winning Best Cinematography and Best Production Design, and for three Saturn Awards, winning Best Science Fiction Film.
Plot
In 2027, after 18 years of global human infertility, civilization is on the brink of collapse as humanity faces extinction. The United Kingdom, one of the very few stable nations with a functioning government, is deluged by asylum seekers fleeing the chaos and war which have taken hold around the world. In response, the UK has become a police state as the British Army round up and detain immigrants. Theo Faron, a former activist turned cynical bureaucrat, is kidnapped by the Fishes, a militant immigrants' rights group. They are led by Theo's estranged wife, Julian Taylor, from whom he separated after their son Dylan's death during a 2008 flu pandemic.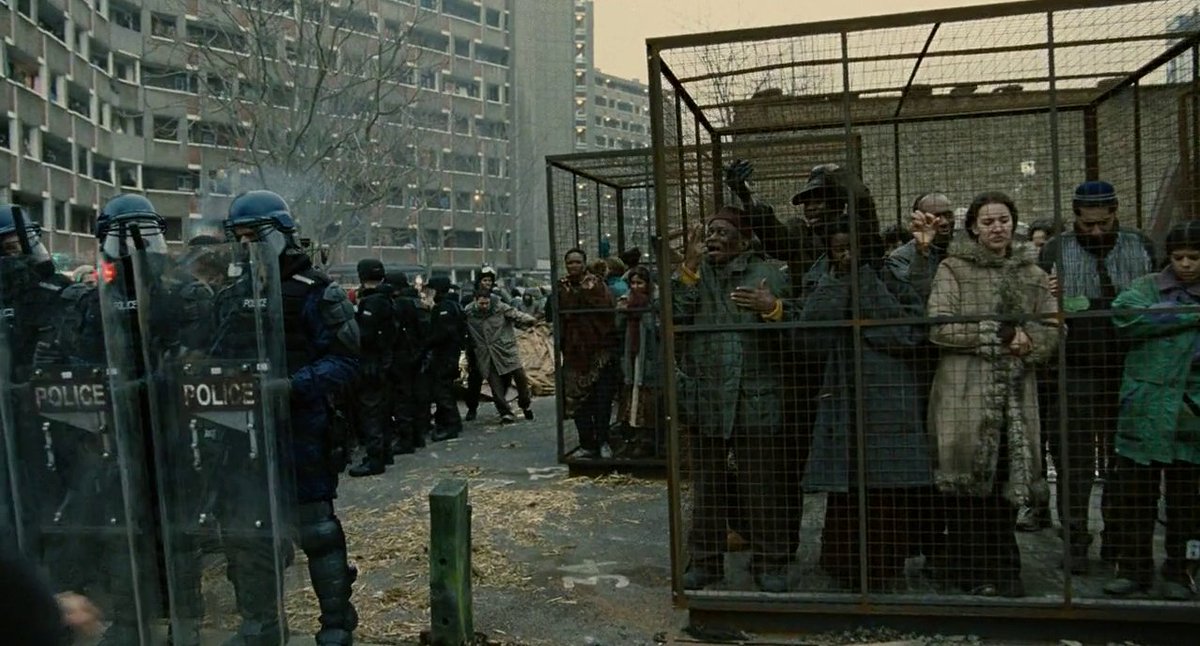 Julian offers Theo money to acquire transit papers for a young refugee named Kee, which Theo obtains from his cousin Nigel, a government minister who runs a state-sponsored collection of salvaged art from around the world. The transit papers require that the bearer must be accompanied, so Theo agrees to escort Kee in exchange for a large sum. Luke, a Fishes member, drives them and former midwife Miriam towards the coast to a boat. They are ambushed by an armed gang, and Julian is killed. Luke kills two police officers who stop their car, and they bury Julian in the forest as Theo breaks down crying over her death. The group ditches their car for another to escape to a Fishes safe house.
Kee reveals to Theo that she is pregnant, as Julian had told her to trust only Theo. Julian had intended to hand Kee to the "Human Project", a supposed scientific group in the Azores dedicated to curing infertility; however, Luke persuades Kee to stay, and he is later voted as the new leader of the Fishes. Later that night, Theo eavesdrops on a meeting of Luke and other Fishes. He discovers that Julian's death was orchestrated by the Fishes so Luke could take over as leader, that they intend to kill Theo in the morning, and that they intend to use the baby as a political tool to support the coming revolution. Theo wakes Kee and Miriam, and they steal a car, escaping to the secluded hideaway of Theo's aging friend Jasper Palmer, a former political cartoonist turned pot dealer.
The group makes plans to board the Human Project ship Tomorrow, which will arrive offshore from a refugee camp at Bexhill-on-Sea. Jasper proposes getting Syd, a camp guard to whom he frequently sells drugs, to smuggle them into Bexhill masquerading as refugees. The Fishes discover Jasper's house, and the group flees while Jasper stays behind to stall the Fishes. Luke brutally murders Jasper as Theo watches from the woods.
The group waits for Syd in an abandoned school, where Miriam confides in Theo how many pregnancies miscarried at the beginning of the infertility crisis and her sadness at how "as the sound of the playgrounds faded, the despair set in. Very odd, what happens in a world without children's voices". The group then meets with Syd and are transported to Bexhill, where they see refugees being beaten, tortured, robbed, and executed by camp guards and police. When Kee's contractions begin on a bus, Miriam distracts a suspicious guard by feigning mania. She is taken away and hooded.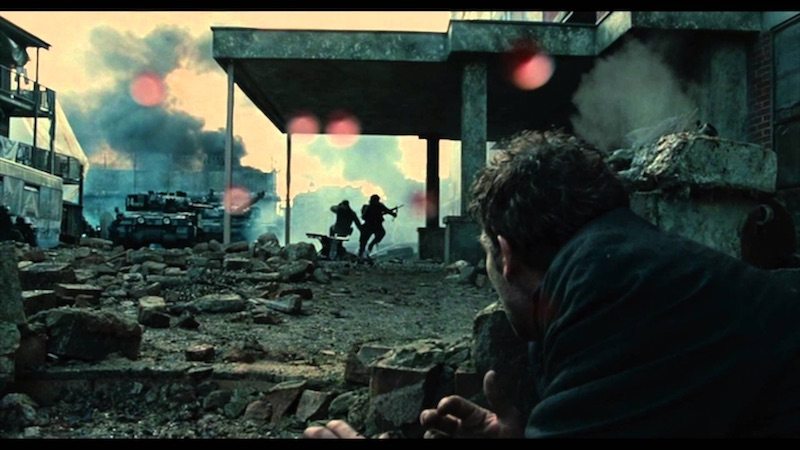 At the camp, Theo and Kee meet a Romanian woman, Marichka, who provides a room where Kee gives birth to a baby girl. The next day, Syd finds them in their room, and informs Theo and Kee that war has broken out between the British Army and the refugees, including the Fishes. Having learned that they have a bounty on their heads, Syd attempts to capture them, but Marichka and Theo fight him off and escape. Amidst the fighting, the Fishes capture Kee and the baby. Theo tracks them to an apartment under heavy fire where he confronts Luke, who is then killed by a tank shell, and escorts Kee and the baby out. Awed by the baby, the combatants temporarily stop fighting; staring at the screaming baby, they allow the group to leave. Marichka leads Theo, Kee, and the baby to a boat in a sewer, and Theo rows away.
As they watch the bombing of Bexhill by the Royal Air Force from a distance, Theo reveals that he had been shot by Luke. He tells Kee how to wind her baby to soothe her crying, and Kee tells Theo she will name the baby after his and Julian's lost son, Dylan. Theo loses consciousness from his wounds as the Tomorrow approaches through the fog.
Scientists Warn That The Countdown To The Extinction of The Human Race Is Accelerating