NEW LINK:
http://hd.today/watch/5OGgyyvR-rambo.html

Rambo (also known as John Rambo or Rambo IV) is a 2008 American independent action film directed, co-written by and starring Sylvester Stallone[3] reprising his iconic role as Vietnam veteran John Rambo. It is the fourth and final installment in the Rambo franchise, set twenty years after the events of the previous film, Rambo III. This film is dedicated to the memory of Richard Crenna, who played the character Colonel Sam Trautman in the previous three films, and who died of heart failure in 2003.
The film is about John Rambo (Stallone), a hardened former Green Beret, who is hired by a church pastor to help rescue a group of Christian missionaries who were kidnapped by men from a brutal Burmese military regime.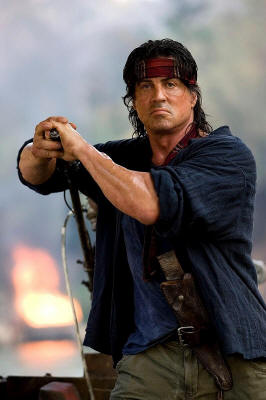 Plot
Amid the political protests of the Saffron Revolution in Burma (Myanmar), ruthless SPDC officer Major Pa Tee Tint leads an army to pillage small villages in a campaign of fear. His soldiers sadistically slaughter innocents, abduct teenage boys to be drafted into his army and hold women hostage to be raped as sex slaves. Meanwhile, twenty years after the events in Afghanistan, John Rambo now lives in Thailand, making a meager living as a snake catcher and by providing boat rides. A doctor and missionary named Michael Burnett hires Rambo to use his boat to ferry their group up the Salween River into Burma on a humanitarian mission to provide medical aid to a village of Karen tribespeople.
During the trip, the boat is stopped by pirates demanding Sarah Miller, the only female in the group, in exchange for passage. Rambo is forced to kill them to protect her. Michael is greatly disturbed by Rambo's actions and upon arriving at their destination sends him back, claiming they no longer want his help. The village the missionaries are giving care to is attacked by Tint's soldiers. The missionaries are abducted and the villagers are all savagely massacred.
The pastor of the missionaries' church comes to Thailand and asks Rambo to guide a team of five mercenaries on a rescue mission. Rambo takes the mercenary team to the drop-off point and offers to help but the team leader Lewis, a former SAS soldier, refuses. Myint, a Karen rebel familiar with the area, leads the mercenaries to the village of the massacre. As they survey the damage, a squad of Tint's soldiers arrive in a cargo truck with a small group of hostages, intent on torturing them. Outnumbered, the mercenaries take cover and watch helplessly as the soldiers prey on their hostages. Having secretly followed the mercenaries, Rambo emerges in time to singlehandedly kill all the soldiers with his bow and arrows, allowing the hostages to escape unharmed. Rambo joins the mercenary team and they make their way to Tint's soldier's camp. They stealthily rescue the American missionaries and Burmese hostages and flee under cover of night.
The next morning, Tint and his soldiers pursue them and manage to capture everyone except for Rambo, Sarah and School Boy, the mercenaries' sniper. Rambo saves them from being executed by hijacking Tint's jeep mounted with an M2 Browning machine gun, where he ignites a massive shootout in the jungle in which he guns down much of Tint's army and a firefight ensues between the mercenaries and Tint's soldiers. Several of the missionaries and mercenaries are killed. The Karen rebels, led by Myint, arrive and join the fight, helping to overwhelm Tint's soldiers and kill them all. After realizing his defeat, Tint attempts to escape, but Rambo intercepts and kills him by disemboweling him with his machete.
Some time later, Rambo returns to the United States to finally visit his father at his home in Arizona.
The mercs who swear and boast are quick to quit. The godly soldier bears the burden and receives the blessing of strength. Satan's minions will commit any atrocity against Christians. The latest was the Genocide of Yazidis by ISIL. This film is graphically violent, but this we must endure in the great struggle. It is a representation of all the atrocities. However, united in strength we can persevere. Can we not be Samson or David as required by circumstance? Yes we can. 
The Law of God is clear. "If the thief is found breaking in, and he is struck so that he dies, there shall be no guilt for his bloodshed." Exodus 22:2