DIRECT LINK:
http://vidzi.tv/ltcgnnr8iqxw.html
Indira Gandhi, the 3rd Prime Minister of India, was assassinated at 9:20 a.m. on 31 October 1984, at her Safdarjung Road, New Delhi residence. She was killed by two of her bodyguards, Satwant Singh and Beant Singh, in the aftermath of Operation Blue Star, the Indian Army's June 1984 assault on the Golden Temple in Amritsar which left the Sikh temple heavily damaged.
At about 9:20 a.m. on 31 October 1984, Indira Gandhi was on her way to be interviewed by British actor Peter Ustinov, who was filming a documentary for Irish television. She was walking through the garden of the Prime Minister's Residence at No. 1, Safdarjung Road in New Delhi towards the neighbouring 1 Akbar Road office.
As she passed a wicket gate guarded by Satwant Singh and Beanat Singh, the two opened fire. Sub-inspector Beanat Singh fired three rounds into her abdomen from his sidearm. Satwant Singh then fired 30 rounds from his Sten into her after she had fallen to the ground. After the shooting, both threw their weapons down and Beant Singh said "I have done what I had to do. You do what you want to do." In the next six minutes Tarsem Singh Jamwal and Ram Saran, soldiers in the Indo-Tibetan Border Police, captured and killed Beant Singh in a separate room. Satwant Singh was arrested by Gandhi's other bodyguards along with an accomplice trying to escape, and was seriously wounded in the attack initiated by Beant Singh. Satwant Singh was hanged in 1989 with accomplice Kehar Singh.
Salma Sultan gave the first news of the assassination of Indira Gandhi on Doordarshan's evening news on 31 October 1984, more than 10 hours after she was shot. It is alleged that R. K. Dhawan, Mrs. Gandhi's secretary, overruled intelligence and security officials who had ordered the removal of Sikh policemen, including her eventual assassins, as a security threat.
Beanat Singh was one of Gandhi's favourite guards, whom she had known for ten years. The other assassin, Satwant Singh, was 22 years old when the assassination occurred and had been assigned to Gandhi's guard just five months before the assassination.
Indira Gandhi was brought at 9:30 a.m. to the All India Institute of Medical Sciences (AIIMS-New Delhi), where doctors operated on her. She was declared dead at 2:20 p.m. The postmortem examination was conducted by a team of doctors headed by Tirath Das Dogra. He stated that as many as 30 bullets struck Gandhi, from two sources, a Sten and a revolver. The assailants had fired 33 bullets at her, of which 30 had hit; 23 had passed through her body while seven were trapped inside. Dogra extricated bullets to establish the identity of the weapons and to correlate each weapon with the bullets recovered by ballistic examination. The bullets were matched with respective weapons at CFSL Delhi. Subsequently, Dogra appeared in the court of Shri Mahesh Chandra as an expert witness (PW-5). The cross-examination was conducted by Pran Nath Lekhi, the defence counsel. Her body was brought in a gun carriage through Delhi roads on the morning of 1 November to Teen Murti Bhavan where her father stayed, and where she lay in state. She was cremated on 3 November, near Raj Ghat, a memorial to Mahatma Gandhi, at an area named Shakti Sthal. Her elder (and the then surviving) son and successor, Rajiv Gandhi, lit the pyre.
https://en.wikipedia.org/wiki/Assassination_of_Indira_Gandhi
The assassination of Rajiv Gandhi, the ex-Prime Minister of India, occurred as a result of a suicide bombing in Sriperumbudur, near Chennai, in Tamil Nadu, India on 21 May 1991. At least 14 others were also killed. It was carried out by Thenmozhi Rajaratnam, also known as Dhanu. The attack was blamed on the Liberation Tigers of Tamil Eelam (LTTE), a militant organization from Sri Lanka; at the time India had just ended its involvement, through the Indian Peace Keeping Force, in the Sri Lankan Civil War. Subsequent accusations of conspiracy have been addressed by two commissions of inquiry and have brought down at least one national government.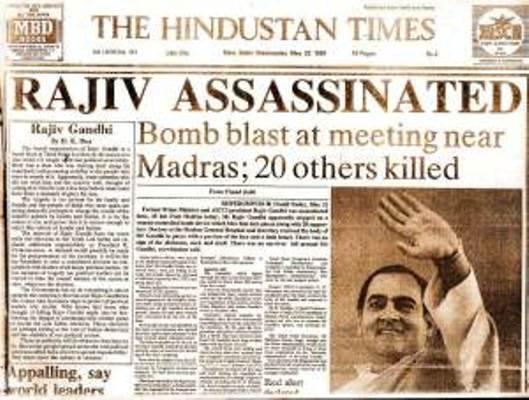 Assassination
Rajiv Gandhi was campaigning for the upcoming elections. On 21 May, after successfully campaigning in Visakhapatnam, his next stop was Sriperumbudur Tamil Nadu. About two hours after arriving in Madras (now Chennai), Rajiv Gandhi was driven by motorcade in a white Ambassador car to Sriperumbudur, stopping along the way at a few other election campaigning venues. When he reached a campaign rally in Sriperumbudur, he got out of his car and began to walk towards the dais where he would deliver a speech. Along the way, he was garlanded by many well-wishers, Congress party workers and school children. At 22:21 the assassin, Dhanu, approached and greeted him. She then bent down to touch his feet and detonated an RDX explosive-laden belt tucked below her dress. Gandhi, his assassin and 14 others were killed in the explosion that followed. The assassination was caught on film by a local photographer, whose camera and film was found at the site though the photographer also died in the blast.
Security lapses
The Supreme Court held that LTTE's decision of eliminating Rajiv was prompted by his interview to Sunday magazine (August 21–28, 1990), where he said he would send the IPKF to disarm LTTE if he came back to power again. Rajiv also defended the signing of the Indo-Sri Lanka accord in the same interview. The LTTE decision to kill him was perhaps aimed at preventing him from coming to power again. Thereafter, the Justice J S Verma Commission was formed to look into the security lapses that led to the killing.
The final report, submitted in June 1992, concluded that the security arrangements for the former PM were adequate but that the local Congress party leaders disrupted and broke these arrangements.
The Narasimha Rao government initially rejected Verma's findings but later accepted it under pressure. However, no action was taken on the recommendations of the Commission.
Despite no action, the findings throw up vital questions that have been consistently raised by political analysts. Sources have indicated that Rajiv was time and again informed that there was a threat to his life and that he should not travel to Tamil Nadu. In fact, the then governor of Tamil Nadu Bhism Narayan Singh, broke his official protocol and twice warned Rajiv about the threat to his life if he visited the state.
Dr Subramanian Swamy said in his book, Sri Lanka in Crisis: India's Options (2007), that an LTTE delegation had met Rajiv Gandhi on March 5, 1991. Another delegation met him around March 14, 1991 at New Delhi.
Journalist Ram Bahadur Rai wrote that:
The message conveyed to Rajiv Gandhi by both these delegations was that there was no threat to his life and that he can travel to Tamil Nadu without fearing for his life. I did a series of articles after his assassination that pointed out how, after these meetings, Rajiv became complacent about his security and broke security rules in more than 40 rallies.
Perpetrator
The assassination was carried out by Thenmozhi Rajaratnam, also known as Dhanu.. Thought to have been a member of the Liberation Tigers of Tamil Eelam (Tamil Tigers), her birth year has not been conclusively established, but research shows that she was still a minor[clarification needed] at the time.