DIRECT LINK:
https://openload.co/f/PGxvvlEB_6Y/Hachi.A.Dogs.Tale.2009.BRRip.X264.AC3-PLAYNOW.mkv.mp4
http://www.watchfree.to/watch-56ba-Hachi-A-Dogs-Tale-movie-online-free-putlocker.html#close-modal
Hachi: A Dog's Tale is a 2009 British-American drama film. Based on the true story of a faithful Akita Inu, the titular Hachikō, it is directed by Lasse Hallström, written by Stephen P. Lindsey, Kaneto Shindo and stars Richard Gere, Joan Allen and Sarah Roemer. The subject is a remake of the 1987 Japanese film, Hachikō Monogatari, literally "The Tale of Hachiko".
Plot
Hachi is a story of love and devotion between a dog and a man. The story is told by Ronnie, the grandson of the man. He has to give an oral presentation about a personal heroes. Ronnie's subject is his grandfather's dog, Hachikō. Despite his classmates laughing he tells how his grandfather, Professor Parker Wilson finds a lost puppy sent from Japan at the train station and ends up taking it home with the intention of returning the animal to its owner. He names the Akita puppy Hachikō, after Ken, a Japanese professor, translates a symbol on his collar as 'Hachi'—Japanese for the number 8—signifying good fortune. Even though they didn't find his owner and his wife, Cate, doesn't think they should keep him, they do.
Over the next year or so, Parker and Hachi become very close. Parker tries, but Hachi refuses to do dog-like activities like chase and fetch. One morning, Parker leaves for work and Hachi follows him to the train station and refuses to leave until Parker walks him home. Later that afternoon, Hachi walks to the station to wait patiently for Parker to return. Parker is surprised to find Hachi waiting for him, but it becomes a daily routine.
One day, Hachi waits patiently as the train arrives, but there is no sign of Parker. He waits, lying in the snow for hours until Parker's son-in-law Michael comes to get him, he tries to tell Hachi that Parker has died, but Hachi doesn't understand. Hachi continues to return to the station and wait every day.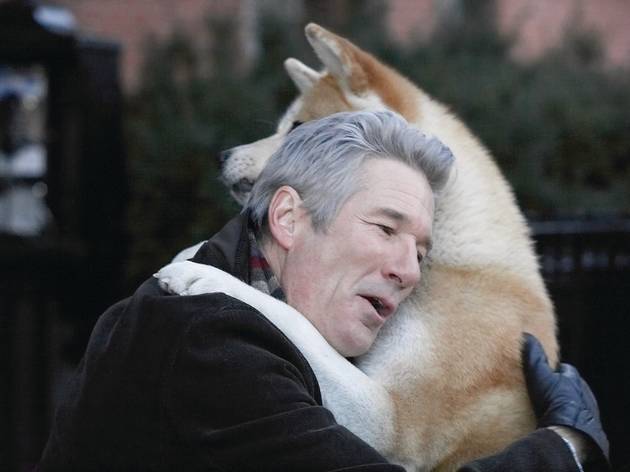 As time passes, Cate sells the house and Hachi is sent to live with her daughter Andy, Michael and their baby Ronnie. However, Hachi escapes and finds his way back to the station, where he sits at his usual spot. Andy arrives and takes him home, but after seeing how depressed the dog is she lets him out to return to the station. Hachi waits every day at the train station, while sleeping in the rail yard at night. He is fed daily by the train station workers that knew the professor. After seeing a newspaper article about Hachi, Ken visits Hachi. Cate comes back to visit Parker's grave on the tenth anniversary of his death and meets Ken. She is stunned to see a now elderly Hachi still waiting. Overcome with grief, Cate sits and waits for the next train with him. At home, Cate tells the now ten-year-old Ronnie about Hachi. Meanwhile the dog continues waiting until his body can wait no longer, Hachi is last seen lying on the snow, alone and still.
Ronnie concludes why Hachi will forever be his hero. Ronnie's story has clearly moved the class, with some students holding back tears, even those who had laughed at the beginning. After school, Ronnie is met coming off the school bus by his dad and his own puppy, also named Hachi. Ronnie and Hachi walk down the same tracks where Parker and Hachi had spent so much time together.
The movie was based on the real Hachikō, who was born in Ōdate in 1923. After the death of his owner, Hidesaburō Ueno in 1925, Hachikō returned to the Shibuya train station the next day and every day after that for the next nine years until he died in March 1935. A bronze statue of Hachikō is in front of the Shibuya train station in his honor.
| | |
| --- | --- |
| Posted by George Freund on December 24, 2016 at 3:01 PM | 931 Views |