Tales of the Gun is a television series broadcast on the History Channel featuring the history of firearms that ran for one season in 1998. The usual episode includes interviews of historians and people who used the featured weapon, shows how the weapons were made, and shows the featured weapon being fired on a shooting range. The series narrator for the US version is Thom Pinto, veteran voice actor.
Ep 38: "Million Dollar Guns"
THE WORLD'S MOST FAMOUS ENGRAVED & GOLD INLAID COLT SINGLE ACTION ARMY REVOLVER, THE SEARS & ROEBUCK "COW BOY" SPECIAL. SN 172485. Cal. 45
Rare Panel Scene Engraved Colt Single Action Army Revolver, "The 1876 Centennial Exhibition Colt" (Est: $350,000-600,000)
Sold for $701,500
Extraordinary Cased Engraved Colt Paterson No.2 Belt Model Percussion Revolver
(Est: $275,000-500,000)
Sold for $517,500
Rare and Historic Colt Whitneyville-Walker Pistol "A Company #210"
(Est: $500,000-1,000,000)
Sold for $920,000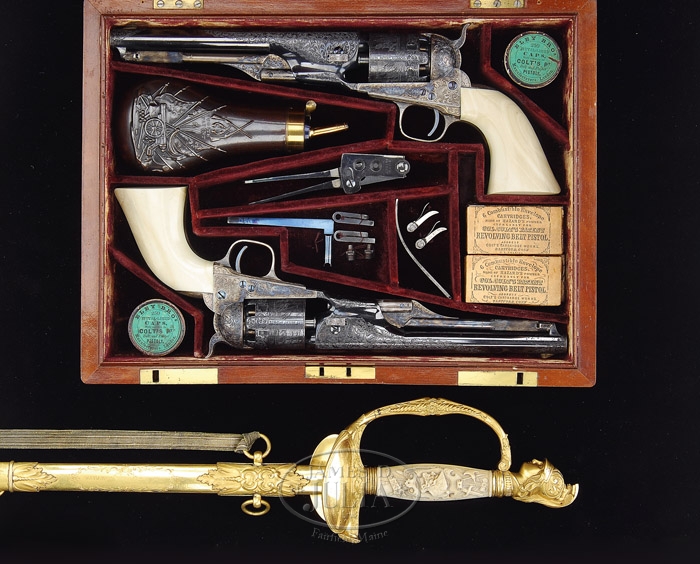 Finest Pair of Colt Engraved 1861 Navy Revolvers
Known to Exist(Basically New in the Box).
"Presented to Gen. Robert Anderson, U.S.A. with compliments of Colt's Pt. F.A.Mfg. Co."
Anderson was the heroic defender of Fort Sumter at the commencement of Civil War. These guns, presented to Gen Anderson in 1863, reflect the finest Colt craftmanship and artistic abilities of the period. They further reflect Colt's understanding of the significance and importance of this man to the country in terms of patriotism and his heoric efforts during the outbreak of this tragic conflict. The refinement and detail of the decoration and the extraordinary original condition are simply breathtaking. Serial No. 12400 & 12401 Including Sword, Medals, Pictures & Gilmore Medal (Est. $1,250,000-$2,250,000)
Adolf Hitlers personal pistol, it is a 7.65mm Walther PP. Hitler received the pistol on his 50th birthday in 1939 from Carl Walther. It is heavily embellished and specially engraved. Below, Hitler meets some of his officers during a rally.
They got it wrong. It is a Walther PP not a PPK. The barrel and the slide are longer.
Pair of Flintlock Pistols of Empress Catherine the Great (1729–1796)
These pistols are part of a deluxe garniture of ivory-stocked hunting arms made for Empress Catherine the Great (reigned 1762–96), whose intial (E for Ekaterine) is on the escutcheons of the grips. The garniture, which originally consisted of these pistols, a fowling piece dated 1786 (National Museum, Warsaw), and a rifle (whereabouts unknown), was later given to her favorite, Prince Stanislas August Poniatowski (1732–1798), whom she backed as king of Poland (reigned 1763–95). Firearms with ivory stocks, generally out of fashion in western Europe by the eighteenth century, were in vogue in the ostentatious Russian court during the last quarter of the century.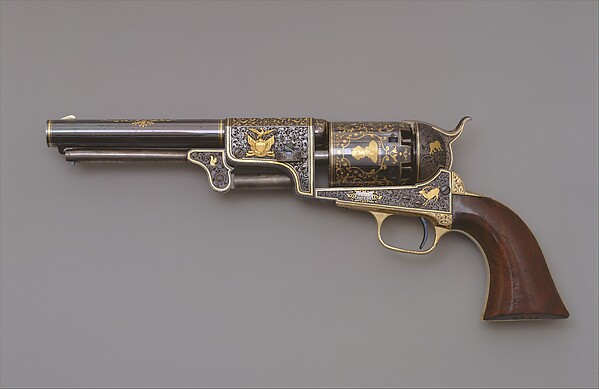 Colt Third Model Dragoon Percussion Revolver, Serial Number 12406
Double-Barreled Wheellock Pistol of Emperor Charles V, ca. 1540–45 Made by Peter Peck (1500/10–1596) German (Munich)

| | |
| --- | --- |
| Posted by George Freund on November 12, 2016 at 9:40 PM | 812 Views |