DIRECT LINK:
http://streamin.to/dbingt0t5auy
http://www.watchfree.to/watch-29af60-Black-Gold-movie-online-free-putlocker.html

Black Gold (also known as Day of the Falcon and Or noir) is a 2011 Qatari-French-Italian-Tunisian epic historical war film, based on Hans Ruesch's 1957 novel South of the Heart: A Novel of Modern Arabia (also known as The Great Thirst and The Arab), directed by Jean-Jacques Annaud. It was produced by Tarak Ben Ammar and co-produced by Doha Film Institute, Qatar. The film stars Akin Gazi, Antonio Banderas, Freida Pinto, Mark Strong, Riz Ahmed and Tahar Rahim.
In the early 20th century, Emir Nesib (Antonio Banderas), Sultan of Hobeika, and Sultan Amar (Mark Strong) of Salmaah have been in a border war over a vast barren strip they call "The Yellow Belt". When Nesib wins he forces Amar to agree to a peace pact: the Yellow Belt will belong to neither, becoming a no-mans-land between their territories, and Emir Nesib will take Sultan Amar's sons, Saleh and Auda, as hostages. Amar reluctantly agrees, knowing the hostages are a sacred trust which binds Nesib as well. They both swear to the pact before God. Nesib promises to rear Amar's sons with his own children, Tariq and Leyla.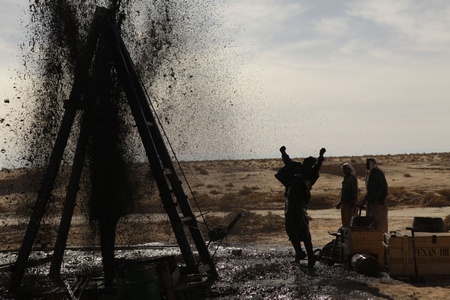 Saleh, Amar's eldest son, is a free spirit interested in the traditional pursuits of an Arab emir, while Auda is a dedicated bookworm. Leyla and Auda become good friends, until they are separated at adolescence. Ten years pass. Auda (Tahar Rahim) is still a bookworm, while Saleh (Akin Gazi) longs to go home and be with his father.
Sam Thurkettle (Corey Johnson), a geologist working for the western "Texan Oil" company, surveys the Yellow Belt and is convinced there is high grade crude oil under its shale. He tells Nesib that the find will make him richer than the King of England, and Nesib is more than willing to listen; he has had to watch, powerless and penniless, as his people suffered a cholera epidemic and his own wife died of it. Nesib allows Thurkettle's company to extract oil from the Yellow Belt - thus violating his peace pact with Sultan Amar.
Money pours in and Nesib starts to modernize his kingdom with schools, hospitals and electricity. He makes his son Tariq a Colonel, appoints Auda his national librarian, and sends an envoy to Amar to strike a deal to extract oil from the Yellow Belt. But desert tribesmen attack one of the oil sites and kill the crew. Their revenues threatened, Nesib sets about inducing the various tribes to accept the oil extraction, using lavish gifts and gold as inducements.
CONTINUED:
https://en.wikipedia.org/wiki/Black_Gold_(2011_Qatari_film)