Recovered from the That Channel archives our March 11, 2009 show with Agent Lady Bug.
The Bird flu was sent out to Europe mixed with regular human flu. The test ferrets had a non standard reaction. They died. The genie almost got out. They were dancing in the streets to celebrate, but fate got in their way. The revelations of FBI translator Sibel Edmonds led to the selling of nuclear secrets at a USAF base in Alabama. US military seal of town in Alabama shooting spree. Not connecting the dots. Don't worry; we are. There's a solution to the financial crisis. It's very, very simple. Wave income tax for a year. Let people spend their own money.
Abraham Lincoln's gold pocket watch, which contains a message secretly engraved by a watchmaker.
PLEASE DON'T RIOT ...... IT'S JUST WHAT 'THEY' WANT
'What you fight, you become.' - David Icke
Stop raging against the invisible Man
United Press International Outside View: The Citizen's Manifesto
Our contract for good government
Who is Bernard Madoff, the man behind the $50 billion fraud?
https://en.wikipedia.org/wiki/Seven_Pillars_of_Wisdom
Tactical Caterpillar a design based on the CUWV Civilian Urban Warfare Vehicle concept.
Military may patrol bar zone in Barrie
https://www.thestar.com/news/ontario/2009/03/04/military_may_patrol_bar_zone_in_barrie.html
It's time for another tea party
Obama Administration Makes Attempt to Seize Millions of Acres Across America
AN ACT establishing a permanent state defense force.
ACTION ALERT: No Food in America?
Army: Troop use in Ala. shootings illegal
Gunman in Alabama Massacre Had Hit List
Shocking Allegations From London: Corrupt U.S. Officials Sold Nuclear Weapons Secrets
Merrill Lynch suspends trader over $400-million loss
Could the U.S. central bank go broke?
The World from Berlin: 'We Have No Grounds for Mocking the NRA'
Two days after a school rampage that left 15 dead, shocked Germans are demanding measures to prevent future "human time bombs." Like their country's politicians, German commentators aren't sure what the right solution is -- or if one exists.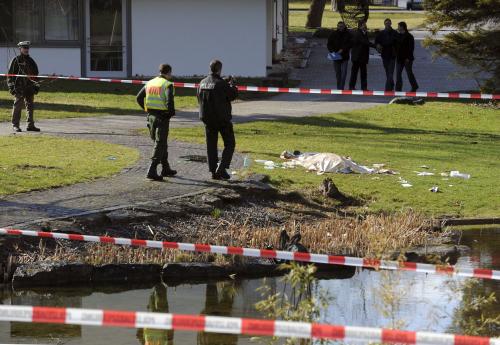 The body of an adult is covered on the lawn outside a Hospital for Psychiatry and Neurology. The victim is believed to have been shot and killed by Tim K. (MANCHURIAN?)