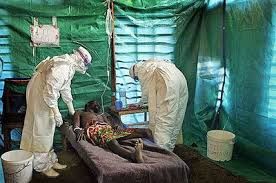 WHO Fact Sheet page for Ebola Virus Disease
Ebola Outbreak In Guinea Kills 61 With 109 Confirmed Cases, WHO Says: How Far Has The Virus Come? by Matthew Mientka
"With protection equipment, we feel reassured and can do our job to help patients," said Dr. Lansana Kourouma, head of emergency care at the Chinese-Guinean Friendship Hospital, where five patients remained under observation this week. WHO said the country Senegal had also sent technicians to the hospital to conduct on-site rapid testing for the disease.
Follow Us


International health officials continue to meet daily with Guinea's national crisis committee to coordinate disease surveillance, clinical management, logistics, and social mobilization, WHO's Dr. Rene Zitsamele-Coddy said in a press release. "As soon as the outbreak was confirmed on March 21, we started to work with [Guinea officials] and other partners to implement necessary measures," she said. "It is the first time the country is facing an Ebola outbreak, so WHO expertise in the area is valuable."




Perhaps most important, public health officials continue to disseminate messages to the people of Guinea to avoid confusion about how the disease spreads.



Ebola death toll in Guinea reduced to 61

CONAKRY, Guinea -- Guinea's Health Ministry reduced the number of people killed by the deadly Ebola virus outbreak from 122 to 61.


The government had initially said 122 were confirmed dead from the hemorrhagic fever, but a closer look at figures and testing proved the number is exactly half of that.




"The death toll reduction is due to the cleaning of figures because there had been a lot of confusion," said Sakoba Keita, head of epidemic prevention at the ministry. "Some deaths were recorded three times."



Thanks for Markshark who called my attention to these article a few days ago, which I do not know what to think about. It takes quite an alarmist tone, and I have seen no other confirmation that a boatload of 40 refugees is being held in a port in Pisa Italy. If this were true, I would imagine the European papers would be all over it. This article is being picked up and reprinted in survivalist newsletters with an amplified sense of alarm. I include it here only so you are aware of it, as you may see reprints of it if you are looking around, but I've seen no confirmation of it and I've been sitting on it for a day looking.
These I think are best seen as example of the kinds of alarmist, rumor based reporting we want to avoid.
EBOLA CONTAINMENT LOST -- INFECTION RATE UP 15% IN 24 HOURS; OUTBREAK ARRIVES IN PISA, ITALY! Thursday, 17 April 2014 21:02
April 17, 2014 @ 10:03 PM EDT -- (TRN) -- The outbreak of Ebola Virus in seven west African countries has broken through all containment efforts and is spreading like wildfire.  According to Christian Relief groups working in Guinea and Liberia, the number of confirmed infections jumped 15% in just the last 24 hours. In addition, 40 illegal alien migrant workers from the outbreak area, who came ashore in Pisa, Italy, are showing signs of Ebola infection and are being isolated in Pisa Italy because of fever and "conjunctivitis" (bloody around the eyes).  According to the World Health Organization, this strain of Ebola is entirely new and although it is close to the Zaire strain, it is different, thus accounting for false-negative test results . . . . . for weeks!




Those false-negative results meant people who were actually infected with Ebola, were returned to their families and neighborhoods to recover from what they believed was the Flu or a case of food poisoning, only to spread the Ebola further.  The result has been a complete loss of containment of this Ebola outbreak.   With the likely arrival of Ebola in Pisa, Italy, the European continent is now at severe risk.




Italian Health Authorities are DENYING reports about infected workers in Pisa, Italy.  They claim it is a HOAX; but they are not explaining why an entire hospital in Pisa is now under isolation.



As far as I can tell, the outbreak remains a concern, however it has been contained mostly in Guinea. There do not appear to be additional cases in Mali and Liberia.
The major area of concern may be the capital city of Conakry, a city of 2 million, with very poor health infrastructure, and I have read many areas do not have running water, or sewers. Ebola is spread via bodily fluids including blood, semen, sweat, diarrhea, vomit, and touching articles of clothing or objects of an infected person.  
With an incubation time of 2 to 21 days, and a policy of not declaring an outbreak over until there are two full infection cycles without any new cases, the WHO estimated this Ebola outbreak will continue to be an issue for 2 to 4 months, but is highly confident it can be , and has been contained to those areas already afflicted.
Thanks again to Markshark and others who have send me links to articles.
Our hearts, sympathies, prayers, and/or best wishes go out to all the afflicted and their friends, families and loved ones.