By Irina Slav - Aug 31, 2017, 9:29 AM CDT
The destruction Hurricane Harvey leaves in its wake has prompted the shutdown of a major fuel artery to the East Coast, the Colonial pipeline. The pipeline, which has a daily capacity of over 100 million gallons of fuels, has two lines, one for gasoline and one for diesel and jet fuel. The diesel and jet fuel line shut down yesterday and the gasoline line, already operating at a reduced capacity due to lower refinery output in Texas, will be shut down today.
Gas prices, already on a skyrocket route thanks to Harvey, will rise further, especially on the East Coast, where another suspension of the Colonial pipeline caused a price spike last September on worry that a leak could leave 50 million people short of gasoline. The pipeline also shut down after a fire last year.
The Colonial operator said there are alternatives to the pipeline, such as trucks and trains, as well as barges and other pipelines. The company added that "Once Colonial is able to ensure that its facilities are safe to operate and refiners in Lake Charles and points east have the ability to move product to Colonial, our system will resume operations."
CNBC reports that prices at the pump could rise to US$2.50 a gallon by Labor Day, from US$2.40 yesterday, after Harvey took out over 30 percent of U.S. refining capacity, or some 5 million bpd. The prospects of a fuel supply shortage dramatically increased yesterday, when the country's largest refinery, Motiva's Port Arthur facility, began shutting down. The refinery has a daily capacity of over 600,000 barrels of crude.
The Colonial pipeline is not the only one shuttered or operating at a reduced capacity. According to Andrew Lipow, head of Lipow Oil Associates, the price rises will be more severe east of the Rocky Mountains.
http://oilprice.com/Energy/Crude-Oil/Gasoline-Shortages-Loom-On-East-Coast-As-Colonial-Pipeline-Shuts-Down.html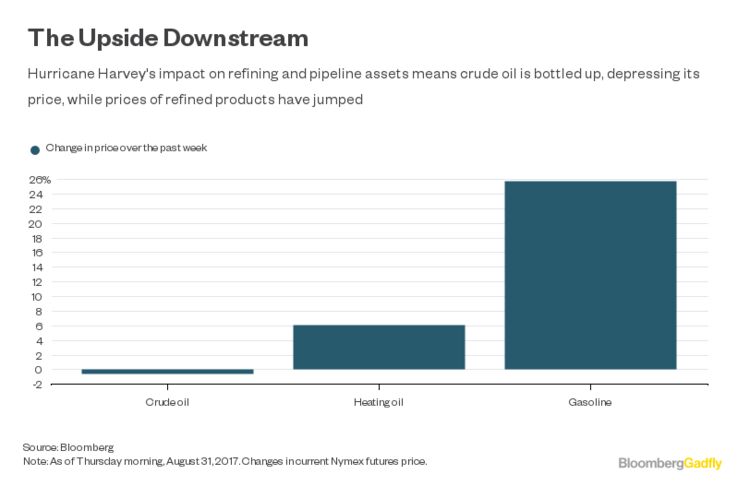 This could very well be a Doomsday Prepper scenario.