We're back in the Google rings. Take heart the occult ritual is almost over. In the day before the end rhythmic gymnastics takes the page. Google is again broken up. We have the same split with Goo and Gle as in the painted TV screen and Graphics Layout Engine. Everyone is looking and the spotlight is on. There is even a camera flash catching them in the act. 
-
The athlete makes a letter too with her arms and legs extended. She is the letter 'X'. Since she is carrying the other two 'O's, we can deduce XOO. It is a fantasy game called Xen of Onslaught. Of course they do do London.
-

-
In The Secret World you get to explore known and unknown locations throughout our own, modern-day world, from bustling metropolises such as London, Seoul and New York, to exotic adventure locations throughout Egypt, Transylvania, New England, and beyond. Hang out with your friends at a local pub in London, practice your newly acquired powers in the Crucible, and then travel to far-away lands, exploring everything from haunted castles to closed-off military facilities.
-

-
Of course we have always been interested in 'closed off military facilities' especially those under London. We see in the above image the street or spotlight shining on the subject vehicle. It is apparantly derelict. A derelict yacht was found drifting off England setting off a terror alert. It was found near a nuclear power plant. It had no markings or identification. Dutch charts and documentation concerning a Dutch prisoner were found aboard. There was no sign of anyone.
-
In another story Spanish Police arrested two Russians and a Turkish national in a terror related case that was to take place somewhere in Europe. They were plotting to use the model airplane trick. U.S authorities tipped off the Spanish. Their patsies were no longer required for the London plot which has been called off due to close observation.
-
Police reverse the car carrying one of the two Russian Islamist terror suspects (out of view) to the National Court, as confirmed by court officials in Madrid, Spain, Sunday, Aug. 5, 2012. Spanish police arrested three suspected members of al-Qaida who they believe were planning to carry out attacks in Spain and possibly other European countries, Interior Minister Jorge Fernandez Diaz said Thursday. He said the three men were detained Wednesday. Two of the detainees were from countries of the former Soviet Union and were arrested in the central town of Ciudad Real. The third, a Turk, was detained in the southern town of La Linea. Photo: Andres Kudacki / AP
-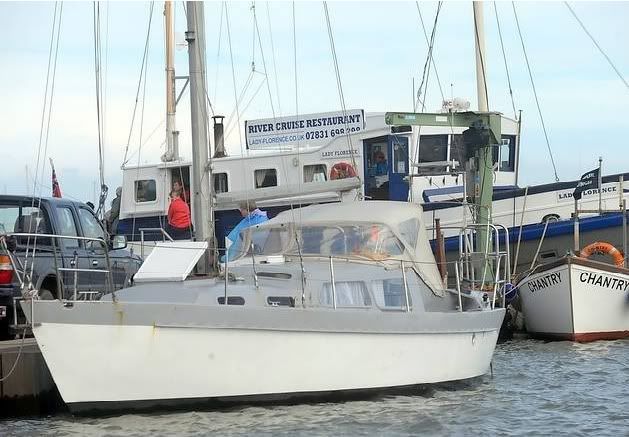 The yacht, pictured at Orford, which was found abandoned.
-
This is an interesting sequence of events because the former head of MI5, Dame Stella Rimington, is a novelist. In her first book At Risk she details how terrorists are smuggled into the UK by sea. In a novel performance our characters may very well have attempted the same feat.
-
We read too. We understand the great game. We shine the spotlight on evil. There's no where for them to go except overboard. Lower the risk. Come aboard Conspiracy Cafe. In the shadows we see GSO with the SO being the shadow of the dancer and the o in Google. GSO is GSO Capital Partners a subsidiary of Blackstone Group.