| | |
| --- | --- |
| Posted by George Freund on February 8, 2012 at 8:45 AM | |
-
Yes my dears. We were on the money. Deduction is the primary tool of the detective or intelligence analyst. We do it well, but we have an advantage. We know what they want to do and where they want to do it. As in the old westerns we wait; and head them off at the pass or in this case the port.
-
Our first delivery ship the Thor Liberty left Finland with weapons a plenty. It disappeared off the radar off Portugal. We were concerned because of the proximity of a ship heading to the breaker's yard the Global Star. We put out an all points bulletin because we were concerned there was a transfer of the goods. When Thor Liberty reappeared in the Caribbean later there was a notable difference. The designation of her cargo changed to plain old cargo as opposed to Cargo Hazard A (Major) things that go BOOM!
-
-
Our good ship Global Star was caught at the mouth of the Suez Canal and then disappeared off the radar screen again. However, I caught a glimpse. It has a new destination Fujairah in the United Arab Emirates. Tell me I'm surprised. Fujairah is known for Jebel Ali a Free Trade Zone port. As you will recall from my previous comments, customs has limited rights in Free Trade Zones. It's Dodge City within. Global Star will arrive around February 15. Once there she can off load to any of a myriad of ships or store the booty there for safe keeping until the heat is off. Long time fans will remember this buccaneer was the only one to peg the location of the other missing ship of the new century the Arctic Sea. It disappeared for three weeks. I said it had surface to air missiles. I said it was lying in wait for Hillary Clinton. The Russian Navy arrested the ship off Cape Verde at the exact time Hillary was supposed to fly off the island after her Africa trip in 2009. It doesn't get any better. I told the world on The Power Hour. You can see why they clipped my wings. You're not supposed to stop WWIII, but we are.
-
Arctic Sea false flag attempt
-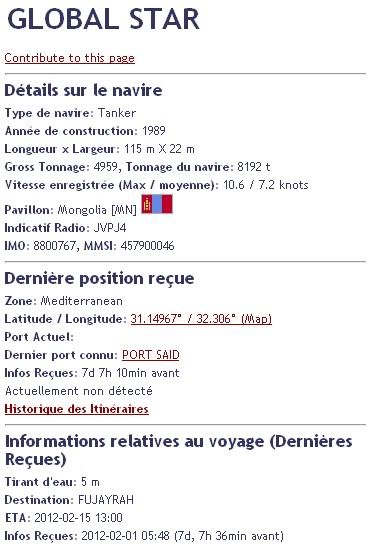 DESTINATION FUJAYRAH
WWIII IS ON TRACK